Multiple Vulnerabilities have been discovered in SAP HANA which can affect the HANA server and data in multiple ways like inject additional lines in logs, special craft inputs for modifying the commands in database. Denial of service (DOS) by Crashing the service or Flooding the service, Directory traversal, Memory Corruption, SQL Injection vulnerabilities, Reflected Cross Site Scripting.
1. SQL Injection
The SQL-injection problem is caused by multiple SQL injection vulnerabilities. The code composes SQL statements that contain strings that can be altered by an attacker. The manipulated SQL statements can then be used to modify the data.
2. Potential log Injection
A potential attacker needs a valid user account with sap.hana.xs.ide.roles::* roles to perform the attack. The manipulated SQL statements are executed with the privileges of the user/attacker, therefore the impact of a potential misuse of the vulnerability is limited to the granted SQL privileges of the user.
3. Reflected Cross Site Scripting
The XSS problem is caused by pages in SAP HANA Web-based Development Workbench do not sufficiently encode parameters, resulting in a reflected cross-site scripting issue. A reflected cross-site scripting attack can be used to non-permanently deface or modify displayed content from a Web site.
Read more about SAP HANA Security, Types and Features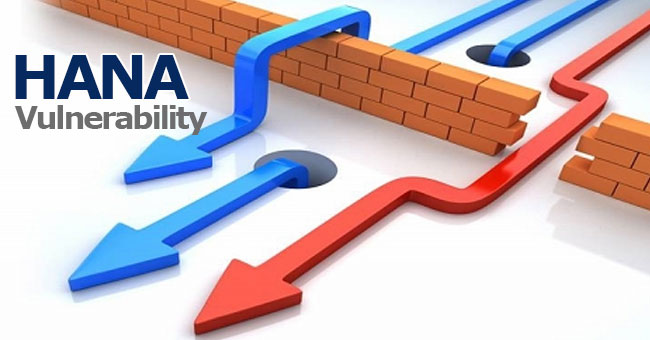 4. Directory Traversal & Memory Corruption
HANA contains a vulnerability through which a malicious user can potentially write specific files on the remote server, possibly corrupting data or altering system behaviour.
5. Denial of Service (DOS)
The HANA DP Agent allows the attacker for prevention of legitimate users by accessing a service, either by Crashing the service. Flooding the service
6. Heartbleed
Reports referring to "Heartbleed" (see more at http://heartbleed.com), describe a vulnerability that potentially affect a lot of hard and software vendors – and their customers! The information reads that the vulnerability could potentially allow an unauthenticated, remote attacker to retrieve memory from a connected servers, using an Open SSL library. Due to a missing bounds check in the handling of the Transport Layer Security (TLS) heartbeat extension, an attacker could exploit this vulnerability. As a possible result, the disclosed portions of memory could contain sensitive information that may include private keys and passwords.
7. Code Injection Vulnerability
SAP HANA Web-based Development Workbench are coded which grants special permit to attackers. This helps them for special craft inputs for modifying the commands in database. The result is either retrieval of some additional information, or modification of the data.