Objectives
To introduce
The ABAP integrated development environment
The two main ABAP application types
Reporting
Dialog programming
Order of Presentation
Purpose and Function of the ABAP Workbench
Workbench Tools:
Object Navigator (Repository Browser)
The ABAP Language
The Repository Information System
Menu & Screen Painter
The Workbench Organizer
What is ABAP Workbench?
ABAP Workbench is the development environment in the SAP R/3 system. It consists of:
Development tools
Programming languages
Data Dictionary; and
Functions
The ABAP workbench serves as the foundation for all the SAP R/3 system business applications. It is used for developing additional functions and applications for the client/server R/3 system. The ABAP workbench covers all the stages of development lifecycle right from project initiation to version management. One of the most unique features of the ABAP Workbench is that it allows portability among SAP R/3 systems and ensures quick transfer of SAP R/3 systems to production environments. Transport tools are used to migrate upgrades to SAP R/3 systems which are mainly handled by SAP and are in turn rolled out in a phased manner. The entire process can be controlled by system administrators
ABAP Workbench Purpose & Function
SAP's Integrated Graphical Programming Development Environment:
Used to create/change ABAP application programs
Each ABAP application program is either a report or a transaction:
Reports are applications that retrieve and display information from database with little or no user interaction
Transactions accepts inputs/data from users and then perform one or more relevant actions, usually involving updating databases
ABAP Workbench Purpose & Function
The workbench can be used to
Write ABAP code
Design dialogs/screens with a graphical editor
Create menus with a menu editor
Debug an application
Test an application for efficiency
Control access to objects under development
Create new or access predefined database information
Comprises the following tools
TheObject Navigator (akaRepository Browser)
The ABAP Language
The Screen and Menu Painters
The Repository Information System
The Data Modeler
Various test and analysis tools
The ABAP Query
The Workbench Organizer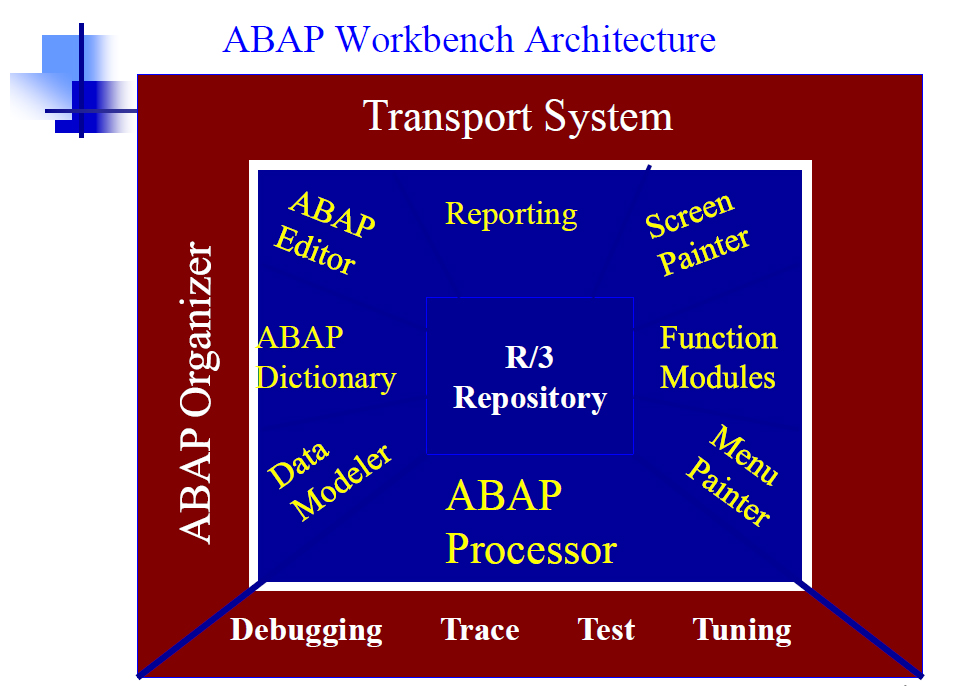 The Workbench Screen
All R/3 screens have a similar 'look and feel'
Screens consist of
Screen title-bar
Menu bar
Standard toolbar
Application toolbar
Screen body
Message line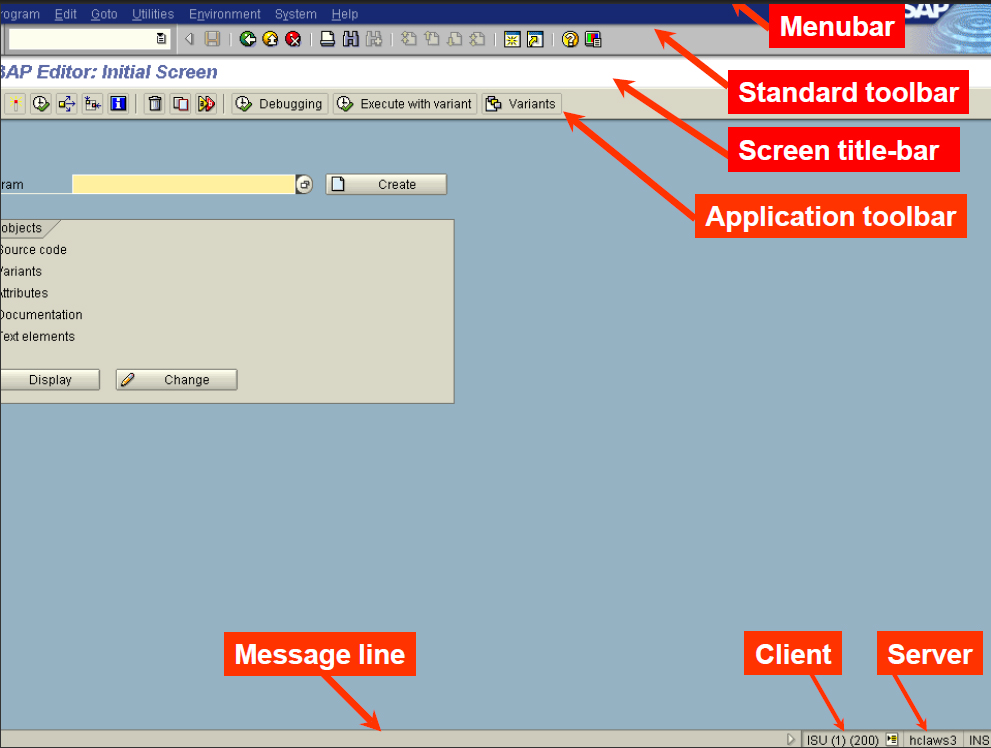 The Object Navigator (The Repository Browser)
Central tool for organizing and managing your personal development objects
Used to navigate through development object lists
Where development objects are the components used to construct an application
Automatically calls other workbench tools
If you create a new data definition the browser calls the data dictionary, and then returns to the browser after the definition is created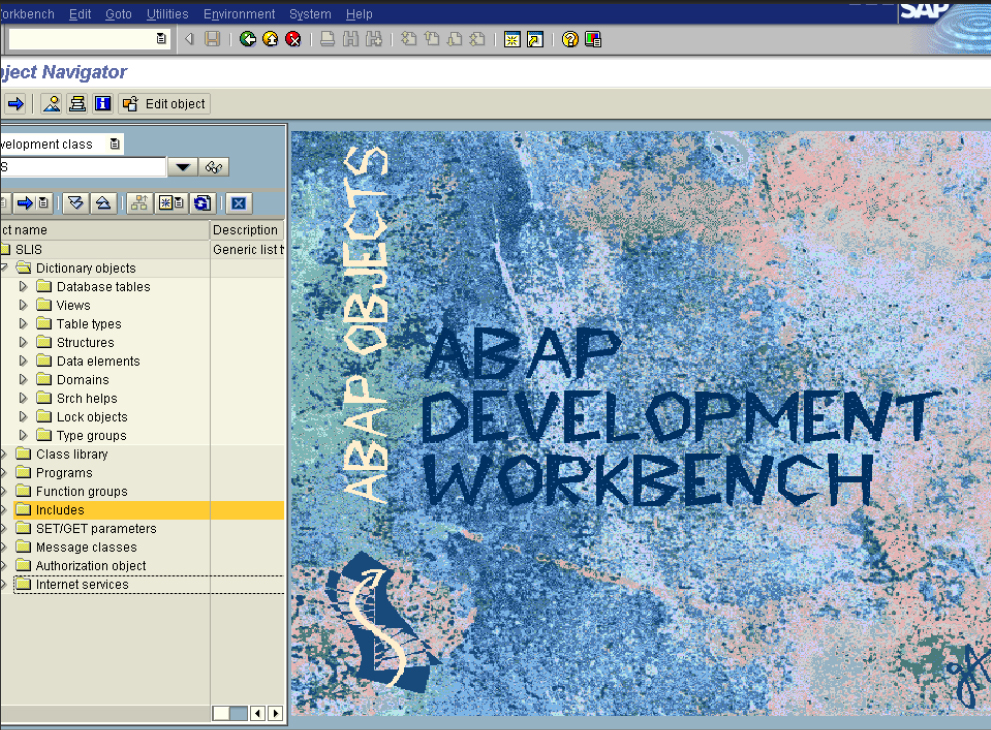 The ABAP Language
Advanced business application programming
Developed by SAP for the interactive development of application programs
4th generation language (with some OO features)
Main uses for ABAP programs include
Creation of new reports
Development of new user dialog programs (transactions)
Customization of R/3 to meet individual client needs
Reporting
Uses ABAP open SQLto extract data from the R/3 database
Open SQL is a subset of ANSI SQL
Report consists of a [selection screen] and a list screen
Selection screen allows the user to enter selection criteria
List screen displays the report data
Each ABAP report has its own special selection screen which allows you to limit the output data. These screens are automatically generated by the system.
The data produced by an ABAP report is temporarily stored in a report list. You may display the list on the screen and scroll through its contents.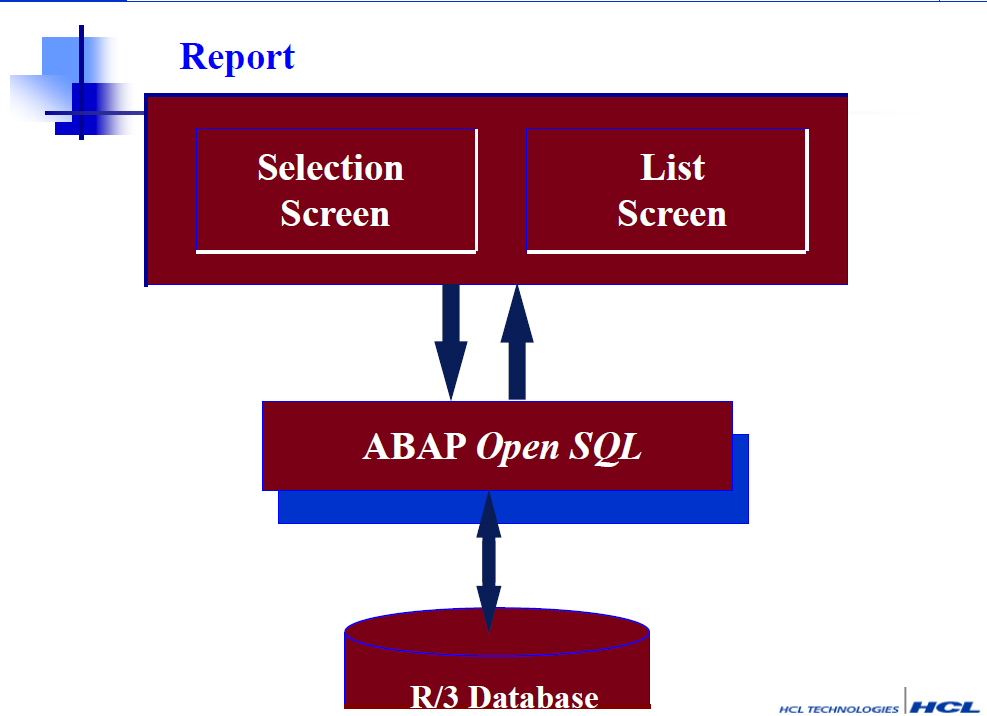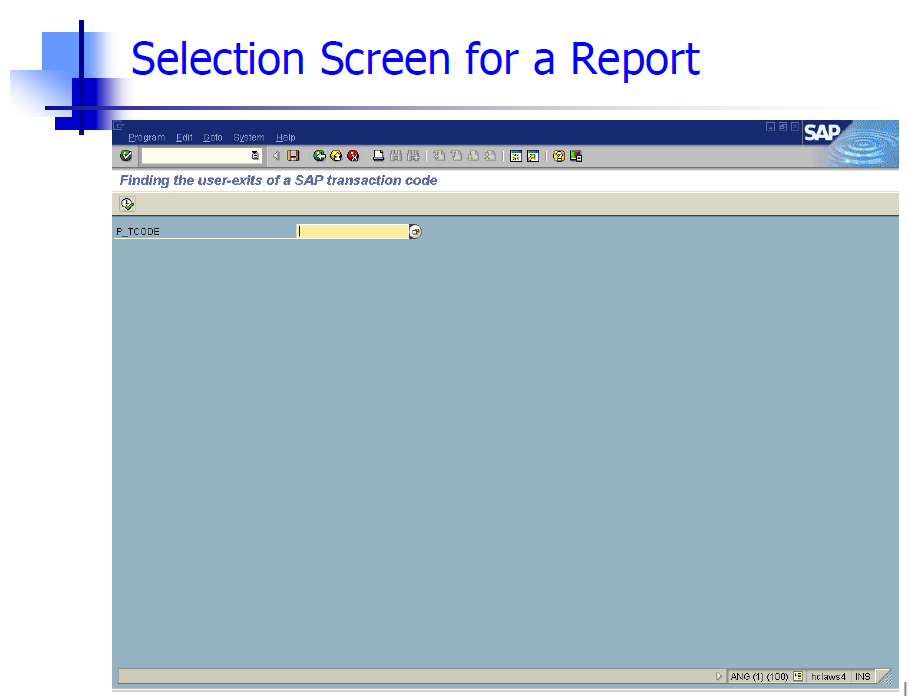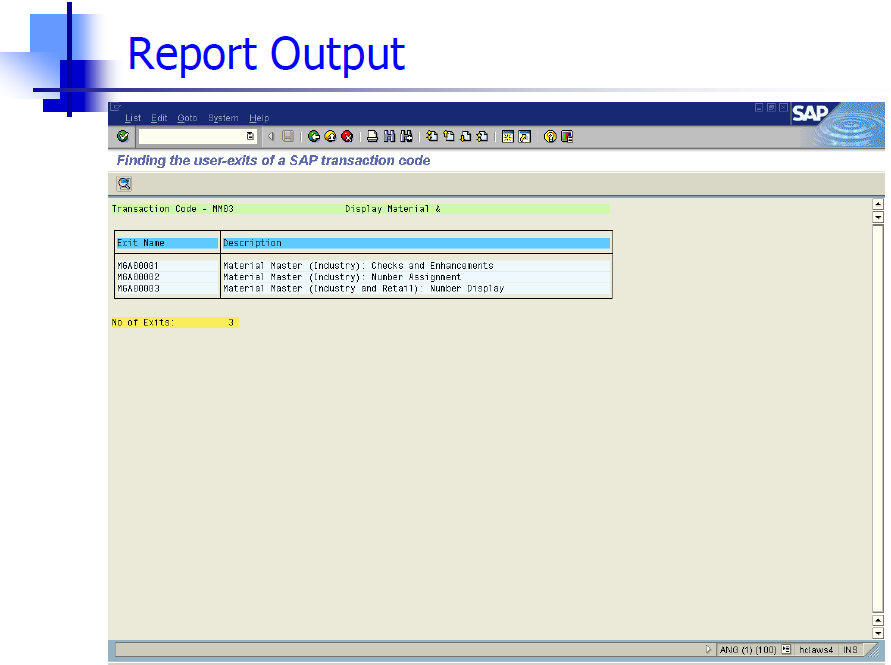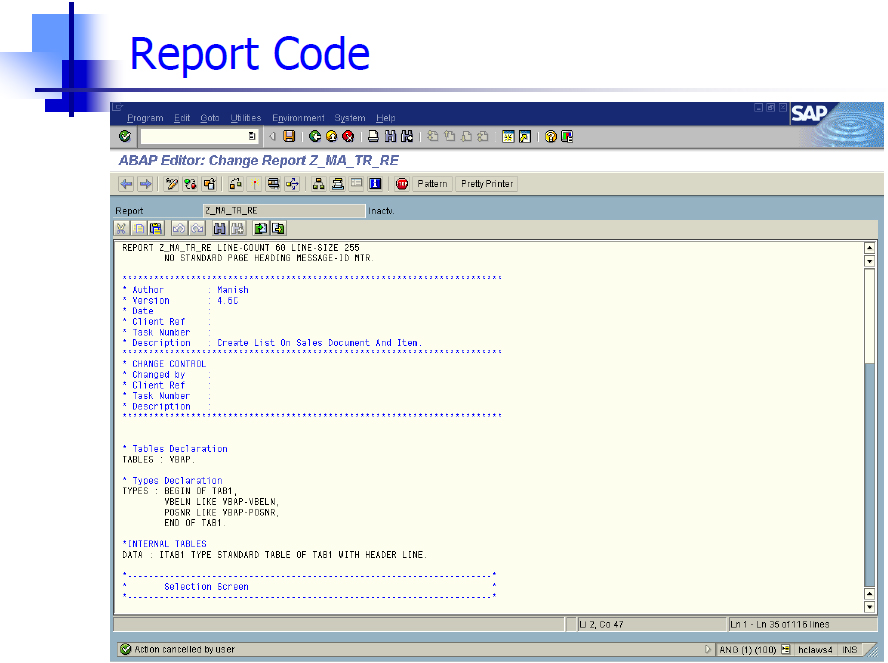 Dialog Programming
Dialog programs (transactions) are used for both reading and changing the database
Main components of a dialog program are
Screen & menus
Processing logic defined in an ABAP program (module pool)
For each screen, interaction and control flow from one module to another is defined in DYNPRO
Data structures defined in the ABAP dictionary
To create a dialog program:
Use the screen painter and menu painter to create and design screen templates and screen programs.
Define the processing logic in an ABAP program (module pool).
Screen flow logic is divided into PBO and PAI events.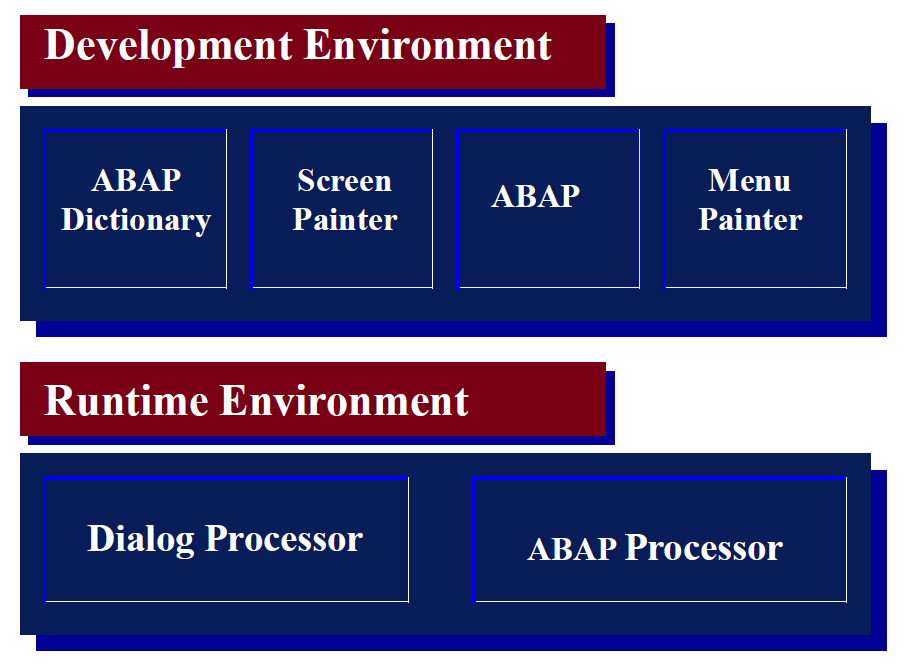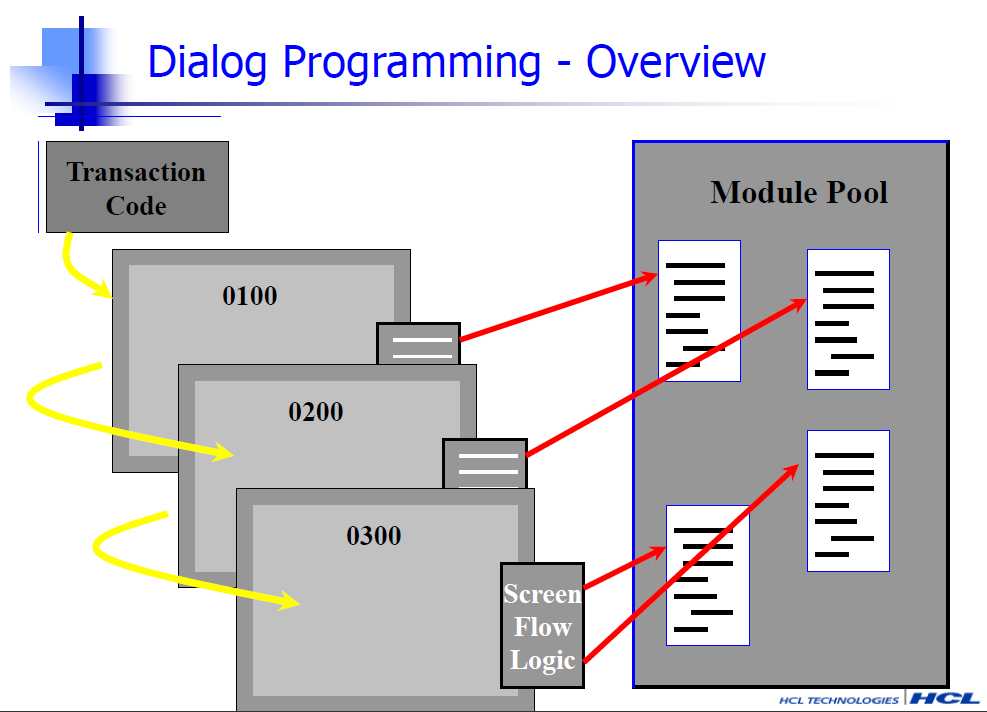 Dialog Programming -Overview
A SAP Transaction /dialog program consists of a set of screens. Each screen consists of:
1. The screen layout itself, and
2. The screen flow logic. The high-level screen flow logic is stored with the screen and consists of 2 events:
PBO (process before output) which is executed before the screen is displayed to the user; And
PAI (process after input) which is executed after the user has interacted with the screen.
Both PBO and PAI logic consist of module calls. The body of each of these modules is stored in an ABAP program called the module pool that is associated with the transaction.
Dialog and ABAP Processor
1. Process before output event is fired. Modules in the PBO event processing are executed with control being passed to the module pool (ABAP program) as appropriate.
2. Once these modules have been executed control is passed back to the dialog processor.
3. After the user has entered data etc the process after input event fires and control is again passed to the ABAP processor.
4. Once these modules have been executed control is passed back to the dialog processor.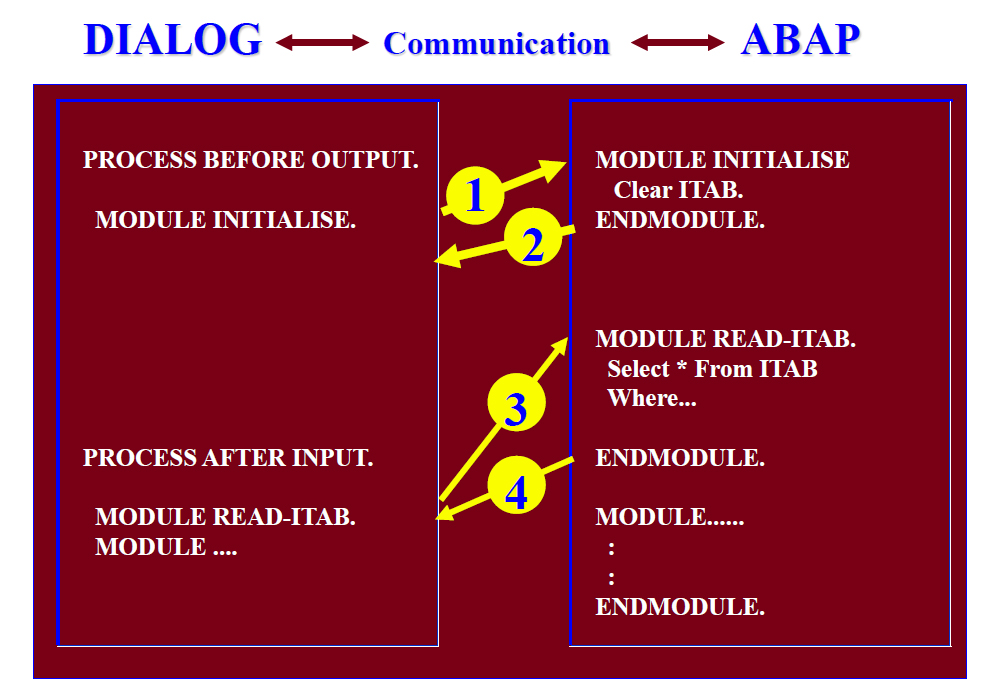 The Repository Information System
The repository information system is used to search for objects in the R/3 system and provides
List of all objects X with attribute/s Y
The where used list which gives a list of every place that object X is used throughout the R/3 system
Information about foreign key relationships between tables
Display of data (all records in table X with attribute Y)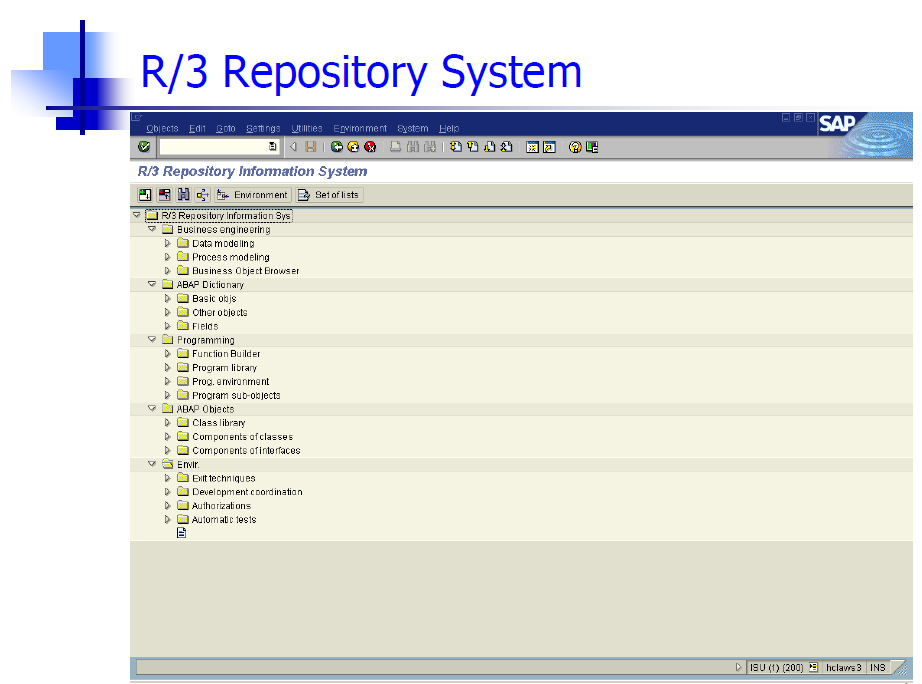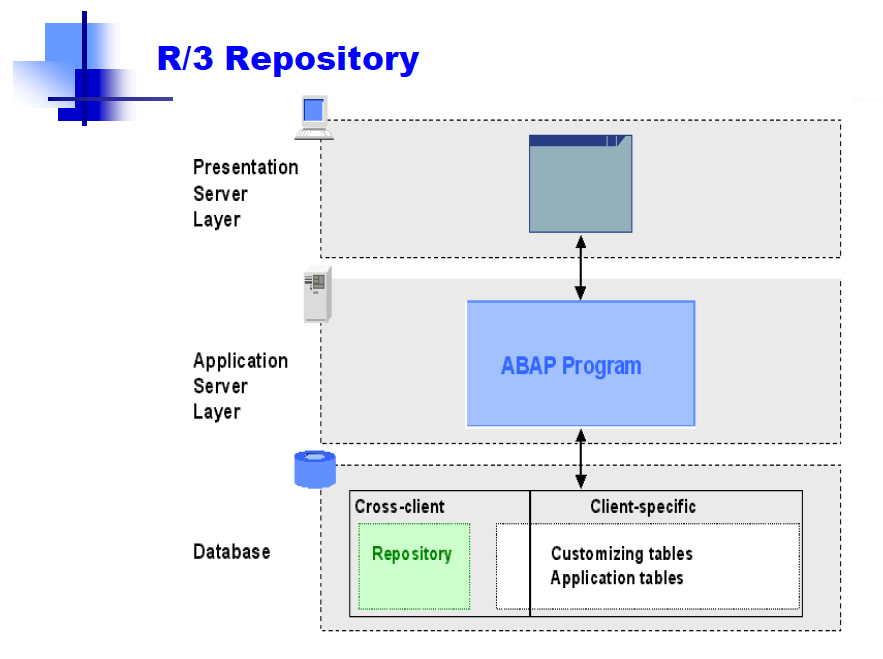 ABAPWorkbench Organizer

The ABAP Development Workbench is an integrated set of fourth-generation tools which allows the development and implementation of client/server applications, or modification of the existing, standard R/3 modules.It includes a repository, editor and dictionary, as well as tools for testing, tuning and debugging, and optimising performance.
Records and controls changes to objects
ABAP programs, dictionary objects, screens, user interface definitions, …
Provides assistance for organizing development projects
By allowing you to distribute project work for individual developers or teams among different change requests
Interface to the transport mechanism
Movement of applications from development test production environments
Prevents parallel, uncoordinated changes to the same object, (version control)
Even when many copies of the object exist in several, connected SAP systems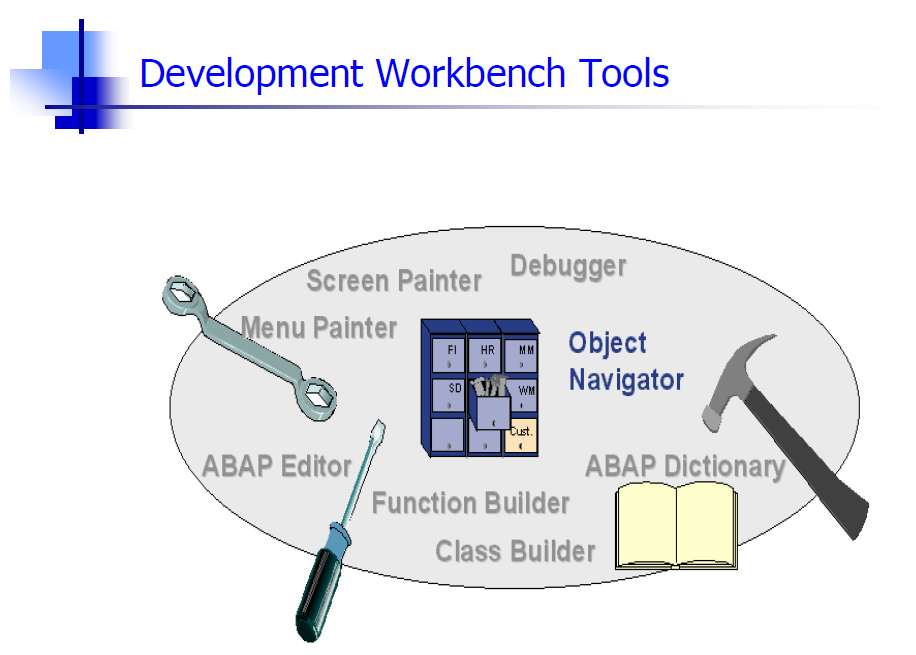 Development Workbench
Supports all major hardware, operating systems, databases and GUI's.
Comprehensive on-line documentation.
Stores all development objects in a central repository.
Includes a screen painter, menu painter and editor.
ABAP Query for end-user reporting.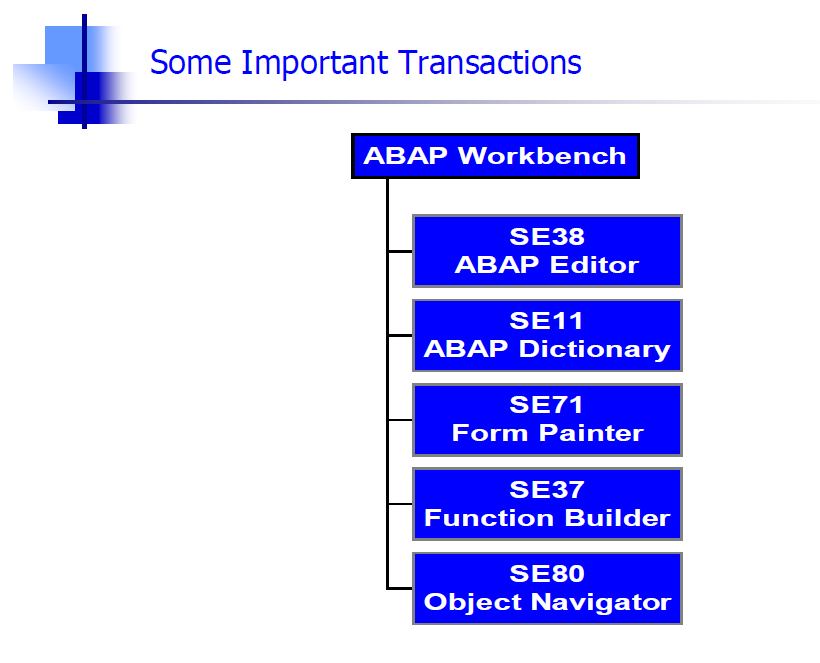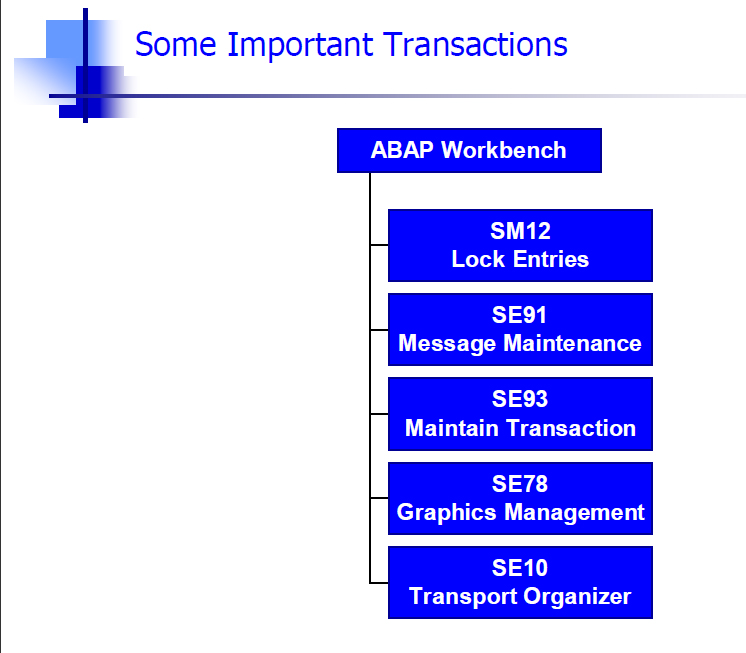 Summary & Conclusion
Overview of the tools that comprise the ABAP development workbench
Of these the editor/syntax, checker/debugger is the combination that we will use most frequently
It is essential that you be able to use the tools to
Navigate around the workbench
Find, execute, change development objects