It specifies the process of formatting the spool request to printer specific output request.
Local Access Method
The spool work process and the host spool resides in the same machine i.e. the work process transfers the spool request to the spool system locally.
Select L for UNIX based system (Local Print Method)
Select C for Windows (which uses direct operating system call)


Select F for Front End printing
Spool work process goes to the user desktop and format the request based on the printer that is connected to desktop. This is more expensive, time consuming than any other methods.
Disadvantages: No user can print in the background because the desktop initiation is not possible in the background during off peak hours.
Advantages: Check printing, Sensitive docs, label printing.
Restrict the no of work process that can go into front end mode using the parameter.
rdisp/wp_no_spo_fro_max = 2
i.e. two work processes can be used for front end printing. If this parameter is not used spool congestion occurs.
Specify I for Achieving device (Optical Devices, HSM, Jukebox (stores each copy (output doc)) Hierarchal storage machine
Remote Access Methods
The formatting by spool work process is performed on remote system.
Specify U for UNIX operating system where formatting is performed on the remote machine (Print server) using Berkeley protocol.
Specify S for windows operating system. It will transfer the formatting to remote system using SAP specific protocol SAPLPD
For LOCAL & REMOTE > Needs the printer models
For FRONT END > SAPWIN
When Remote access method is specified we need the following
HOST Printer:
Destination HOST:
i.e. the printer should be configured on destination HOST. It can be a print server.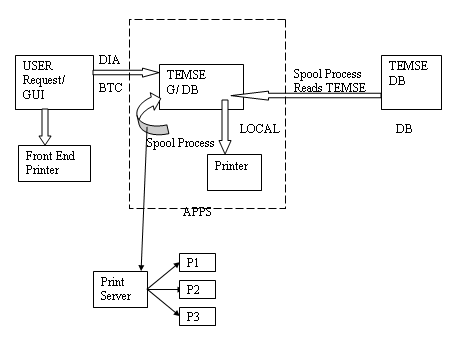 Note: Front end cannot be scheduled in the background.