How to Download and Install Android Studio
Download Android Studio
Here are the steps to Download Android Studio:
Step:1 So first search for Android Studio on your browser and most probably, in the first link, you will see here is from developer.android.com/tools/studio/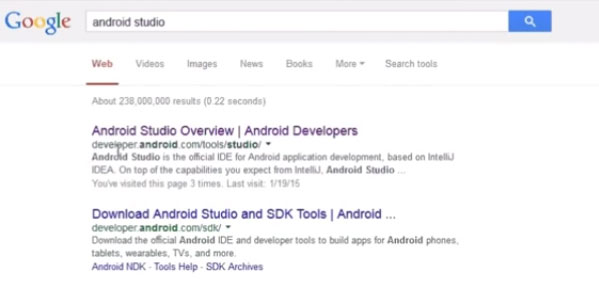 Step 2: Click the link and select "Download Android Studio Now" .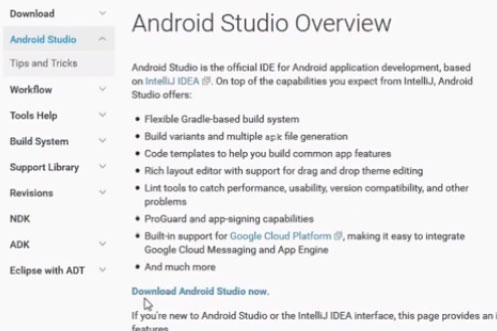 Step 3: Now there will be a download button – Download Android Studio for Windows, click it to start downloading Android Studio.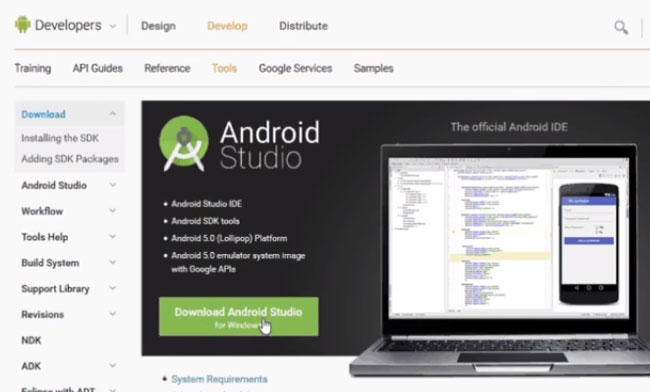 Step 4: You will be seeing some license terms and conditions. You need to agree to download Android Studio. So just click this link and click download and save the file.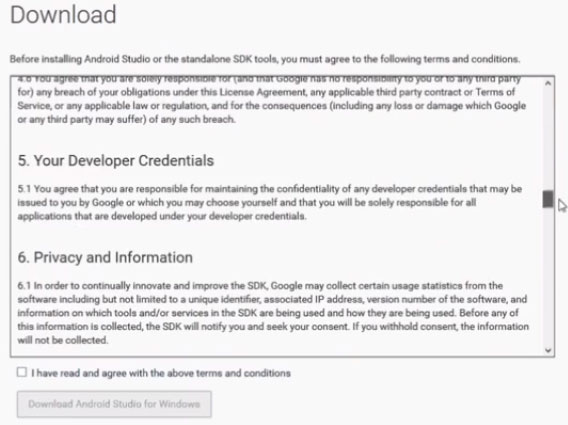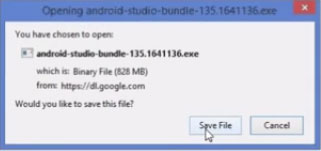 Installing Android Studio
Please follow the steps below to Install Android Studio:
Step 1: Once the file is downloaded, run the executable file for Android Studio.
Step 2: Now Android Studio executable file is running. It'll ask for the authentication, click "yes" and now the set-up will start.
Step 3: Just click "next", agree with the license condition in order to install and this is the location, which is default location where Android Studio will be installed and this will be the location for the Android sdk folder.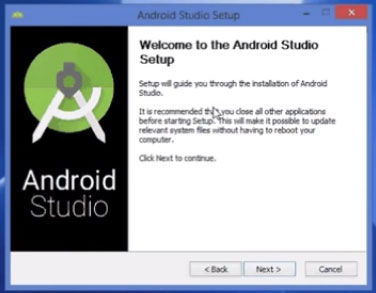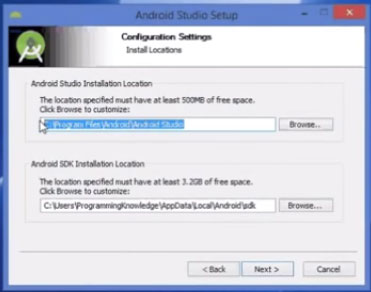 Step 4: Just click "next" and click install. And the installation will start and it'll finish in a few seconds.Now as the Android Studio installation is complete, we will now configure the sdk
Step 5: We just need to click the "next" button and then it'll prompt you to start Android Studio so just uncheck this button, or this checkbox for now and click "finish".
Now Android Studio set up has been completed.
Starting Android Studio
Below are the steps for starting Android Studio:
Step 1: Now if you're on Windows 8, you just need to search for Android Studio or if you're on Windows 7, you need to click the Start button and just right-click on Android Studio and run as administrator and it'll start Android Studio.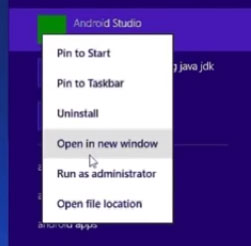 Step 2: But before starting the Android Studio for the first time it'll ask for the import, if you have a previous version of Android Studio, it will ask if you want to import your previous Android Studio settings or otherwise if you don't have, you just need to go with the default option and click "Okay". And Android Studio now is going to start.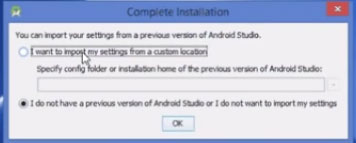 Step 3: Android Studio is an IntelliJ-based IDEA. IntelliJ is a very famous company or you can say, for developing IDEAs so they have very good IDEAs for developing Java, Python, C++ and many other applications. So Android Studio is developed by IntelliJ and right now, our Android Studio Set-up is downloading the Android sdk tools.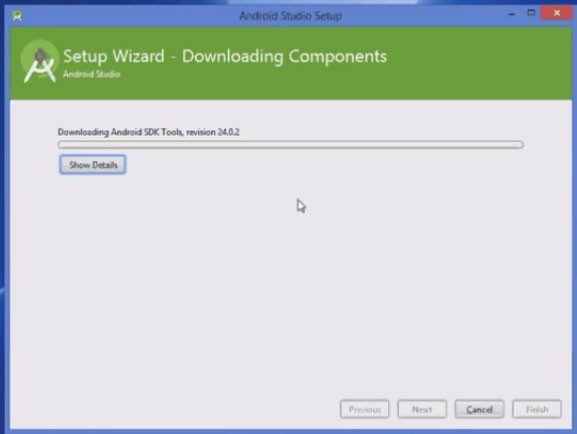 Note: This is a one-time process so don't worry. This is just for the first time and Android Studio is going to download these sdk tools.
Step 4: Now we just need to click "Finish". And this is for the first time, whenever you start Android Studio for the first time, you will see the interface like this.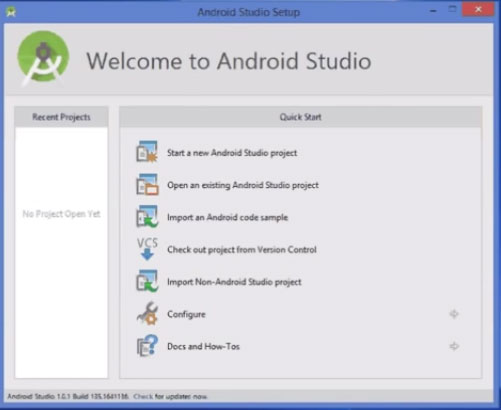 Step 5: Now before creating the first application, we need to configure sdk or some packages. For this just go to this option, called "Configure" and then you just need to click "sdk manager".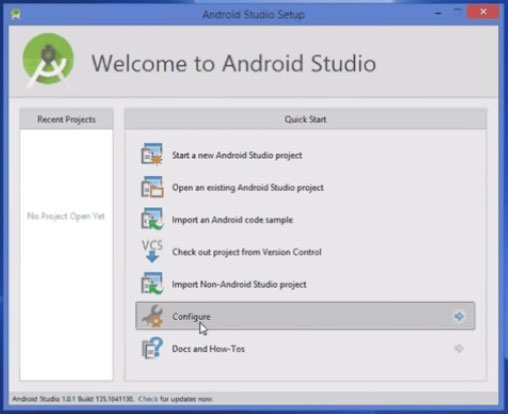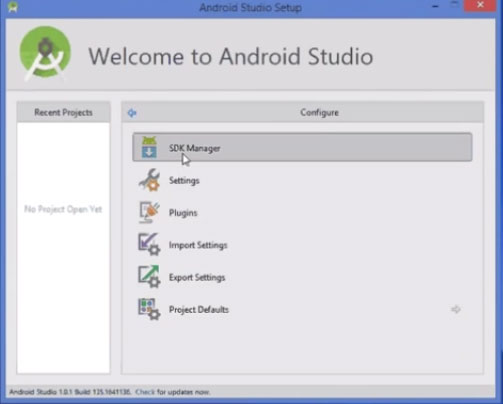 Step 6: Now when "sdk manager" will be opened and there will be some of the packages are optional so you don't need to install each and every package. You just need to install packages according to your need.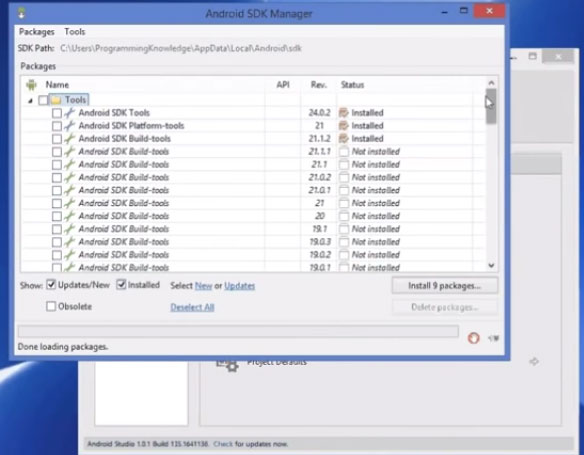 Step 7: So now, we are going install 9 packages, we just need to click this button but additionally, make sure that you just note down and in the "Extras" category here, the last category, and the last option, I think, will be this "Intel x86 Emulator Accelerator".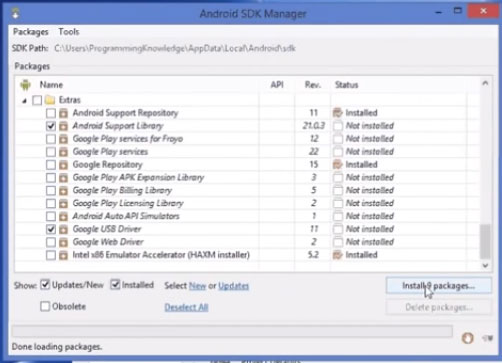 In short, it's called HAXM Installer. This is the Emulator we are going to use to run our Android App so just check this checkbox and install by accepting the licence. So you just need to click one option here, which is "Intel x86 Emulator Accelerator".
Step 8: Just click "Install 9 packages" or whatever number of packages it'll show here. Please accept licenses and click Install and it is going to install all these packages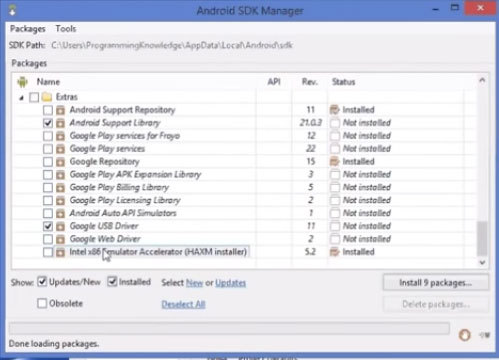 As now the download of these packages are complete so we are ready to run our first Android application.
Read Next How to Build an Android Application