INTRODUCTION
LSMW an abbreviation for Legacy System Migration Workbench is a tool in SAP which is used to migrate Legacy data into SAP.
It is a very important tool and easy to learn and master it.
LSMW has a recording tool which can record the transaction and the fields to be uploaded.
Thus upload of master data and transaction data is made very simple in this tool. You can use this tools in almost all modules for upload of master data and too some extent transaction data also.
Thus in FI you can upload the following master data through this: Vendors, Customers, General Ledger, Asset master, Bank Master. You can upload Transaction balance through this i.e. an FI document.
In CO you can upload the following master data: Cost element, Cost center, Profit center, Activity types, Internal orders, Statistical key figures
In other modules likewise you can upload other sets of master data.
In this book we cover the creation of a Vendor master data with accounting view.
Let's get going then.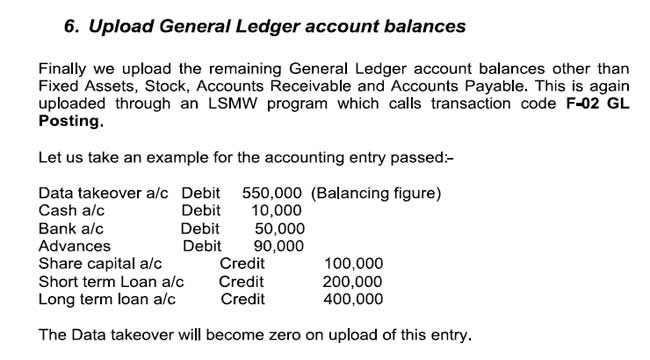 TABLE OF CONTENT
INTRODUCTION ....................3
1. Create a project, sub project and object ....4
2. Create Recordings...........7
3. Maintain object attributes.........................26
4. Maintain Source Structure .......................29
5. Maintain source fields ....31
6. Maintain Structure relations .....................44
7. Maintain field mapping and conversion rules.....................45
8. Specify file for upload and create a file for upload .............56
9. Assign files.....................71
10. Read data...................72
11. Display Read data......74
12. Convert data...............77
13. Display converted data.........................78
14. Create Batch input session ..................81
15. Run Batch input session.......................82
Download attached file: