If you want to calculate the double pay using SAP HR payroll schema first of all you are not supposed to use the variables while handling the splits as it is not suggested to use the variables, since the VAR table does not care about them. Hence the use of ELIMI * before assigning a value from VAR has no conclusion at all.
Let's have a look at your PCR ZVA1:
First of all you have to make a decision that depends up on the RTE of /801, But you must be assure that the entry you are looking for can be found.
It will be shown as below: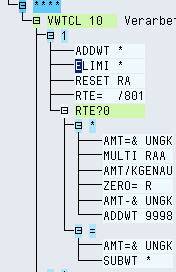 This might be the reason for your double entries. IMHO you should reflect using altered tactics for termination or all other partial month and unpaid days. While using all this logic of PCRZVA1 will work fine for unpaid absence, as well as the whole month unpaid, meanwhile in this case the WT 9998, which is negative, and that will compensate it fully with positive value of basic pay.
PCR will be used to produce the complimentary value i.e. the total should be deduces as it is being unpaid.
IF it ought to be terminated it will result in double entries .e.g. there can be some deal that will be with unpaid days only and 801 could have the partial month ration. This is how you can consume both the values individually.