Chervi Technologies, Hyderabad

Address:
2-22/1/132/6,pipe line road,Shanthi Degree College,near KPHB Bus Stop,Hyderabad
City:

Hyderabad


Andhra Pradesh

India

(

IN

)

500072

Email:
chervitech@gmail.com ,chervihyd@gmail.com
Website:
http://www.chervitechnologies.com
Phone:
8885627627 ,8885628628
Institute Type:
Institute
Hi All,
Please find below the Courses we Offer at CHERVI TECHNOLOGIES,KPHB, Hyderabad
Chervi HOT COURSES in alignment with Current Market Situations
JAVA - CORE – ADVANCED- STRUTS- HIBERNATE - SPRINGS
TESTING - MANUAL - QTP - LOAD-RUNNER - SELENIUM - QUALITY CENTER - VSTS - MOBILE TESTING
WEBSPHERE - MQ/MB
SAP BW/BO/HANA
SAP BASIS
SAP MM/SRM/WM
SAP ABAP

SAP FI/CO
SAP SD
OUR SERVICES :
CLASS ROOM TRAINING
ONLINE TRAINING
CORPORATE TRAINING

Thanks & Regards,
Chervi Jobs Team,
KPHB, Hyderabad,
+91 8885 627 627
+91 8885 628 628,
040 40036539
www.chervitechnologies.com
info@chervitechnologies.com
YOU SHOW YOUR DEDICATION in Training
WE SHOW OUR COMMITMENT in Placements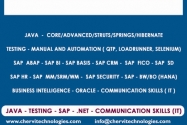 Other institutes in Hyderabad
Atos IT Solutions and Services Pvt Ltd, Hyderabad
Tespa Infotech, Hyderabad
A2Z ONLINE TRAINING, Hyderabad
AcuteSoft Solutions India Pvt Ltd, Hyderabad
Pedant Softech, Hyderabad
Global Education, Hyderabad
Srihitha Technologies, Hyderabad
Big Classes, Hyderabad
Mentors Inn, Hyderabad
Ecorptrainings (ECT), Hyderabad
SR Technologies, Hyderabad
Maha Technology, Hyderabad
CyberTek, Hyderabad
Bharath Trainings, Hyderabad
Revanth Technologies, Hyderabad
Learn In Technologies , Hyderabad
MaxOnlineTraining, Hyderabad
NIIT Ltd, Hyderabad
Pragna Technologies, Hyderabad
Target Tech Solutions, Hyderabad
Lithan Genovate , Hyderabad
Get solutions from our experts!
All the site contents are Copyright © www.stechies.com and the content authors. All rights reserved. All product names are trademarks of their respective companies. The site www.stechies.com is in no way affiliated with SAP AG. Every effort is made to ensure the content integrity. Information used on this site is at your own risk. The content on this site may not be reproduced or redistributed without the express written permission of www.stechies.com or the content authors.