As a part of the routine SAP basis checks the following database tasks can also included.
Note: Oracle writes all startup logs into alrt<SID>.log which resides in SAPTRACE directory. It is the only log which can gives us the complete history of database activities.
1. Monitor the size of the database to have a detailed capacity planning. Login to SAP system and log the database growth on daily basis.
For Eg. Size in GB
1 2 3 4 5 6 7 8 9 10
200 210 220 230 230 230 250 280 300 350
Conclusion
The database is growing at an average of 15GB per/ day.
Have a storage of 1 TB = 1024 GB
At the current growth rate of the database can use the storage up to 30 days approximately.
We need to check the abnormal growth of the database.
Inform the inventory department to order more disks if there is really a DB growth.
If we consider 2 Months duration the graph will be like this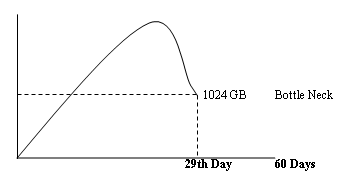 DB02 is used to monitor the disk space, critical objects based on Table spaces.
Tables and Indexes Monitor
SQL> Select tablespace_name, block_size from dba_tablespace.
System 8192
-- --
-- --
SQL> select tablespace_name, segment_space_management from dba_tablespace;
Segment is nothing but a table or index.

See more about SAP BASIS