T-code (OBA4)
Path
Financial Accounting
Financial Accounting global Setting
Document
Line Items
Define Tolerance Group for Employees
In this activity, you predefine various amount limits for your employees with which you determine:
• the maximum document amount the employee is authorized to post
• the maximum amount the employee can enter as a line item in a customer or vendor account
• the maximum cash discount percentage the employee can grant in a line item
• the maximum acceptable tolerance for payment differences for the employee.
You can also define tolerances without specifying a tolerance group. Leave the field Grp empty in this case. The stored tolerances are then valid for all employees who are not allocated to a group. There must be at least one entry for every company code.
You can also specify tolerances for clearing procedures depending on your customers or vendors.
In the system, sample tolerances are defined for the standard company codes.

If you have defined differing tolerance groups, you then have to assign your employees to a certain tolerance group. To do this, select the activity "Assign users to tolerance groups" . This is where you enter your employees under the relevant groups.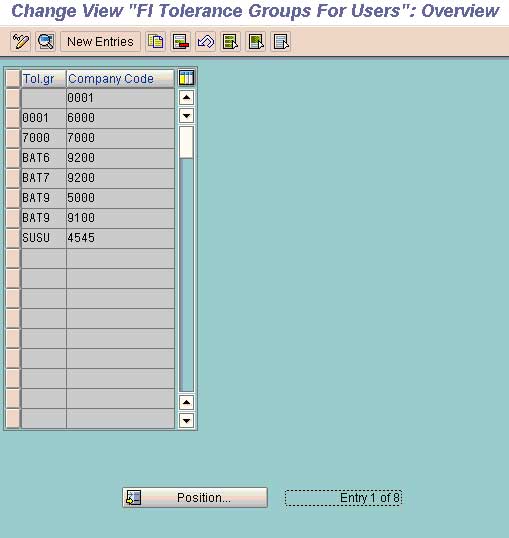 The Tolerance Group is the used for defining the upper limit for a particular employee user for allowing him to post a transaction within the limit assigned to the user using this option. An employee cannot post any transaction which falls beyond the tolerance limits/amount fixed for him under this option.
Select the option New Entries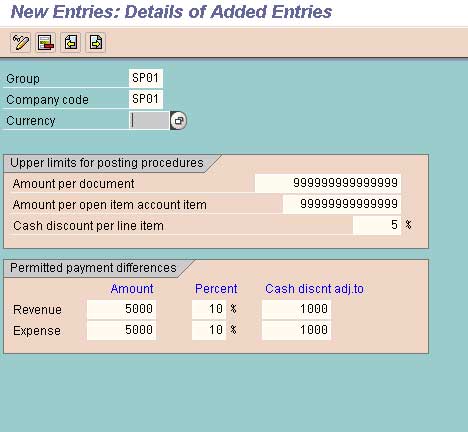 Define the Limits for a particular group by assigning the values in the various fields. Once limit are assigned the employees will be able to post the transaction within that limit only.