Home »
EAM (Enterprise Asset Management)
SAP EAM (Enterprise Asset Management)
Definition or Meaning- What is SAP EAM (Enterprise Asset Management)?
Full form or SAP EAM stands for (Enterprise Asset Management), refers to those techniques of management that maximize the value of the physical assets for an organization and bring about optimal performances in their life-cycle. It includes the handling of those processes of an organization that are directly linked with construction, design, operations, commissioning, maintenance, replacement or decommissioning of plant, facilities and equipment.
.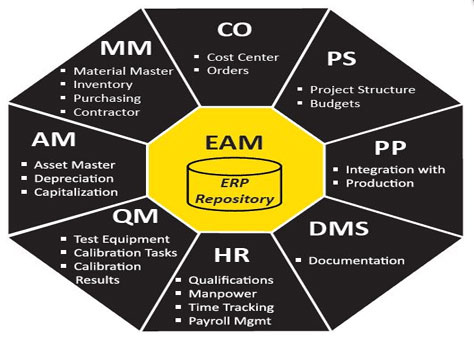 Importance of Enterprise Asset Management (EAM)
In the contemporary scenario, enterprises integrate smart SAP EAM tools and techniques across departments, units of business, facilities and locations. With the proper strategies and management ideas in place, they are gaining natural and real time visibility into the usage of asserts - thereby bringing about improvements in the optimum levels of returns from them and going a step further in deferring new purchases. The popularity of this effective SAP EAM (Enterprise Asset Management) sub module is increasing with each passing day and showcasing its support across a wide range of industries like manufacturing, life sciences, health care, oil and gas, transportations and so on.
Providing adequate control and visibility over the critical assets that affect risk, compliances and business performances, Enterprise Asset Management is fast becoming an indispensible SAP component for organizations globally.
Read Next:
Get solutions from our experts!
All the site contents are Copyright © www.stechies.com and the content authors. All rights reserved. All product names are trademarks of their respective companies. The site www.stechies.com is in no way affiliated with SAP AG. Every effort is made to ensure the content integrity. Information used on this site is at your own risk. The content on this site may not be reproduced or redistributed without the express written permission of www.stechies.com or the content authors.