Definition or Meaning- What is SAP EAM (Enterprise Asset Management)?
Full form or SAP EAM stands for (Enterprise Asset Management), refers to those techniques of management that maximize the value of the physical assets for an organization and bring about optimal performances in their life-cycle. It includes the handling of those processes of an organization that are directly linked with construction, design, operations, commissioning, maintenance, replacement or decommissioning of the plant, facilities and equipment.
.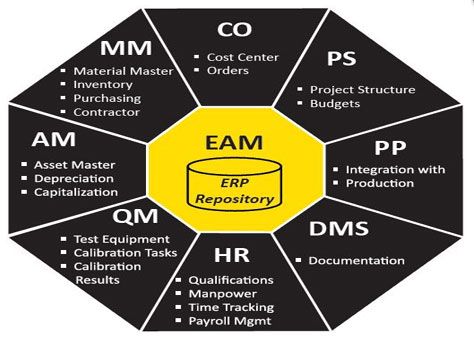 Importance of Enterprise Asset Management (EAM)
In the contemporary scenario, enterprises integrate smart SAP EAM tools and techniques across departments, units of business, facilities and locations. With the proper strategies and management ideas in place, they are gaining natural and real-time visibility into the usage of asserts - thereby bringing about improvements in the optimum levels of returns from them and going a step further in deferring new purchases. The popularity of this effective SAP EAM (Enterprise Asset Management) sub-module is increasing with each passing day and showcasing its support across a wide range of industries like manufacturing, life sciences, health care, oil and gas, transportations and so on.
Providing adequate control and visibility over the critical assets that affect risk, compliances and business performances, Enterprise Asset Management is fast becoming an indispensable SAP component for organizations globally.
The functions of SAP EAM (Enterprise Asset Management) are taking some fundamental twists and turns where organizations are going ahead from their historical reactive (run-to-failure) models and embracing overall life planning cycle, proactive maintenance tools, and other industry practices. Few companies are still considering physical asset management as just a focused term for maintenance of management until they are able to understand its wide impact and interdependencies with design, operations, the performance of assets, lifecycle cost and personal productivity.
Challenges before EAM
EAM tools and techniques require numerous high-end data for tracking and analyzing the execution of different business processes. In most cases, the capturing of data in EAM systems often turns out to be a more expensive approach that lacks practicality. This, in turn, slows down the levels of applicability and adoption and erodes the ROI linked with the deployments of EAM. This happens when SAP processes are not appropriately linked with the other departments in an organization like Inventory, SAP HR (Human Resource), Purchase, etc. Because of the incomplete role of SAP EAM in this case, organizations find it difficult to gain better bottom line figures or ready-made solutions for their asset management needs - thereby making the overall process cumbersome and daunting.
Apart from getting real-time visibility into the overall performance of assets, smartly conceived asset management (EAM) solutions go a long way in sustaining and efficiently managing the overall asset lifecycle, cutting costs with more powerful analytics, and improving asset usage. In addition, they enhance the environment, safety and health performance.
The other noteworthy benefits of SAP EAM include:
Streamlining of processes by shortening work cycles and eliminating paperwork;
Reducing maintenance costs with standard working processes;
Getting improved analytics and better visibility by capturing good quality real-time information and data;
Keeping assets at their peak performance by implementing timelier maintenance and shorter response times;
Completing safety checks and following safe working practices for the protection of employees;
Simplifying user experiences on various devices with SAP tools, and so forth.
So, are you ready to enjoy the advantages of Enterprise Asset Management? Begin today!