We want to create a WBS element with the same name as a WBS which already exist in the version profile using the status-dependent Project Version in SAP ERP Project System (PS)
While creating a report ZVERSION_UPDATE in Transaction SE38 after the activation of the report following four fields are shown:

LP_VSNMR - the VSNMR of WBS element
SO_PRDEF - The Project Definition which the WBS element belongs to
LP_PRFIX - the beginning of the new name of the WBS elements
TESTMODE - If you would like to run in test mode.
But while executing the report ZVERSION_UPDATE the system shows an error 'Error: Enter a version'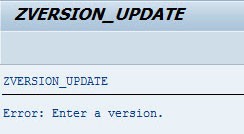 Solution:
Due to no corresponding entry for the project in table VSPROJ_CN (version table for Project Definition) which can only happen if the relevant VS_PROJCN entry was deleted at some point. Therefore the above error is because of blank or invalid PSPHI field in table VSPRPS_CN for existing WBS element.
Now the report ZVERSION_UPDATE cannot be used for renaming the existing WBS element versions because this only works when definition version of a project also exists.
It is a designing behaviour due to which a new version of a project is a snapshot of this project at a certain point in time. Therefore deleting or renaming a WBS element and project definition does not have any affect on the project versions. This is because the corresponding data for the version persists in
tables VSPRPS_CN and VSPROJ_CN.