FI - Notes :
SM01 : LIST OF ALL TRANSACTION CODES
SM04 : TO DISPLAY OTHER USERS
SM12 : TO CLEAR LOCKS
SM35 : TO PROCESS SESSIONS
SE09 : TO RELEASE TRANSPORT REQUESTS [sap/tools/abap …workbench/overview/transpost organizer]
SE11 : FOR DATABASE TABLES
SE17 : TO ANALYSE TABLE ERRORS
SE38 : ABAP EDITOR & ALL OPTIONS TO GENERATE , EXECUTE ETC.
SHDB : Batch Data Communication
SEARCH_SAP_MENU : TO SEARCH FOR MENU PATH THRU TRAN CODES
ENTERPRISE STRUCTURE
IMG/ES/DEFI/FA : DEFINE COMPANY : Define company, enter address etc. Done
DEFINE / DELETE / CHECK COMPANY CODE : Define company code / copy from another company code etc. [ OX02 ] Done
MG/ES/ASSIG/FA : ASSIGN COMPANY CODE TO COMPANY : Assign the company created under 1 to the company code created under 2. Done TO CHECK GLOBAL SETTINGS - [ OBY6 ]
IMG/FA/GLOBAL SETTINGS/FISCAL YEAR - [ OB29 ] Done
Maintain Fiscal Year Variant : fiscal year can be
Year dependent
Year independent
Calender
Shortened
Period : Fiscal year is made up of periods 1 – 12. There can be a maximum of 12 normal posting periods and 4 special 13-16 posting periods. Thus for a General Ledger there can be a maximum of 16 posting periods, and for a Special Ledger ( where cross flow exists like PCA, PCC etc ) there can be a maximum of 65 posting periods. Once the FYV is defined, periods can be accessed and defined. Every business transaction is allocated to a posting period. Weekly will have 52 posting periods.
Day : Last valid calender date to be specified for each period. FYV 24 PP

Year dependent fiscal year means the start and end date of the PP of some FY will be different from the dates of other FY, and / or if some FY use a different no of PP. If one year of a FYV has less posting periods than others, it is called a shortened FY. This could be required if closing has to be made before the end of the normal FY. The shortened FY and its no of PP has to be specified before the definition of period dates and for this year only, a lesser no of PP can be assigned. FY can be defined separately in different modules, which will take precedence over global settings for that module. Year Independent FY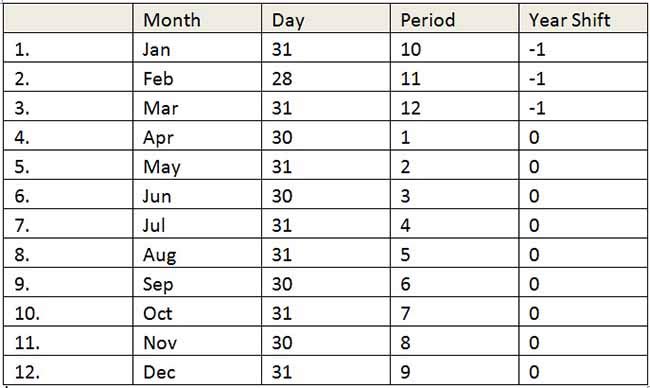 Assign company code to Fiscal Year Variant. [ OB37 ]
5. IMG/FA/GLOBAL SETTINGS/DOCUMENT
Posting Periods : The variant principle is widely used in the R/3 system to assign special properties to one or more R/3 objects. The advantage of using variants is that it is easier to maintain properties which are common among several business objects ( FSV, FYV, PPV )
Steps : Define the variant - K4
Populate the variant - calender year
Assign the variant to the appropriate company code.
Define Variants for Open Posting Periods : define as necessary. [OBBO]
Open & Close Posting Periods : In case of a FY which spills over 2 years, define 2002-03 as 2002,2003 with periods 1-12, & 13-16. OB52
Assign Posting Period Variants to Company Code : assign. [ OBBP ]
Document Number Ranges : Copy from. Once copied, internal no range is given. External No range if checked, is to be given by the user. [OBA7]
Define Document Number Ranges : not necessary if copied earlier.
Copy to Company Code : not necessary if copied earlier.
Copy to Fiscal Year : not necessary if copied earlier.
6. IMG/FA/GLOBAL SETTINGS/DOCUMENT HEADER
Define Document Type : [ OBA7 ] Predefined document types are already in place. SA – G/L a/c type. A/c type allowed :
Assets
Customers
Vendors
Material
G/L Account
Net Doc Tyoe – whether NETT
Customer vendor check
Negative postings allowed.
Inter Company Posting.
Net Doc Tyoe – whether NETT
Customer vendor check
Negative postings allowed.
Inter Company Posting.
Required during Document Entry :
Reference No
Document Header Text.
Batch Input only.
Rollup – minimum details saved
Planning
Account Allocation
Default Value : Exchange rate type for foreign currency document …….. [ M avg translation rate ]
Assignment of Document Class to Document Type : Document class for Cr Memo would be C.
A - Invoice
B - Payment
C - Credit Memo
D - Debit Memo
E - Customs Document
F - RG ----
G - RG ----
Maximum Exchange Rate Difference : in %age terms for each co code.
DEFINE RETAINED EARNINGS A/C [ OB53 ]
7. IMG/FA/GLOBAL SETTINGS/LINE ITEM/CONTROLS
Posting Key [ OB41 ] : 40/50 Dr / Cr GL A/c [ global ]
Field Status Variant [ OBC4 ] : [ local ] - normally copy as. You group several field status groups into one field status variant. Assign a company code to a FSV. This allows you to work with the same FSG in any no of co codes. A FSG determines the screen layout for doc entry. Fields can have the following statuses. Optional / Required / Suppresed entry. Enter the FSG in the master record of the GL a/c. When a doc is entered, the definitions stored for the group are effective. The FSG determines which fields are ready for input, required and hidden. Bear in mind that additional assignments [ i.e. cost centers or orders ] are only possible if data can be entered in the corresponding fields.
Assign FSV to Company Code : assign. [ OBC5 ]
Screen Variants for Doc Entry :
Standard - to be used.
Austria & Switzerland
France & Witholding Tax – for TDS
Define Tolerance Groups for Employees : Not defining tolerance groups will restrict data entry. [ OBA0 / OBA4 ]
Valuewise [upto 1,000,000 etc ]
Cash Discounts
Payment Difference [not recd full amount]
Assign User / Tolerance Groups : assign.
Download attached file:
You must be Loged in to download file