ERP Training (trading name of Binisoft Technologies Pvt Ltd ), Bhubaneswar

Address:
Top Floor, Plot No 307-A, District Commercial Centre, Health Point Building, Chandrasekharpur
City:

Bhubaneswar


Orissa

India

(

IN

)

751024

Email:
training@erptraining.co.in ,swaroop.nayak@binisoft.com
Website:
http://www.erptraining.co.in
Phone:
9040588360 ,91 674 274 2476
Institute Type:
Institute
At ERP Training we believe in imparting modern and best in class training to both aspiring graduates and talented professionals to keep them abreast with changing needs of the competitive market place. We have a full team of ERP professionals including SAP, Oracle and Microsoft technologies in the areas Business Processes across various industries and organisational settings.
With years of international experience in technology and functional domains related to ERPs , we are confident in designing and delivering substantial training individuals and corporate in these areas.

Our aim is to be:
A one stop shop for all your training and documentation needs.
Provide best in class training through experienced and integrated team.
Keep improving our service in training and content development. OUR SERVICES Training Need Analysis: Our trainers and consultants can work closely with your business process experts to identify the training needs you business may have in terms of
No of users to be trained
Identification of the business processes on which training is required
Build detailed training plan
Training Content Development: Our trainers and consultants can work closely with your users and experts to develop and document the content and curriculum for training.
Training Delivery: We aim to deliver the most effective training through relevant content / curriculum and modern technology
Support: Our training team will keep providing support throughout the training periods and beyond that.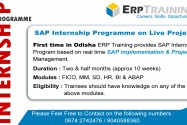 Other institutes in Bhubaneswar
Get solutions from our experts!
All the site contents are Copyright © www.stechies.com and the content authors. All rights reserved. All product names are trademarks of their respective companies. The site www.stechies.com is in no way affiliated with SAP AG. Every effort is made to ensure the content integrity. Information used on this site is at your own risk. The content on this site may not be reproduced or redistributed without the express written permission of www.stechies.com or the content authors.