IBM and SAP are the well-known giants in the field of technology and both of them strengthening their partnership for Cloud. Both these companies will have their technologies will work in a close partnership model for offering cloud based solutions services to other companies and will work towards offering new solutions apart from creating colocations.
As a part of the plan SAP (Systems, Applications, Products in Data Processing) also plans to offer its HANA Enterprise Cloud customers which are already working on IBM's IaaS which offers the ability to pick up application maintenance and support services, along with developing industry-specific road maps in a joint effort and would also create collaborative models for consulting. Customers will have the ability to modify the designs as per their individual requirements.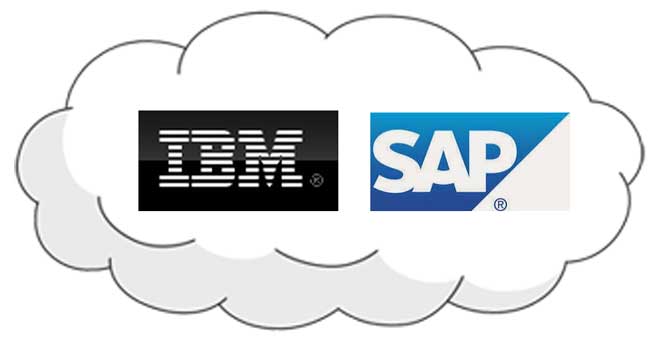 Six areas already identified by the enterprise on which the core focus will be, one of the areas is the cloud partnership which was initially set up in the year 2014. This is a section of the SAP's HANA Enterprise Cloud platform and applications which operated as a private-cloud service on IBM's infrastructure and software. This is a section of the SAP's HANA Enterprise Cloud platform and applications which operated as a private-cloud service on IBM's infrastructure and software.
Bridget van Kralingen, senior vice president of IBM Global Business Services, has stated-"We're formalizing a complementary set of capabilities to simplify and speed outcomes for clients evolving to become cognitive enterprises".
The aim around the association is to improve the customer and user experiences. Both the companies will work on the predesigned experiences and work around the concept of IBM Interactive Experience, an operation which has been termed as the that Big Blue touts by the world's largest digital agency, and SAP Global Design.
IBM has always been known for its artificial intelligence computing system Watson and the company aims as developing cognitive solutions specifically for SAP S/4HANA, as a part of the plan of this extended partnership.
Charles King, principal analyst with Pund-IT Inc., in an interview with InformationWeek, stated "This new effort aims to align the companies' respective efforts in developing (and) promoting 'digital transformation' solutions among their clients. The aim here is to inspire enterprises to expand their adoption of evolving and next-generation technologies, including analytics and big data, cognitive computing, hybrid cloud, and mobile solutions".
Charles has further stated, ""One interesting point of the deal regards collaborations between the companies' design groups," King said. "That could pay off significantly, especially relating to the vertical industry focus of the pair's planned solutions and how they leverage IBM's mobile efforts around Apple's iOS and hardware solutions."
Charles also commented that is this works out successfully, both the companies will stand to benefit from this association. The advantages would be in the field of cognitive, analytic services as well as cloud solutions, apart from the financial gain for SAP by offering the enterprise applications, cloud services, and HANA in-memory solutions.
Although it appears that both IBM as well as SAP stand to get benefitted by this association, it's difficult to forecast the actual benefit the customers will drive out of this association.
this
As per Charles, "In the best possible outcomes, enterprise customers will gain access to increasingly powerful, easy-to-use services and solutions that will help their organizations adapt to rapidly changing circumstances and exploit new market opportunities. Even if IBM and SAP deliver on just part of their expected goals, their individual and shared customers should gain significant benefits."
Read more about SAP Cloud