SAP IS (Industry Solutions) Sample Resume 14.00 years experience
| | | |
| --- | --- | --- |
| Name | : | (Male) having 14.00 Years of Exp (Ahmedabad) 05 Jul 2016 10:40 am |
| Function Area | : | IS (Industry Solutions), |
Personal Details

Preffered Job Location
:
Bangalore,
Nationality
:

India

Download Resume
:

Click Here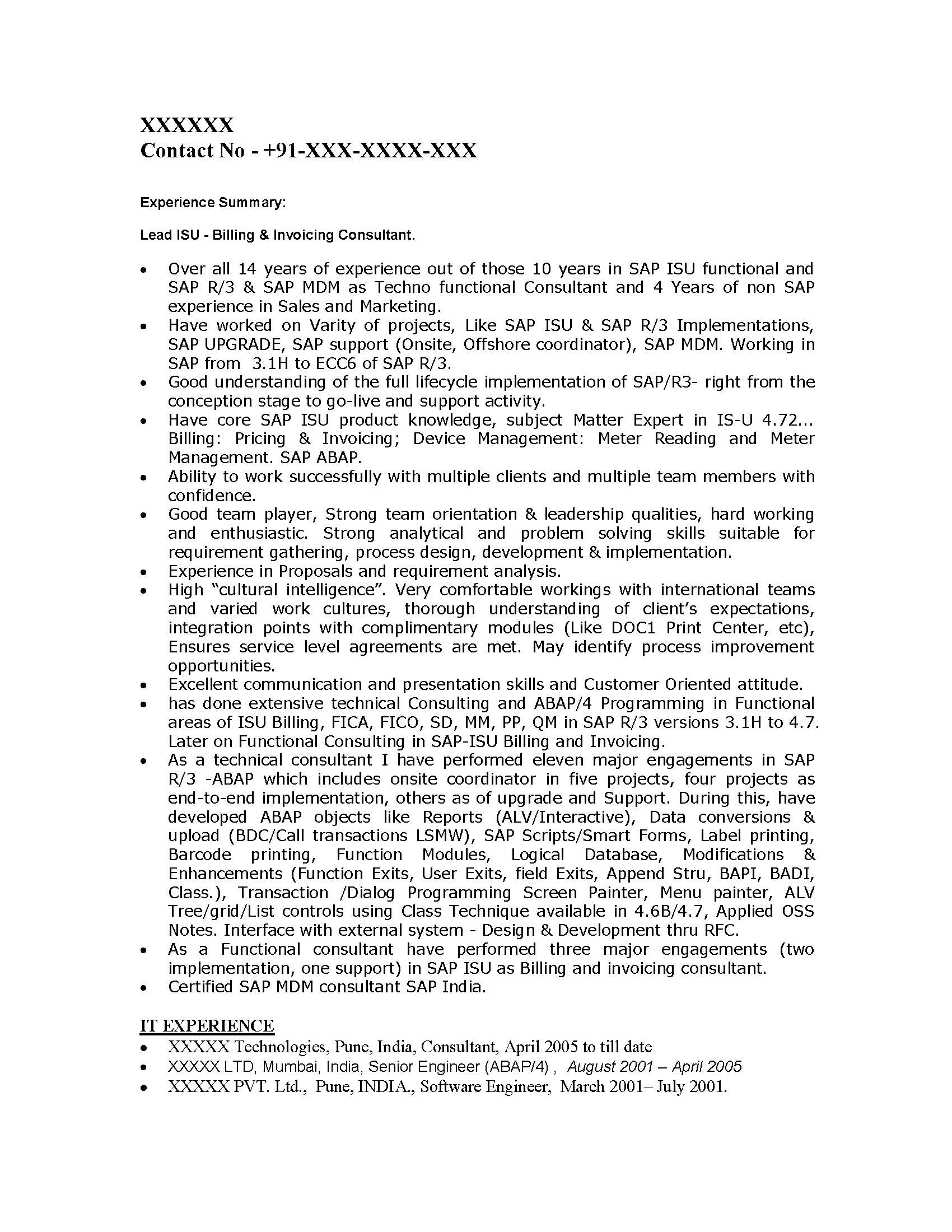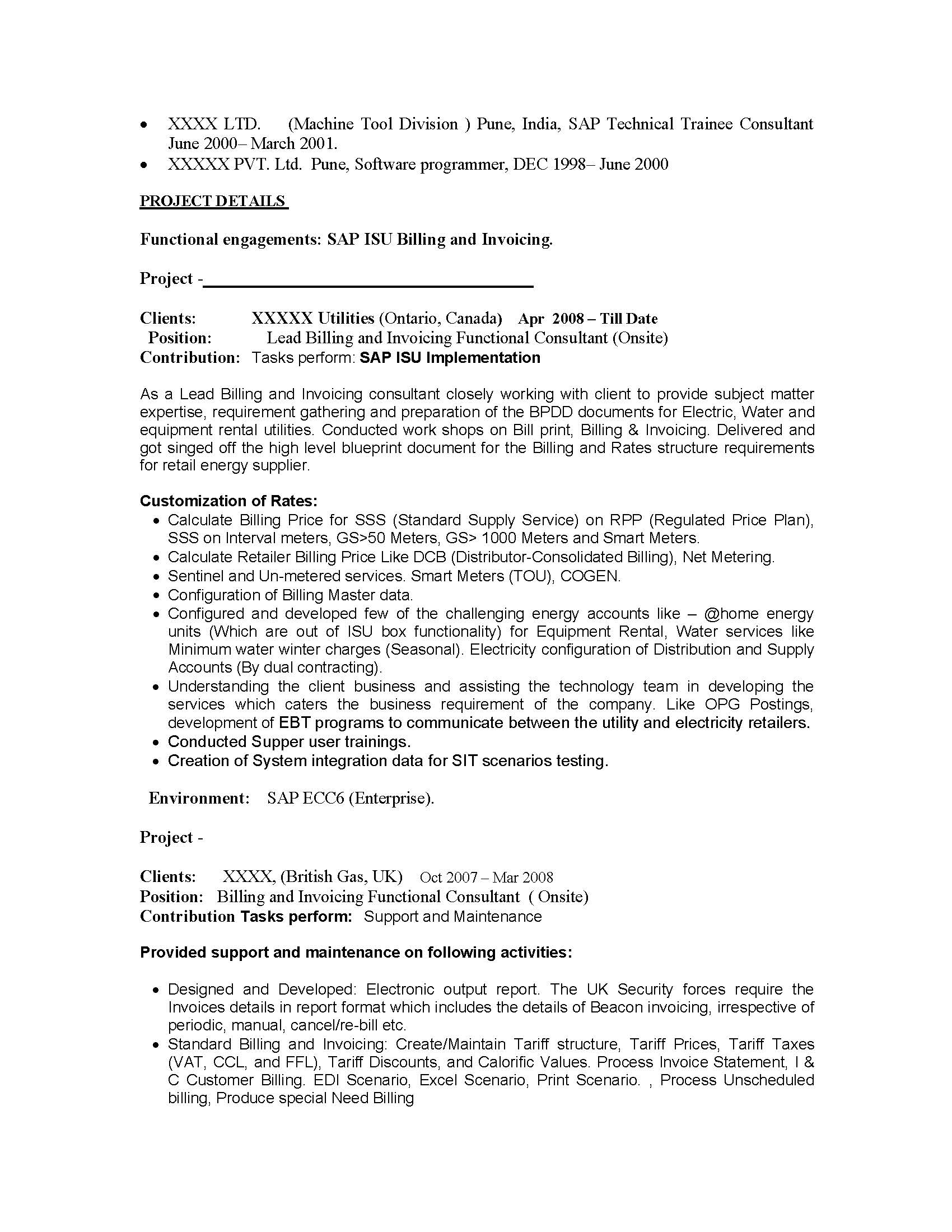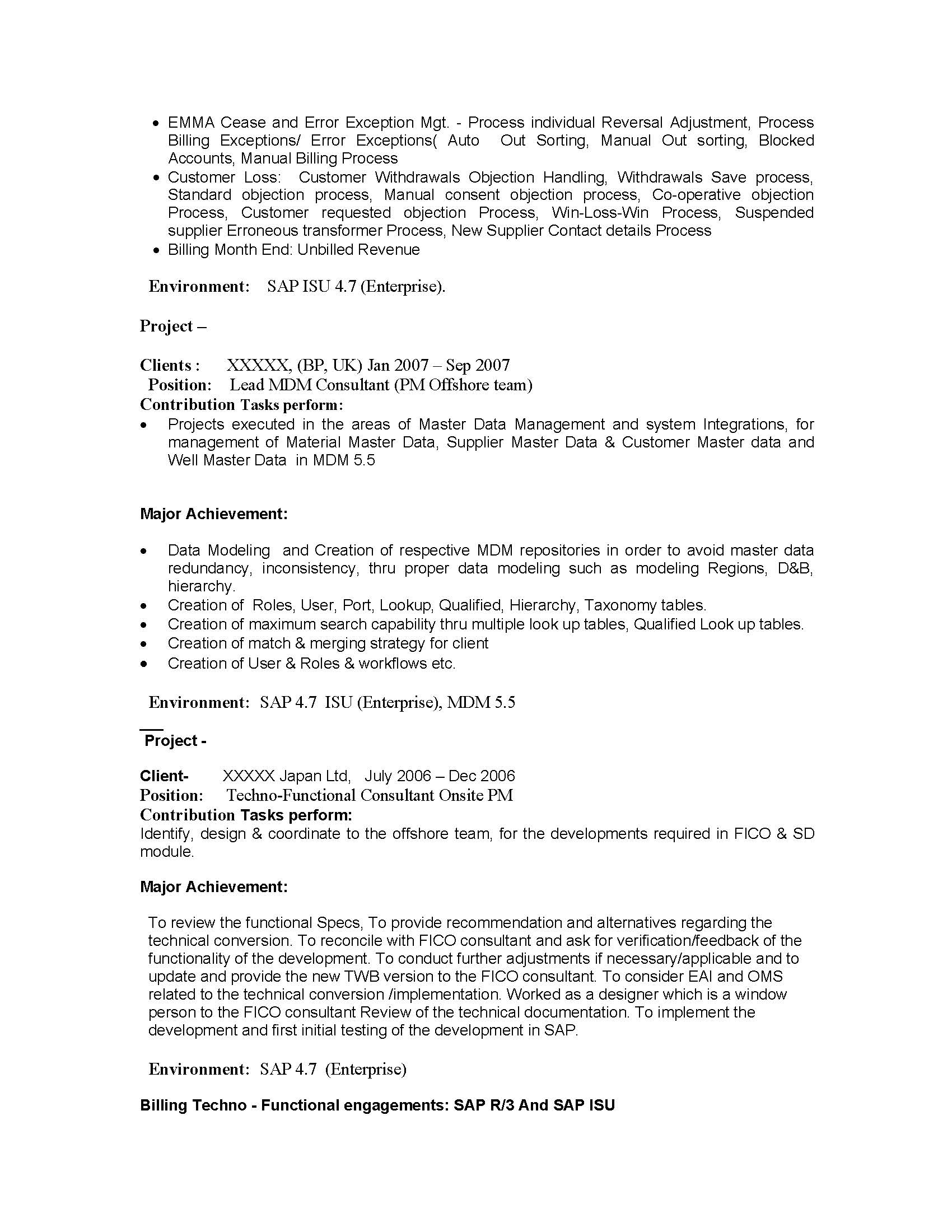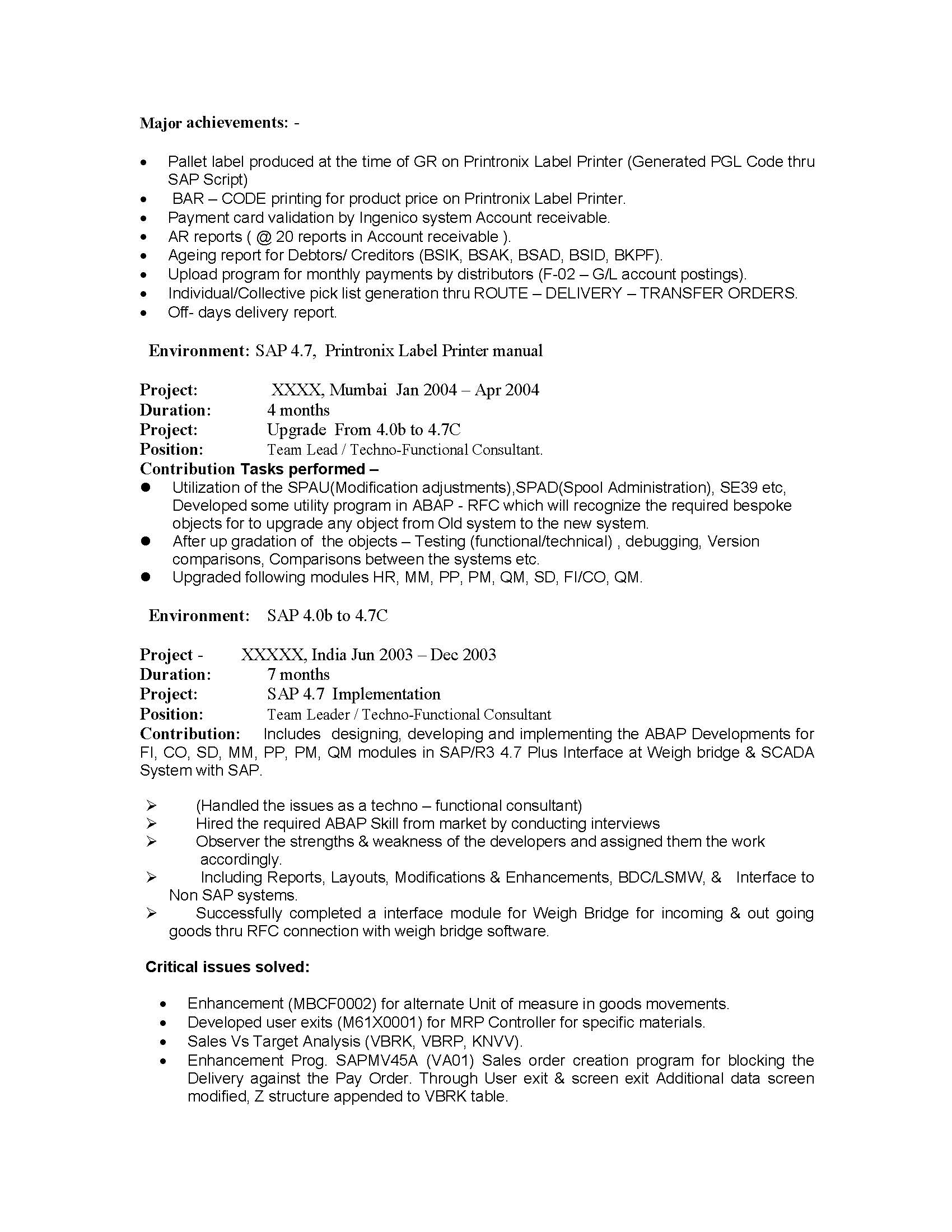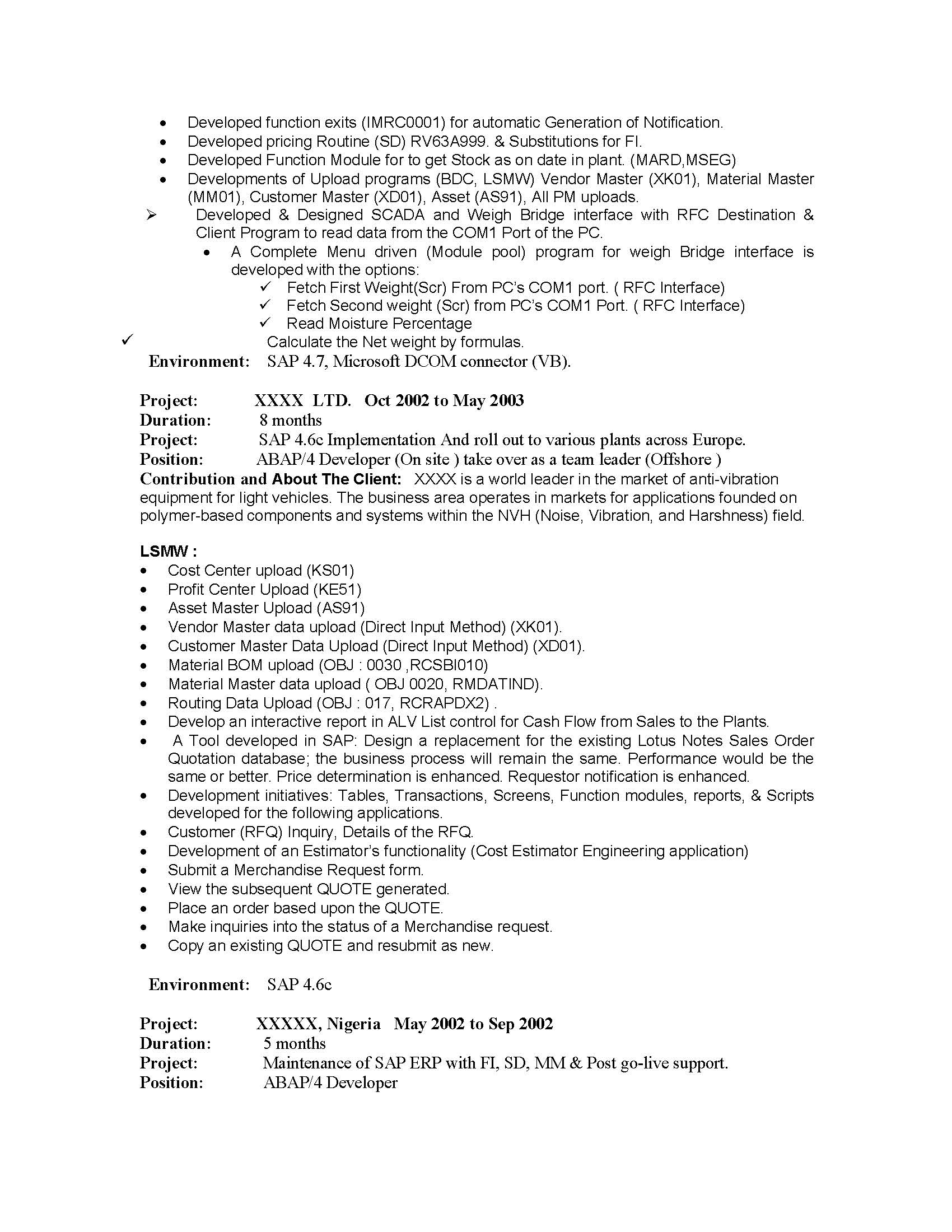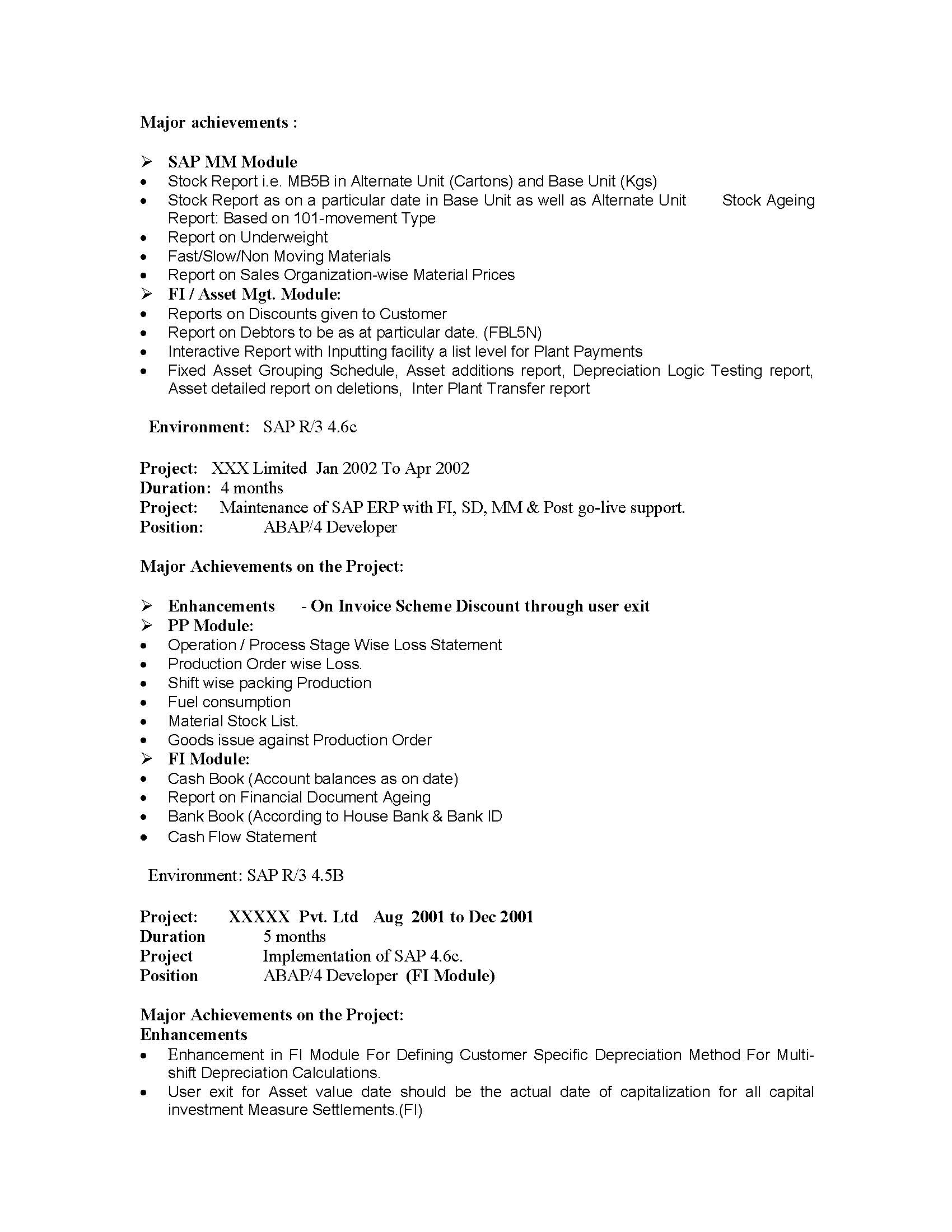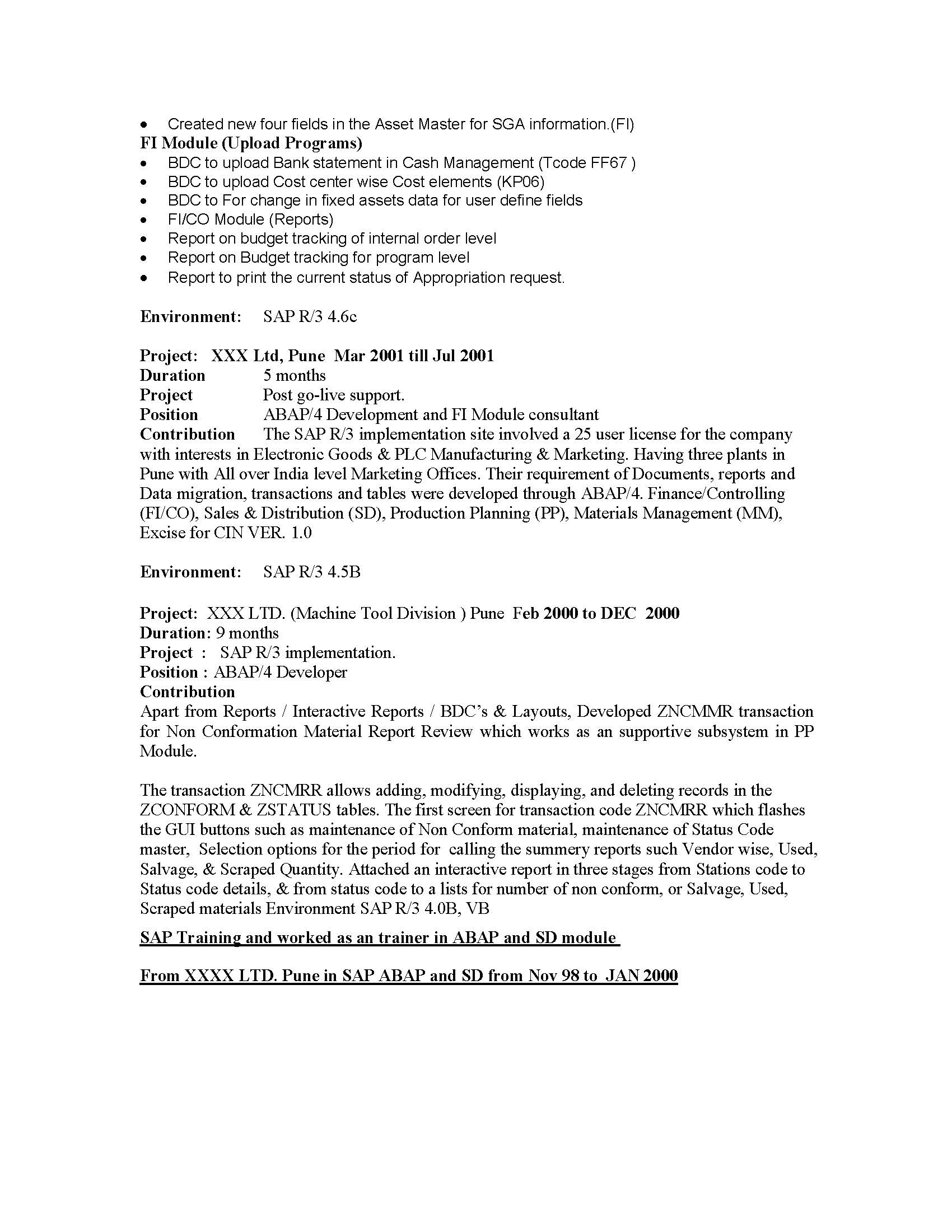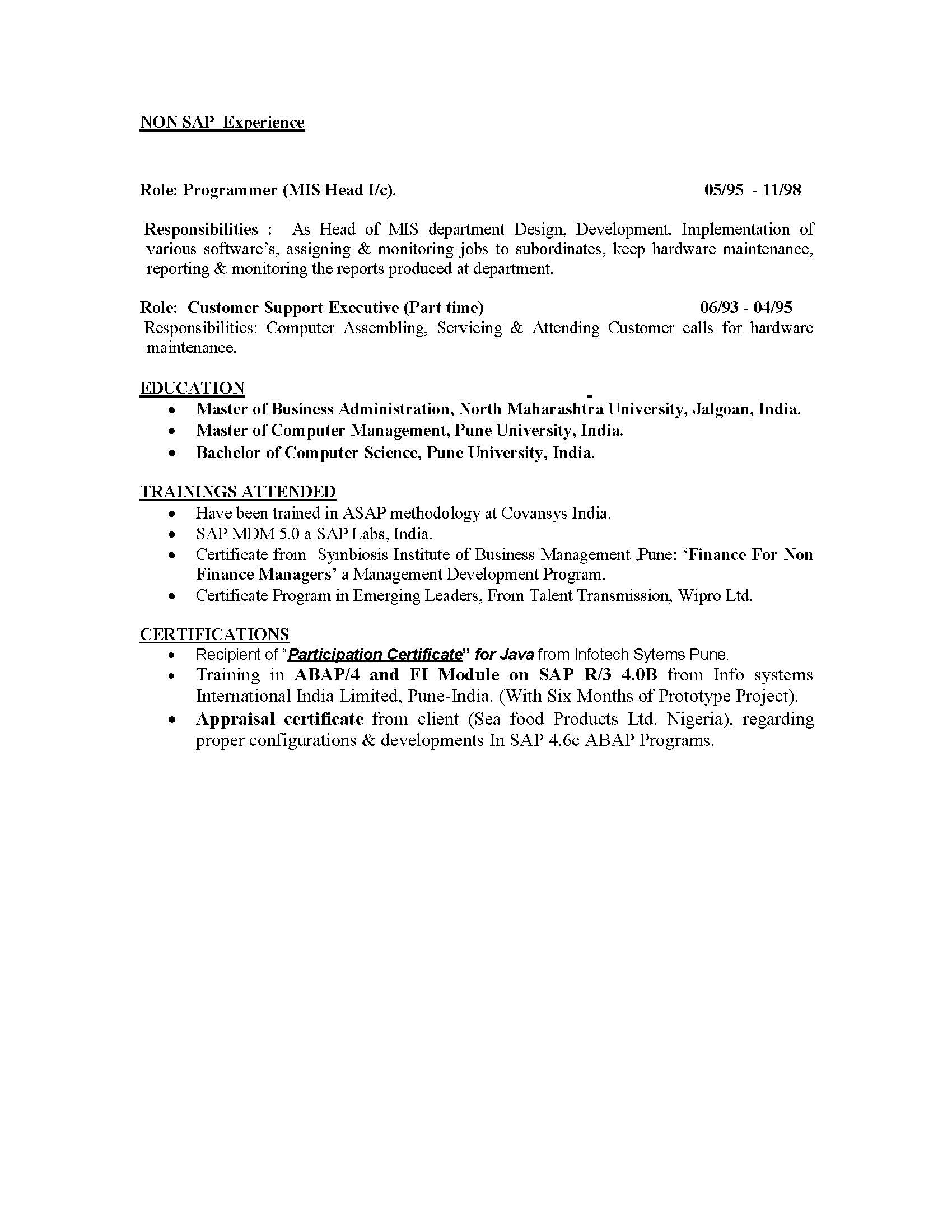 ISU Billing and Invoicing Consultant Sample Resume for 14 Years Experience
Experience Summary:
Lead ISU - Billing & Invoicing Consultant.
Over all 14 years of experience out of those 10 years in SAP ISU functional and SAP R/3 & SAP MDM as Techno functional Consultant and 4 Years of non SAP experience in Sales and Marketing.
Have worked on Varity of projects, Like SAP ISU & SAP R/3 Implementations, SAP UPGRADE, SAP support (Onsite, Offshore coordinator), SAP MDM. Working in SAP from 3.1H to ECC6 of SAP R/3.
Good understanding of the full lifecycle implementation of SAP/R3- right from the conception stage to go-live and support activity.
Have core SAP ISU product knowledge, subject Matter Expert in IS-U 4.72... Billing: Pricing & Invoicing; Device Management: Meter Reading and Meter Management. SAP ABAP.
Ability to work successfully with multiple clients and multiple team members with confidence.
Good team player, Strong team orientation & leadership qualities, hard working and enthusiastic. Strong analytical and problem solving skills suitable for requirement gathering, process design, development & implementation.
Experience in Proposals and requirement analysis.
High "cultural intelligence". Very comfortable workings with international teams and varied work cultures, thorough understanding of client's expectations, integration points with complimentary modules (Like DOC1 Print Center, etc), Ensures service level agreements are met. May identify process improvement opportunities.
Excellent communication and presentation skills and Customer Oriented attitude.
Has done extensive technical Consulting and ABAP/4 Programming in Functional areas of ISU Billing, FICA, FICO, SD, MM, PP, QM in SAP R/3 versions 3.1H to 4.7. Later on Functional Consulting in SAP-ISU Billing and Invoicing.
As a technical consultant I have performed eleven major engagements in SAP R/3 -ABAP which includes onsite coordinator in five projects, four projects as end-to-end implementation, others as of upgrade and Support. During this, have developed ABAP objects like Reports (ALV/Interactive), Data conversions & upload (BDC/Call transactions LSMW), SAP Scripts/Smart Forms, Label printing, Barcode printing, Function Modules, Logical Database, Modifications & Enhancements (Function Exits, User Exits, field Exits, Append Stru, BAPI, BADI, Class.), Transaction /Dialog Programming Screen Painter, Menu painter, ALV Tree/grid/List controls using Class Technique available in 4.6B/4.7, Applied OSS Notes. Interface with external system - Design & Development thru RFC.
As a Functional consultant have performed three major engagements (two implementation, one support) in SAP ISU as Billing and invoicing consultant.
Certified SAP MDM consultant SAP India.
PROJECT DETAILS
Functional engagements: SAP ISU Billing and Invoicing.
Project -
Clients: XXXXX Utilities (Ontario, Canada) Apr 2008 – Till Date
Position: Lead Billing and Invoicing Functional Consultant (Onsite)
Contribution Tasks perform: SAP ISU Implementation
As a Lead Billing and Invoicing consultant closely working with client to provide subject matter expertise, requirement gathering and preparation of the BPDD documents for Electric, Water and equipment rental utilities. Conducted work shops on Bill print, Billing & Invoicing. Delivered and got singed off the high level blueprint document for the Billing and Rates structure requirements for retail energy supplier.
Customization of Rates:
Calculate Billing Price for SSS (Standard Supply Service) on RPP (Regulated Price Plan), SSS on Interval meters, GS>50 Meters, GS> 1000 Meters and Smart Meters.
Calculate Retailer Billing Price Like DCB (Distributor-Consolidated Billing), Net Metering.
Sentinel and Un-metered services. Smart Meters (TOU), COGEN.
Configuration of Billing Master data.
Configured and developed few of the challenging energy accounts like – @home energy units (Which are out of ISU box functionality) for Equipment Rental, Water services like Minimum water winter charges (Seasonal). Electricity configuration of Distribution and Supply Accounts (By dual contracting).
Understanding the client business and assisting the technology team in developing the services which caters the business requirement of the company. Like OPG Postings, development of EBT programs to communicate between the utility and electricity retailers.
Conducted Supper user trainings.
Creation of System integration data for SIT scenarios testing.
Environment: SAP ECC6 (Enterprise).
Project -
Clients: XXXX, (British Gas, UK) Oct 2007 – Mar 2008
Position: Billing and Invoicing Functional Consultant ( Onsite)
Contribution Tasks perform: Support and Maintenance
Provided support and maintenance on following activities:
Designed and Developed: Electronic output report. The UK Security forces require the Invoices details in report format which includes the details of Beacon invoicing, irrespective of periodic, manual, cancel/re-bill etc.
Standard Billing and Invoicing: Create/Maintain Tariff structure, Tariff Prices, Tariff Taxes (VAT, CCL, and FFL), Tariff Discounts, and Calorific Values. Process Invoice Statement, I & C Customer Billing. EDI Scenario, Excel Scenario, Print Scenario. , Process Unscheduled billing, Produce special Need Billing
EMMA Cease and Error Exception Mgt. - Process individual Reversal Adjustment, Process Billing Exceptions/ Error Exceptions( Auto Out Sorting, Manual Out sorting, Blocked Accounts, Manual Billing Process
Customer Loss: Customer Withdrawals Objection Handling, Withdrawals Save process, Standard objection process, Manual consent objection process, Co-operative objection Process, Customer requested objection Process, Win-Loss-Win Process, Suspended supplier Erroneous transformer Process, New Supplier Contact details Process
Billing Month End: Unbilled Revenue
Environment: SAP ISU 4.7 (Enterprise).
Project –
Clients : XXXXX, (BP, UK) Jan 2007 – Sep 2007
Position: Lead MDM Consultant (PM Offshore team)
Contribution Tasks perform:
Projects executed in the areas of Master Data Management and system Integrations, for management of Material Master Data, Supplier Master Data & Customer Master data and Well Master Data in MDM 5.5

Major Achievement:

Data Modeling and Creation of respective MDM repositories in order to avoid master data redundancy, inconsistency, thru proper data modeling such as modeling Regions, D&B, hierarchy.
Creation of Roles, User, Port, Lookup, Qualified, Hierarchy, Taxonomy tables.
Creation of maximum search capability thru multiple look up tables, Qualified Look up tables.
Creation of match & merging strategy for client
Creation of User & Roles & workflows etc.
Environment: SAP 4.7 ISU (Enterprise), MDM 5.5

Project -
Client- XXXXX Japan Ltd, July 2006 – Dec 2006
Position: Techno-Functional Consultant Onsite PM
Contribution Tasks perform:
Identify, design & coordinate to the offshore team, for the developments required in FICO & SD module.
Major Achievement:
To review the functional Specs, To provide recommendation and alternatives regarding the technical conversion. To reconcile with FICO consultant and ask for verification/feedback of the functionality of the development. To conduct further adjustments if necessary/applicable and to update and provide the new TWB version to the FICO consultant. To consider EAI and OMS related to the technical conversion /implementation. Worked as a designer which is a window person to the FICO consultant Review of the technical documentation. To implement the development and first initial testing of the development in SAP.
Environment: SAP 4.7 (Enterprise)
EDUCATION
BCA
MBA