Krita and Photoshop are very popular graphic designing software for developing digital designs, editing photos and digital painting.
Krita vs Photoshop – which to choose? Graphic designers and artists have pondered over this question for quite some time. It's because Krita and Photoshop are the leading players in the graphic design market. They are very popular for developing digital designs, editing photos, illustrations and digital painting.
Whether you are a newbie or an experienced graphic artist, and if you can't choose between the two, this post will help you.
Krita vs Photoshop: Head-to-head Comparison
Krita is an open-source software developed for animation and developing digital paintings but its quite different from Photoshop. Krita cannot be considered as an alternative of photoshop as it is only used for digital drawing, not for image editing.
They may have similar purposes but are actually different. While Photoshop can be used for drawing and making digital art, Krita is the better option for painting. But Krita can also be used along with Photoshop to develop outstanding graphic art.
Lets first start with a comparison chart between Krita and Adobe Photoshop:
| Basis of comparison | Krita | Photoshop |
| --- | --- | --- |
| Cost | This is an open-source freely available software and there are no enterprise plans. | The software can be used by single users, teams or as a part of the Adobe Creative Cloud. The single application monthly plan starts from $29.99 per month. |
| Platform supported | It can run on Windows, Mac and Android. | It can run on Windows, Mac, and Android. |
| Current version | The current version of Krita is version 4.4.0 | The current version of Photoshop is version 21.2.3 (2020) |
| Language support | Multilingual | Multilingual |
| Available features | Brush engine, layer support, HDR support, Transform tools, Mirroring tools, drawing assistants, the resource manager and OpenGl Enhanced. | Stroke smoothing, accessing Lightroom photos, variable fonts, Quick share menu, 360 panorama workflow, curvature pen tool. |
| Other features | Email support, tickets, online training resources. | Phone support, live support, tickets, online training resources. |
| Integration | Filters like the GREYC's Magic and G'Mic can be integrated along with it for Image computing functions. | Integrations for project collaborations and for managing digital asset systems are supported. |
| Suitable for | It is suitable for freelancers, small businesses, medium level companies and large enterprises. | It is mostly used by freelancers, small businesses and large enterprises. |
| Drawing | This is much better when it comes to making digital art. | This is not as flexible as Krita and is not specifically designed for making digital drawings. |
Krita Overview
Krita is an open-source software developed for animation and developing digital paintings. It is free and can be used by both professional artists and beginners. As it is packed with features, it can be used as an alternative to much costly software such as Corel Draw and Affinity designer.
It has many advanced painting tools such as smoothing, layering, colour mixing, rendering, painting, mirroring, blending and transforming. HDR images can also be modified and photo manipulation can also be performed.
It has become popular in filmmaking and the video game development industry. It has more than 9 brush engines. It comes pre-loaded with more than 100 professionally designed brushes.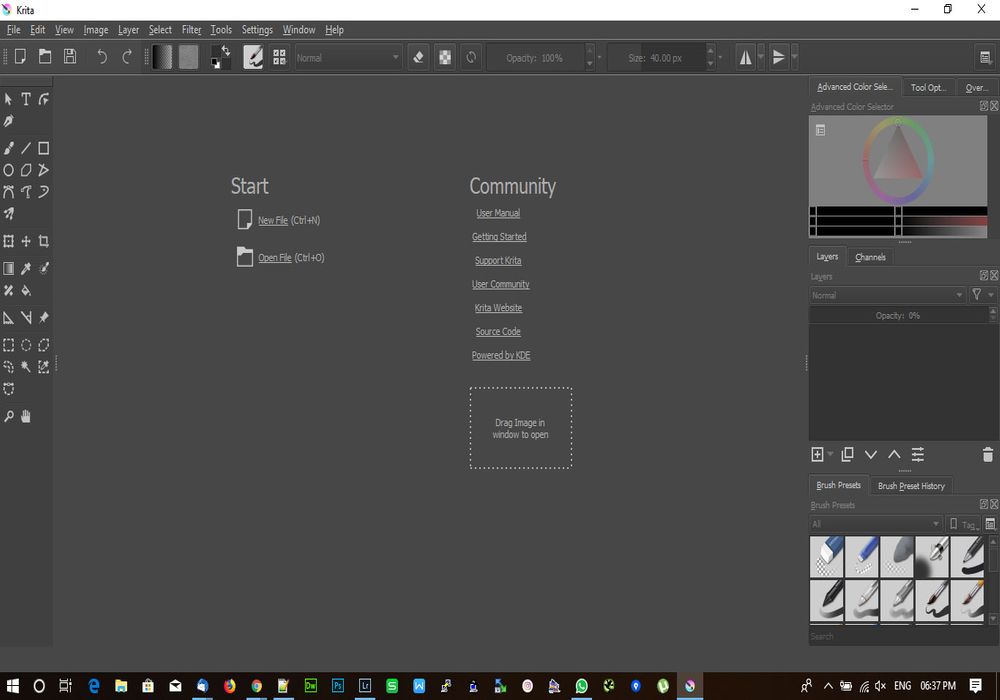 Important features of Krita
The software is used by illustrators, 2D and 3D designers, concept designers, visual effect creators and game developers.
The Inkball pen tool is used for sketching and drawing the basic outlines of any drawing, usually in black.
It supports PSD (Photoshop Document).
Tools like the Fill Brush circle and the Fill Brush Circle are used as brushes for developing silhouettes. They have hundred per cent opacity and the size of the brushes alter according to the amount of pressure applied to them.
Smudging and blending colours can be performed by Bristles Wet Brush.
The Bristles Texture Brush can be used for smoothing a texture.
The Basic Mix Soft brush can be used for blurring out the edges of a certain image drawing.
Brush stabilizers help you to draw if you have a shaky hand!
It has layer management and mirroring tools.
The user interface is very easy to use and it can be customized according to the user's preference.
Advantages of Krita
The advantages of Krita are as follows:
As it supports OpenGL, it can be combined along with Krita to enhance its performance. This leads to faster mirroring, zooming and panning, rotation etc.
The interface lets the user focus on the development of art rather than the software complexities. Users can make their own shortcuts of the commonly used tools.
It provides support to users through their online tools and resources. These materials are well made and will help beginners to learn the software quickly.
The management of drawings is not as complicated as the layering tool is very effective. This tool is used for making the layer of a particular drawing to work as the background of other drawings.
As the tool is open source the community support is huge and many developers are constantly making changes to it. Useful updates and add ons are available for users.
Krita Language Support
Krita is multilingual, It by-default uses the language of the user's system.
How to change the language in Krita?
To change the language in Krita please follow the steps below:
Go to Settings -> Switch Application Language
A small window will pop-up
Now click on Primary Language and then choose your language
Now click OK button to close the window
At last restart, Krita and now your selected language will be displayed
How much Does Krita Cost?
Krita is an open-source freely available software and there are no enterprise plans. The user just needs to sign in and he will be able to use it right away.
Review of Krita
Krita is becoming a very popular software amongst graphic artists and digital developers. The user-friendly interface and developer support is impressive. The variety of tools such as Fill Brush circle and the Fill Brush Circle, Bristles Texture Brush, Basic Mix Soft brush and layering tools help the modification of images.
The free version is cost-effective than the other costly competitors like Photoshop and CorelDraw. But being a new software it has a long way to go as many features can be added.
Photoshop Overview
Developed by Adobe Inc., Photoshop is perhaps the most popular and widely used graphics designing and image editing software used by designers all over the world from novices to experts.
It is supported by the Adobe Sensei platform, that offers AI-driven features such as Neural filters. These filters allow you to modify black and white images and alter facial expressions radically.
It is basically a system that is based on layers and the alteration of the different layers is performed for editing the images. The repetitive operations can be automated using its advanced features.
The Photoshop Creative Cloud can be used by different users so that they can work from anywhere. It is used by graphic designers, advertising designers and video game developers. You can now easily manage the cloud documents using the Version history panel.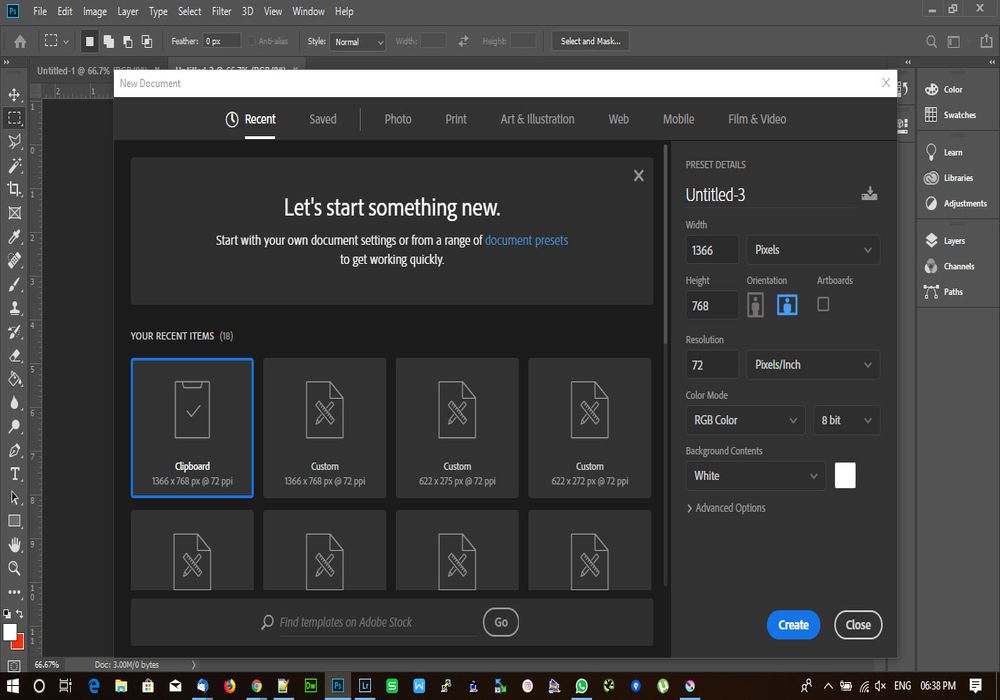 Important features of Photoshop
The important features of Photoshop are as follows:
It is widely used and is compatible with Windows and Mac operating systems.
The Rasterizing functionality helps the users to transform the vector layers into pixels.
The Lasso tool is used to make freeform selections. There are three types of Lasso tools namely, Regular Lasso Tool, Polygonal Lasso Tool and the Magnetic Lasso Tool.
The sponge tool is used for intensifying or diminishing the colour of a particular section of a picture.
Tooltips are important for the user to understand the functionality of tools.
The Photoshop projects can be shared directly from the application with other users. It can be shared among different platforms such as Facebook, Twitter and OneNote.
Smart objects can be used for securing the data of the image files and used when resizing them.
The Sky Replacement tool released recently will detect the sky in an image and adjust the scenery colors to replace it with a new sky!
Advantages of Photoshop
The advantages of Photoshop are as follows:
Photos and video files can be imported easily in Photoshop. The simple interface lest users to easily handle and organize them.
Alterations such as red-eye removal, whitening and adjusting the skin tone of certain images are faster due to the different embedded tools.
Using the Adobe Creative Suite, the files developed using Photoshop can be easily shared and transferred among multiple users.
The features such as HDR imaging, colour correction, resizing, 3D image editor and video editor help the users to perform multiple actions using the same software.
The Eyedropper is a very useful tool used for picking up a sample from a colour within a picture.
The learning curve is not very high and there are many resources online for beginners to learn.
Using the in-app Discover panel, you can now search for new tools, articles, tutorials and actions to make your Photoshop experience more awesome!
The new Pattern Preview allows you to visualize how your design will look like a pattern
Photoshop Language Support
Photoshop support multiple-languages like English -International, English - Universal, Japanese, Danish etc. To change the language, user needs to install the language pack.
How much Does Photoshop Cost?
Adobe Photoshop CC is available in the form of single apps for individuals/teams as well as the Adobe Creative Cloud software.
The SMB (single app) is available for:
Monthly Plan - US$20.99/mo.
Annual Plan - $19.99/mo. On a monthly basis
Annual Plan (Prepaid) -$239.88/yr.
The Single App for businesses/ teams is available for:
Annual Plan (Monthly payment) -$29.99/month
Annual Plan (Prepaid) -$359.88/year
Review of Photoshop
Photoshop is a much stronger competitor than other photo editing and graphic designing software. The huge variety of features and functionalities make it very powerful. Normal pictures can be given a much-enhanced look.
Features such as red-eye remover and eyedropper make the task easy for the designers. With added brush features, better brush strokes and smoother lines can be clearer lines within the images.
Layers can be used to arrange the entire workflow and isolate important elements.
Why Krita is a tough competitor for Photoshop?
Krita is a tough competitor for Photoshop as:
Krita is providing strong competition to Photoshop because of the fact that it is free and has a lot of features.
As its learning curve is not steep, the software can be learned quickly with the help of training resources.
The tool can be utilised by small and medium companies for basic drawing.
It offers more features and greater flexibility than GIMP and Photoshop combined.
As it supports python plugins, the users can increase the functionalities by these scripts for adding more menu entries and manipulating drawings.
Krita vs Photoshop Google Trend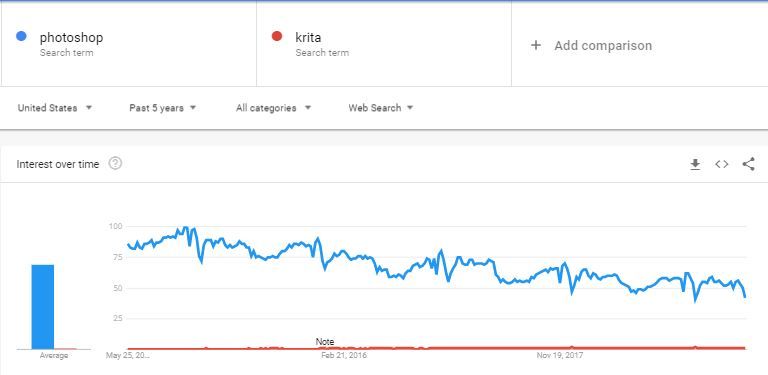 Conclusion
Krita software is a good product in the graphic designing market but Photoshop is far more advanced. Photoshop has many features for handling many complicated projects, whereas Krita falls short on the number of features it can provide.
Photoshop can be used for digital art and image editing, but Krita can be used only for digital drawings. For beginners, the Photoshop tool can be a little overwhelming, but Krita's interface is a little simple.
But in terms of cloud computation, Photoshop moves past Krita as the documents can be shared easily using the Photoshop Cloud suite. However, Krita cannot be used as a replacement for Photoshop, but as a complementary software bundle.