1. RFQ and RFI (Customer and Vendor)
2. RFP (Customer and Vendor)
3. SOW and Project Award (Customer and Vendor)
4. Landscape Deployment......... (Basis Consultant)
Landscape Deployment Plan:
It consists of the number of systems that are going to be deployed in the customer data center. It may serve the customer as an overview of the SAP systems. But exact number of systems will be known only after the Hardware sizing
1 CPU / 2 Parallel Process
By default 3 Parallel Process.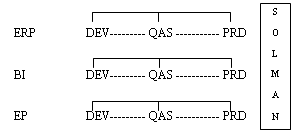 You can view more tutorials about SAP BASIS