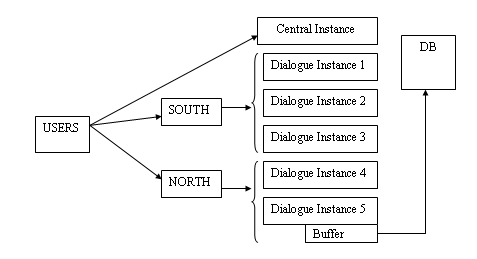 ST07 - Application Monitor: User Distribution
SMLG - Logon groups sapmsg.ini
Logon Load Balancing SMLG
It is used to route the requests to the least loaded instance of that group.
Factors to define LLB.
Identify the components along with users. If the users are logging to different instances the buffers are scattered therefore they are not effectively used.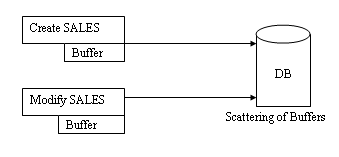 So for this


* Note: DDLOG is the synchronization table
User A A+B =50
User B A+B =75 Buffer Synchronization
1. Buffers are optimally utilized.
2. Load balancing to avoid long queues
3. Fail over (Logical) (As we are configuring logical system)
Load balancing provides the following logon groups which are defined in SMLG.
SMLG > Define the groups and assign the instances.
Mechanism
1. User uses SAP GUI -groups option to login
2. Saplogon.ini is used to display the available entries
3. User select group and click on logon.
4. When the user select group. It looks for sapmsg.ini to identify the message server and etc/services for message server port. saproute.ini, saprfc.ini, sapdoccd.ini (For library), saplogon.ini
5. Message server communicates will all the dispatchers and identifies the least loaded server and mark it as a favorite server in SMLG. The request is routed to the favorite server.
6. The dispatcher process the request normally.
Sapmsg.ini ---- IP Address --- Hostname of the message server
Central instance (but not always)