1.1. Customer wanted to deploy an application that suites to his requirements by replacing the existing software due to the following reasons.
1. The existing Hardware is old and the response times are high.
2. The software is out of maintenance with no updates, or with no company (Company Bankrupt/ Merger etc.)
3. The customer could not be competitive in the market due to the legacy methods deployed
B1 - C++
No ABAP, BASIS, NW

4. The existing software is not capable to communicate with other systems
5. The software is not user friendly to take the user inputs.
6. It cannot communicate with print, fax, sms, paging devices.
7. Too many legacy systems, too little integration, manual inputs, monitoring are the various issues with the current software.

Customer enquires in the market and calls for the Auditors to identify the software, hardware and the Implementer.
Delloite, Bearing Point, KPBG, PWC (Price Water Coupons) are the auditors to identify the requirements in the company. They define the pain points of every business user owner and document them.
Example:
- The software should be installed on all the operating systems and databases.
- The GUI should be compatible, user friendly, ergonomically designed, colors, fonts, languages, password change.
- The software should be unicoded language to support all the languages.
- The software should support (Online, Offline, incremental, partial, table level backup)
- The software/ Hardware should support mirroring, RAID, clustering, Disaster Recovery, Restore etc.
- The software should support Mobile devices, Email, Fax, SMS, Pager, PDA etc.
Note: ATP Server - Available to Promise -----> Ware House.
Issue --- Description ---- Possible/ Not Possible/ Customizable/ If customizable Amount of effort.
These requirements list will be floated as RFQ feasibility of software.
SAP is Strong in Manufacturing, Weak in Retail } Tcode-SFW5(Switch Framework)
SA38 - GETSYSDEF
- These list will be submitted to Oracle Apps, NAVISION, Hyperion, Peoplesoft, Seibel (CRM) implementing partners.
Note: Toughly Coupled/ Hardly


- Preparatory costs has to be borne by vendors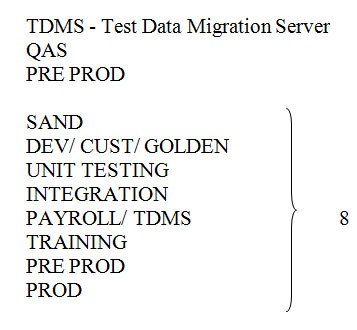 - Customer decides software with the help of feasibility reports and assistance from auditors.
- Customer calls for quotation to implement SAP
This is the first official document released to implement SAP.
- Support partners like IBM, TCS, WIPRO, MAHINDRA submits the proposal. They can also raise questions in the form of RFI (Request for Information)
18-Aug-09
------------------
C:pfsapinst_instdirERPsystemORAcentralAS
Ensure that there should not be any .bck files while reinstalling the SAP
Refer: sapfans.com; sapconsultant.com; sapbasis.com
Auditor gather info from - Business partner owners - Software Vendors.
RFQ - Request for Quotation (Released by customers)
RFI - Request for information
------------------
It can contain as follows
1. Module specific questions
2. Technical questions related to Hardware, Desktops, Routing, Access, VPN, Backup, Disaster, Recovery etc.
3. Risk and mitigation
---------------


1. Project Implementation Methodology
2. Process
3. Company Strengths
4. Financial Background and Share Value
5. Past Projects and experience in that area
6. Average man power experience going to be deployed
7. Case studies and customer references
8. Implementation of solution manager (Provides Roadmap, Business Scenarios, Documentation (Upload, Download) etc.
9. Certifications (CMMI - Capability Maturity Model, SIX SIGMA, Sap Partnership)
10. Challenges in the project, risks and mitigations
11. Assumptions
Based on the above proposal customer and audit team shortlist the two or three software vendors (IBM, TCS, WIPRO etc) - Implementation Partners and call them for Interview (technical discussions) to exhibit their capabilities.
Based on 4th and 7th vendor will be finalized to implement SAP
Note:
External Security
Routing
Switching
Proxy
Firewall
Internal Security
Authenticating Authorized users is Internal Security.
Project Costing:
1. Number of hours required/ No of Man days/ No of Man Months
2. Cost of the Man hours/ Man Days/ Man Months
Offshore 20-30$ 160-240$
Onsite 60-100$ 1000$ 20000$
3. Project can be a fixed bid let us say 2,00,000 (i.e. @ Million Dollars for completion all inclusive (Fares, accommodation, staff, Replacement, Holidays, vacations, sick etc).
Payment will be released in Parts ---- Project Start 10%, Blue print - 20% Realization - 20%, Final Preparation - 20%, Go-Live - 30%.
4. Let us say the Project Manager is SAP. We need to provide manpower to SAP to implement @ customer site. Eg. SAP Project bidder is SAP for 28 Crores in Singareni Collories ... They out sourced to Seal Infotech for training and implementation.
5. Critical Tasks are based on Man days/ Man Hours
Example : Disaster Recovery
1. Fixed Bid
2. Time and Material (T&M)
3. Resource Based
4. Activity Based (Try to include Wait time)
The scope of work needs to be defined properly before sign-on. If SOW is not defined properly, it is vendor responsibility.
Risks and mitigations has to be clearly stated in the SOW.
Delay in Software, Hardware requirements from customers are to be documented.