Please follow the below steps to customize the delegate permissions?
Step 1:
Enable the below options:
Navigate to Admin > System Admin > Configuration > Global variables > Delegate Settings > enable/check both the options under: Allow Supervisors to delegate:
Predefined Permissions
Selected Permissions
If you select either of these checkboxes, supervisors add delegates in the user interface, and then you clear the checkbox, then the system sets all of the delegated permissions for the affected users to inactive.
When you re-select the checkbox, the permissions are still inactive, but the system retains the permissions that a supervisor granted for each delegate.
If supervisors provided selected permissions for a user, they can restore those permissions by editing the permissions for the user and clicking Selected Permissions.
Step 2:
Login as Supervisor
Click on Options and Settings
Click ADD under Delegate.
Select a User ID
Select "Predefined Permissions"
When supervisors provide predefined permissions to another user, they provide that user with all of the workflows of the USER PROXY ROLE (System Admin>Security>Role Management). If you wish to, you can edit the permissions in this role by navigating to the Workflow tab and removing the permissions you do not wish to grant your delegates.
6. Choose "Selected Permissions":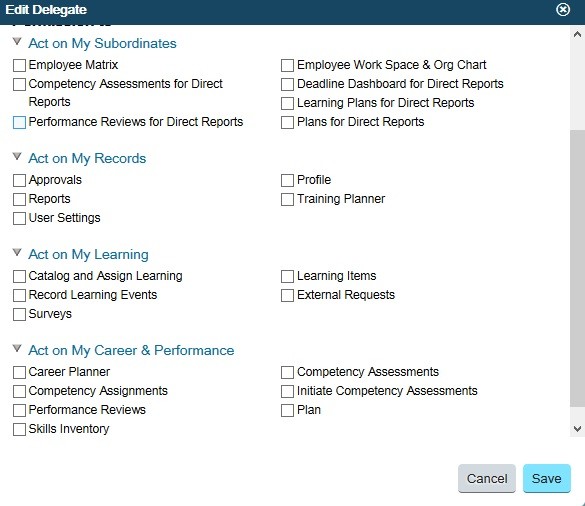 NOTES:
In order to have the option to delegate you must be a supervisor of at least one user.
When searching for people to choose as delegate, you will only see users who belong to the same organization as you
To control the number of organization levels (according to the orgnization hierarchy) a user can search when doing any user searches:
System Admin > Configuration > System Configuration > LMS_ADMIN:
# This value is the number of reporting levels down displayed to a user and
# should be an integer equal to or greater than 0.
# Default: 0
# Example:
# If set to 0, the user will see all direct and indirect subordinates.
# If set to 1, the user will see their direct reports only.
# If set to 2, the user will see their direct reports and direct reports reporting into their direct reports and so on
reportingLevelsToDisplay=0