The right Tax Code for Service Tax Reversal Process is given below which is mostly used in SAP ERP FICO for the following Invoice:
Expense A/C - 10000 Cr
Service Tax Receivable Basic(10%) - 1200 Cr
Ecess  (2%) - 240 Cr
HSCESS - 120 Cr
To vendor - 10000 Dr
Service tax Payable A/c Basic - 1200 Dr
Ecess Payable 2% - 240 Dr
HS. Cess - 120 Dr
Solution: One just need to enter the 10 instead of -10 for JSTP and after that start posting as shown in below given screen-shot.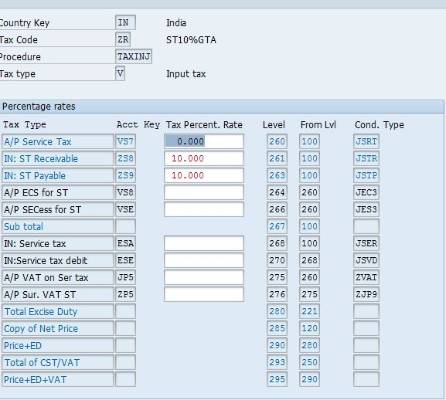 Steps people usually perform that are not necessary as per the demand of query:
1.Creating the 6 service tax cases within the OBQ1 including the 3 conditions of service tax which is acceptable with positive sign and rest 3 conditions for service tax which is payable with negative sign.
2.Creating 6 account keys for the similar as in OBCN.
3.Appoint the aforementioned conditions with account keys in OBQ3.
4.Appointing GL accounts to the aforementioned account keys in OB40.
5.And after performing all the above steps you need to take care that TAXINN is used in case based tax process to control the tax code within FV11.
6.Other step is to shift the Condition category D-Tax for the 2nd condition and control the prices in FTXP.