B1 Systems today announced it's distribution of Navigator add-ons within the UK, this includes the popular Plus One Today.
What is Plus One TODAY?
Plus One TODAY™ is the latest enhancement to the Navigator Plus One user interface. Users of Business One now have the ability to display what is of most importance to them in a single 360º view via a customizable Business One desktop "homepage".
Click on the image for more details...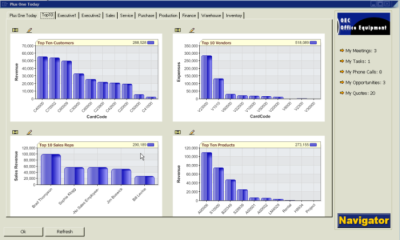 • Embedded company newsletters on the Business One desktop keeps users current with company, customer, product, and promotional news.
• "Intranet" newsletter is comprised of an easy to create & maintain html document which lets management keep its employees up-to-date with all important company issues.
• Extend customizable dashboards from familiar Business One queries on the desktop.
• Automatically graphed KPIs and standard queries provided with the ability to setup user defined queries.
• "Today" sidebar menu shows users exactly what's important to them today, including calls, meetings, activities, alerts, approvals, and service calls due today.
This is a must add-on for SAP Business One.