SAP Business One has been built to cater to the needs of the small to all those medium sized business units looking out for a system which can enable them to manage their accounting units apart from managing the other day to day operations in a far more organized and efficient manner. The module provides instant access to managers and executives for managing the information related to daily business. With the help of this information they are in a better position to take sound decisions on various aspects related to the business.
SAP Business One offers a very detailed resolution providing coverage across the different aspects of the business including logistics, operations, finance, and even customer relationship management. In the present scenario SAP Business has more than 46,000 customers which are serviced by 1500 certified SAP Business One partners, and these have a span of control of more than 25 different industries located in 120 different countries.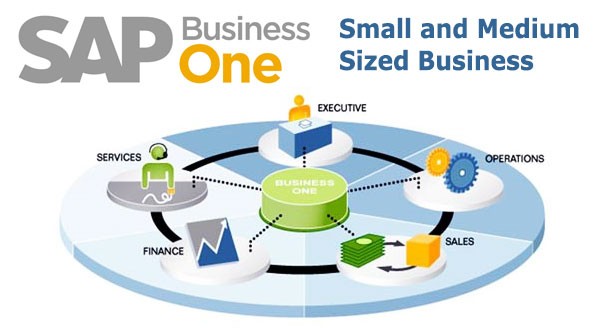 Features covered in SAP Business One software includes
Warehouse and production management - the modules allow the users to manage inventory across numerous warehouses, keep a track of stock movements and also manage production orders which are based on material requirements planning.
Purchasing - the users can automate the whole of procurement process right from purchase order to vendor invoice payment.
Financial management - with the module users can automate, manage and integrate all your financial and accounting processes.
Customer relationship management - the software can facilitate customer profitability and also increase customer satisfaction and provide opportunities which could enhance sales management and also provide after-sales support
Reporting - real time reports can be generated which are instant and concise.
SAP Business One is an Inclusive Business Management Solution
By using SAP Business One users can be rest assured that each and every critical function of their business will be taken care of while maintaining optimum levels of growth and profitability. The module also enables the non-technical users to go ahead and made important changes on their own to their business and adapt themselves to new functionalities as and when the need arises. The module provides minute by minute accurate information which is easy to retrieve along with being relevant. The same can be extracted from a desktop by the means of easy to use user interface which provides answers easily, thus making you more proficient and also increases your speed of work.
The Decision Makers Are Instantly Notified when using SAP Business One
The module makes sure that are instantly informed when using SAP Business One and this feature of the module allows to take uniformed decisions which is all done through workflow-based alerts and you can charge of the situation and take appropriate action. When using the module, the managers are no longer required to run reports for deriving critical information. The reports are run at pre-defined timings and later sent to the concerned departments. With the help of the workflow-based alerts the SAP Business One monitors the users can take action on specific business events. Reports on exception management are automatically detected when using the module.
SAP Business One allows users to be Flexible and Adaptable
When using SAP Business One solution users can specify their individual choice for data types, queries, fields, policies, and reports without consuming much time. Any changes made to SAP Business One take place immediately and is applicable across all relevant areas. You can even make unique changes to their existing business with the help of the different levels of customisation available within SAP Business. This feature makes SAP Business one as an easy to add unique business processes to a standardised system.
Cost Involved in SAP Business One and Implementation Duration
SAP Business One Implementation Time Duration is 8-12 Weeks.
SAP Business One also referred to as SAP B1 is a hot selling item these days mainly due to the affordable cost associated with the module. The module is easy to purchase by the small and midsized business and the most interesting feature is that the pricing for the module is not dependent on the number of modules which are available for buying but it actually depends on the total number of users which need the access to this system. There are four categories of users: Professional user also known as a "super user" in the software system would be somebody who required the access to all the modules. The second type would be a Limited CRM user which is made available for all the employees working in the sales and servicing profiles, and they would require access primarily to the SAP CRM (Customer Relationship Management) section of the system. For those working in the accounts payable and receivable, the Limited Financial user is present and the Limited Logistics user available which is meant for managing issues related to the inventory items.
The cost entirely depends on how you would like to pay for the module and how SAP Business One is this deployed. The license for SAP Business one is available either as a professional or limited. The pre-requirement is that the license has to be in the name of a user. During purchase of license a one-time cost which varies between 17-22% and that's the annual maintenance of the entire cost of the license. The average cost of a professional license is approximately $3000, and that of a limited license is $1500. Various modes of payment are available such as cheque, Pay by cash, or ACH. The other costs such as those of hardware and implementation can also be taken care of by a finance plan which can be done on a monthly basis and all of this can be financed by one of the leasing partners.
A one-time fee for set-up is available and a payment has to be made on a monthly basis for the license of Business One OnDemand is generally done on a cost per license which is stated to be invoiced quarterly.

The average cost of SAP Business One cloud could cost you between $165-$125 per user on a monthly basis.
There is a package available for SAP Business One which has to have a maximum of 5 users. A "lite" version of SAP Business One is present which includes services spanning across sales orders, purchasing, accounting and item management. The license for the packages for SAP Business One generally are in the tune of $1178 per user.
The implementation or the installation cost for SAP Business One which would also include training, support services along with installation would be approximately $175 per hour.