Dialogue handles the requests and process only reports with out any assistance. If the reports are long running, time consuming, expensive then they can be scheduled to run in the BTC mode.
During an update dialogue updates temporary table and update-process updates them later.
For print requests Dialogue handles the request and update in Temse. The spool process
Prints from Temse (Temporary Sequential file it can be at file/ DB Table)
Dialogue communicates with enqueue while updating a transaction and obtains lock so that no user can update there by assuring data consistency.
Dialogue communicates with the message server to obtain locks for a record that is coming from Dialogue instance.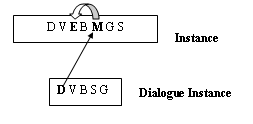 Dialogue communicates with the gateway while establishing connection with other SAP systems.
Dialogue is monitored by using SM50, SM66, and DPMON
DPMON.exe is a dispatcher monitor which can be executed when the user could not login to the system (Experience Hour glass). Its not a TCode.
Killing the process
From Command Prompt
> DPMON (Process the list at OS Level)
> K
> Provide - Serial Number
> Provide - PID