SAP AND Oracle are two big names in the IT industry in today's world. While both these corporations are known to be market leaders in their own space, but there is stiff competition between these two IT giants. As per the study in terms of revenues, both SAP as well as Oracle were rated amongst the top 5 ERP (Enterprise Resource Planning) vendors in the year 2014.
The overall revenue generated by these two companies was enormous as compared to the other well known names in the same sphere of work. Both these companies are considered market leaders. These companies differ in more than one aspect from each other on quite a few numbers of parameters and differ significantly in terms of their overall approach, strategy, weaknesses, durability, scalability, customization and strengths also.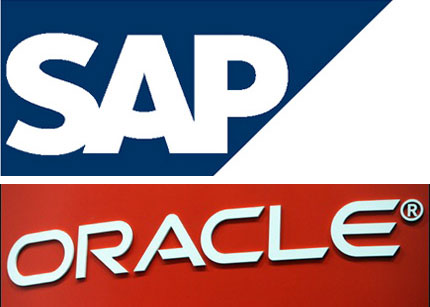 The Marketing strategy for instance followed by the two companies is quite distinctive in its approach. SAP (Systems, Applications & Products in Data Processing) as we all know has always been on the side of ERP and still considers the ERP software as the centre of attraction. On the other hand Oracle gives a lot of emphasis to acquiring relational databases and works on developing those into more complex solutions by refining the enterprise application and has acquired many small software companies.
The results showcased by the two companies vary and the impact is clearly visible even during their implementations. It has been observed by the analysts that the SAP customer delivers much closer to their expected duration of the implementation, while the Oracle customer spends less as compared to the SAP consumer. However when it comes to implementation the story reverses as SAP takes only 4 months at an average for implementation whereas Oracle takes almost 22.5 months for implementing, which is extremely long as compared to SAP.
The SAP customer spends almost 4% on the total cost of ownership while Oracle only spends 1.7%, SAP therefore spends much higher between the two companies.
In terms of Scalability SAP is far more scalable but Oracle lays a lot more emphasis on a decentralized model which is very flexible and is better suited for a wide array of products.
Although both SAP and Oracle look at consistently improving and enhancing their functionalities however it is the SAP customers who are more aware of their expected functionality along with the business associated with the brand SAP. On the other side Oracle customers do realize that the company offers faster payback, as compared to SAP. Oracle offer solutions for customers who are not too keen to customize their software and give this option to their customers however SAP provides customization along with integration and thus makes the software much more flexible.
Oracle does provide the benefit of downloading the software for a free trail, and offers a 30 day trial, and all you need to do is fill up the registration form along with your name and personal details, SAP on the other hand does not provide a free day trial offer option. You are required to get a valid SAP OSS ID and need to get in touch with the support team and then request for an IDES version specifically meant for training and learning.
When it comes to cloud adoption, Oracle has done a much better job as compared to SAP. More and more customers of SAP have resorted to cloud adoption and they are also achieving good results as compared to SAP. While SAP has also adopted cloud computing however it is Oracle which is trending better in this regard.
SAP has recently come up with the latest SAP HANA memory technology and this is believed to be very functional also, but Oracle is in no way behind and has created their technology to be functional and is even said to have integrated with compatible applications and databases.
Based on the above listed factors it is certainly not fair to compare the two companies on the same platform. Both companies are different, have distinctive evaluation criteria and both had different opinions.
The question that comes in the minds of the users is that which out of these two will help your organization the most and why?