Apple Inc is teaming up with the world's software giant SAP to enter the corporate computing world. This news has been confirmed by both the companies on Thursday.
The American multinational technology company, Apple INC has in the past couple of years teamed up with the well-known brands like IBM and Cisco Systems. Now, in order to influence a large number of business professionals, it has set partnership with German business software giant SAP (Systems, Applications, Products in Data Processing). The main objective of this partnership is to multiply the demand of iOS operating systems and reach out to huge number of businesses and software developers.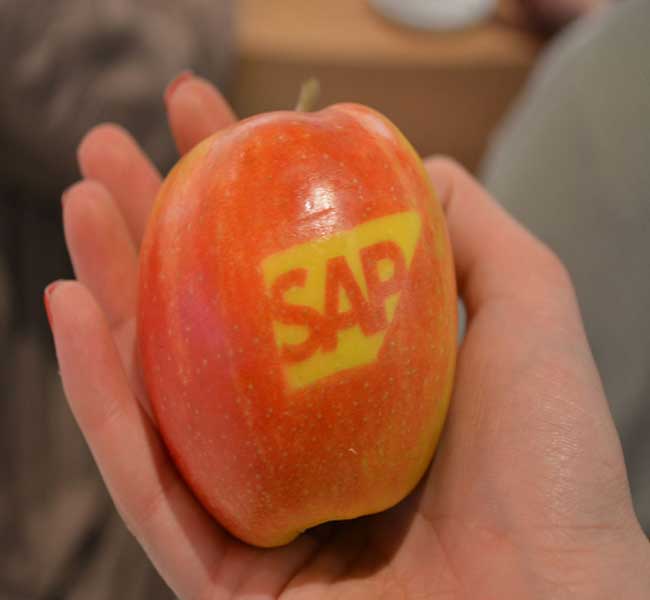 SAP's software that is known to run in 87 percent of the world's 2,000 major companies will now partner with Apple Inc. for developing mobile business apps for iPads and iPhones that operate on its HANA database software.
Why only SAP HANA Software?
This software has been SAP's leading new platform in the last couple of decades.
SAP is looking to attract its huge base of global corporate clienteles to transform their classic packaged software to cloud-based software that operates over the Internet and its HANA database for managing human resources, financial planning, and manufacturing and external supply chains.
Kevin Ichhpurani, the executive vice president for strategic business development at SAP said that the partnership with Apple marks HANA's availability not only to iPad-bearing executives but also to "edge workers on the field." New competitors such as Salesforce.com and ServiceNow are at present aiming at field workers with products that operate on smartphones.
A study by VMware, the business software maker, in 2014 presented the fact that Apple's repute as anything but a business-computer dealer is outdated. It stated that two-thirds of business organizations now permit personnel to use Apple computers as well as conventional Microsoft Windows products.
In September, 2015, Tim Cook, Chief Executive of Apple Inc. claimed that in the previous year, Apple's enterprise business had made $25 billion, or roughly 14 percent of the company's revenue.
The huge majority of Apple Inc's profits continue to come from computers, smart phones and related services aimed at customers.
According to market research firm Gartner, Apple operates its supply chain for handling its worldwide logistics operations and manufacturing based on SAP software. Therefore, the partnership of these two IT giants is only going to pave the way for newer developments and smarter applications.