1 Introduction
We compute the correlation of SCM [1] and give a series expression for cross or auto correlation as
a function of parameters like antenna spacing, angle of arrival etc. Since such a representation is
exact i.e. when infinite oscillators are present (instead of few as in most practical implementations),
it provides a benchmark to test the various implementations like the ones mentioned in [2, 3, 4].
We plot the correlation as a function of distance for some cases of interest.
2 Derivation of Correlation in a Wide-Band SCM
Let us consider the correlation between two elements that have the following parameters: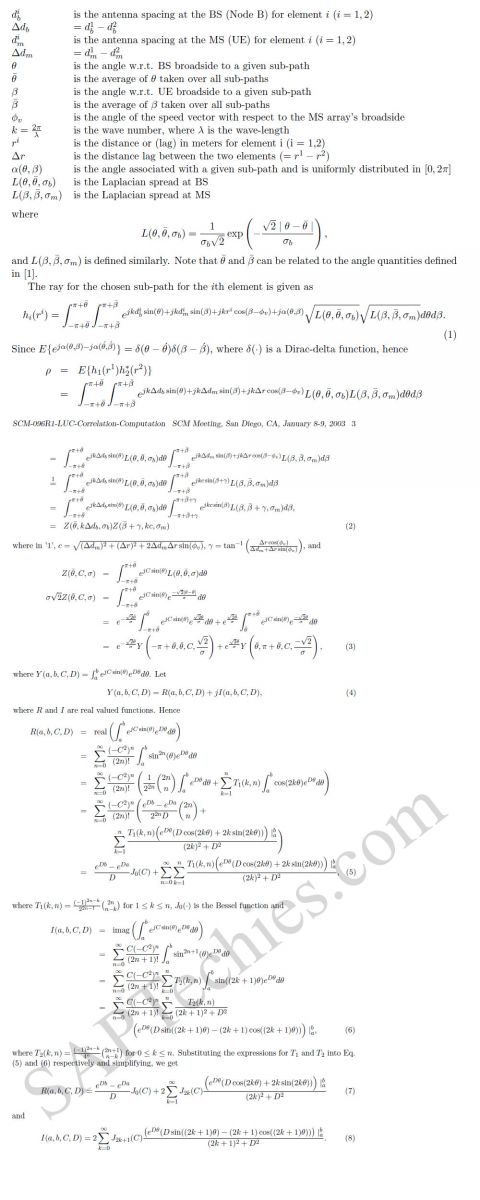 Substituting the series representation of R and I into Eq. (4) and in Eqs. (3) & (2), we get the
series representation of the correlation ½.
If we call the summation as a perturbation in Eqs. (7) and (8), then it is clear that the effect of
angle spread on the correlation is to scale the zeroth order Bessel function (which is the correlation
for uniform angle spread) and to perturb it with higher order Bessel functions.
3 Comparison of Correlation
We plot the auto-correlation function that we obtain by different calculations in Figs. (1), (2) and
(3). In the first calculation, we plot the auto-correlation that is calculated after generating fades
from 20 sub-rays SCM having equal power and non-uniform angle spacing with ¾m = 35o. In the
second calculation, we plot the auto-correlation that is obtained by numerical integration of Eq.
(2). In the third calculation, the auto-correlation function is computed by series expansion as given
in Section (2). For comparison purposes, we also plot the Bessel function. As can be seen from
Figs. (1), (2) and (3) that plot the auto-correlation for various mobile directions relative to angle
of arrival, the numerical integration and series expansion match quite closely to each other. There
is a small difference between the SCM model with 20 sub-rays and the one given by the integral.
This difference is expected since the integral assumes infinite number of sub-rays as opposed to
finite as in SCM model.
Download attached file: