SPOOL PROCESSING
User request - DIA - (Tables TBT*) BTC---- (TST01, TST03)--SPOOL -- PRINT
User request - DIA-- (TST01, TST03) --- SPOOL ------ PRINT
SPOOL Process/ Flow:
1. User request to print a purchase order (or) user schedule to print dunning reports (LEGAL Notices, Credits, LOANS etc)
2. These print request are processed by the respective Dialogue/ BTC and stores the content in TEMSE - Temse is a temporary sequential objects that are stored at OS (File system) or Database level which is defined by the parameter
rspo/store_location=G or DB
(G Means Global Directory usrsapSIDsysglobal)
(DB Means - Database tables TST01 and TST03)
Note:
DIALOGUE - Multiplexing
BTC - Single Process
The Advantages of TEMSE.
TEMSE size is 99000
Refer:
SU22 - (s_spo_act) - To identify the tcode/ Authorization objects
SP01
SU24
The Temse can be stored in database or OS level. Temse remains in the DB/OS unless they are deleted explicitly by SAP standard reports.
SAP System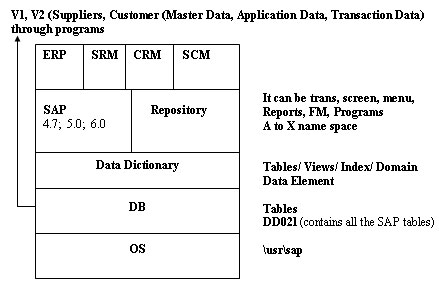 Note: We should not touch the Repository data of name space 'A' to 'X'.
SE11 > table name : /* (/ is a customer name space)
TADIR is the repository
TSTC - Is the T-Codes with the program name.
Market place > keys & Reqs > Development Name space.
Note: STMS > System > Transport Tool
no_import_all = 0 (No Mass Transportation)
SPOOL MECHANISM
Dialogue - BTC - TBTC* - TS* Tables
Dialogue -- TS* Tables
Spool process reads from TEMSE and convert spool requests to the output requests (Printer specific requests).
SPOOL ADMINISTRATION TCODE - SPAD
LPD - Line Print Demon
Drivers are specific to O/S and not to SAP
1. It is used to define output devices/ Spool servers and access methods
Defining a Spool Server:
The instance with atleast one spool process is referred as spool server. It is also referred as Real spool server. (Existing)
Logical Spool Server.
This is not existing but pointed to a Real spool/ another logical spool server. This is used for load balancing the spools.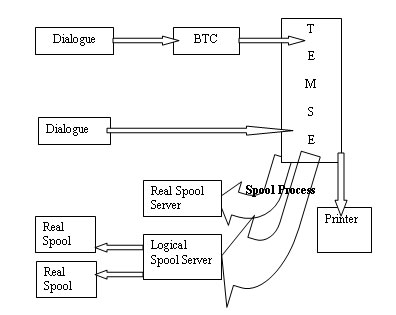 Note: We can set up a dedicated instance for spool process.