Bill McDermott, SAP's Chief Executive, has addressed the Mobile World Congress, Barcelona, on March 2, 2015 with a keynote speech.
MANNHEIM, Germany Bill McDermott, Chief executive of SAP, the German software company, has once again put to rest the talks of any moves to acquire Salesforce.com, its richly valued competitor. He has also added that Salesforce is unlikely to be taken over by any other industry player.
Last month, Salesforce had declared that it had hired financial advisers after being contacted for a potential takeover by an unnamed suitor. Oracle, IBM, Microsoft, and SAP(Systems Applications and Products) have all been touted as potential suitors for this cause. In the contemporary scene, established organizations in the industry are looking towards boosting their internet-based delivery services and fending off competition from other cloud-based rivals, through better business software products. This basically points to a market that has been pioneered by Salesforce and of which it remains a category leader.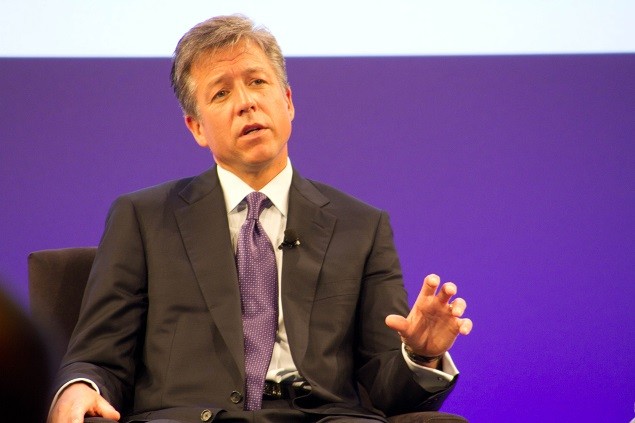 However, Bill McDermott sticks to his statement that SAP is not interested in acquiring Salesforce and has informed reporters that its rival's products, linked with core Customer Relationship Management (CRM), are now greatly commoditised and widely available from other software providers too, including SAP. When asked how a Salesforce acquisition by a SAP competitor would end up affecting his own company, McDermott replied that he did not expect any such move by Microsoft, IBM or other such players in the league. On Wednesday, before the annual shareholder meeting of SAP, he said, "I do not expect that to be the case because of the valuation of the company (Salesforce)." When asked if any prospective player in the industry would strive to buy Salesforce, McDermott flatly responded with a "No."
With a market value notching a figure of approximately $46.9 billion, which happens to be almost less than fifty percent of SAP's 86.1 billion Euros ($95.5 billion), a potential takeover bid for Salesforce (along with a takeover premium in place) is being speculated by analysts at $60 billion. McDermott said, "It is probably better than any (other) scenario for SAP because it will add more disruption to a commodity business." He added that the existing scenario will drive Salesforce customers to reassess all future options, which in turn would lead to SAP gaining a big sales opportunity.
Salesforce is all set to present its first-quarter results after the closure of U.S. trading on Wednesday. As per analysts and market watchers, the Company is expected to showcase a smaller loss of 3 cents per share; this would include the impact caused due to stock option expenses. As per data provided by Thomson Reuters, the loss is lower than the figure of 16 cents per share incurred in the same period, last year.