OS [G]
1. It is recommended because the print request are printed faster than database. i.e., from Global directory requests can be converted to output request at faster rate than database.
2. This is only recommended when the requests are small in nature. (Every day 50-100 Docs) if the size increases the search at file level consumes more time as (No indexes at file system)
3. File system is not backup frequently as Database. File system backup will be weekly, fortnight, monthly whereas database is hourly (Redo Logs) and daily DB Backup. That is Temse is not secured at file system.
DB [DB]
1. Consumes more time than Temse at OS when there are less no of records. but shows the performance by using Indexes when the user grows (Temse can handle 90000 Requests)
2. Backup is a regular activity on database so the Temse is secured. As it is stored in tables.
Temse is a part of Normal Database (TST01 and TST03) no separate memory is required.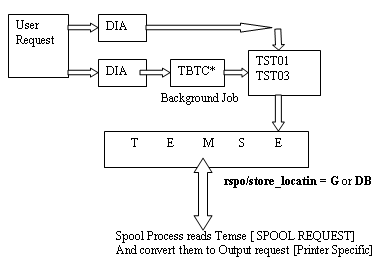 OUT PUT
REQUEST
DIALOGUE - BTC request - Spool Process
DIALOGUE - [TST01, TST02] - Spool Process
Front End > Spool process comes at our Desktop
Default setting is DB
RZ11 : rspo_location
: rdisp/ btctime
3. The Spool process reads from TST01 and TST03 i.e. the name of the author (USER), Name of the Printer, No of copies are procured from TST01 and Printable data from TST03
Spool Process formats or converts spool requests to output requests i.e. Printer specific format. If the format is performed locally then it is said to be LAN (Local Access Method). If it is performed remotely then it is said to be RAM (Remote access Method)
Spool processes are configured by rdisp/wp_no_spo (Rdisp indicates instance specific)
There should be at least 1 one Spool process in the entire system.
We can configure as many as we can depending upon the available resources.
It is also possible to have dedicated instances which will provide only spool processes
PROGRAM[ RSPO1041] to maintain TEMSE.
Refer: From SE12
TPFYPROPTY
Flag for changes
Obj_name = parameter Rdisp/time
Type T denotes Dynamic
X - Whether Changeable or not