By the turn of the year, many things change. Numbers go upward and down letting in new trends to play the game of the day. SAP (Systems, Applications, Products in Data Processing) as an industry is no different in this regard. Google trends show a total revamp in the modules that is going to be in-demand in 2017. In an effort to help SAP professionals understand which direction they should move in,Indeed.com, a recruitment-cum-review portal, conducted a survey and the results categorically highlight top 10 modules that will shape up the rest of year ahead.
Here are the top ten modules at a glance-
This is a relational database management system. Anyone who developsa skill set in SAP HANA module is preferred by any large scale organization. This particular module helps in dealing with complex query processing and enables high transaction rates on the same platform.
In order to give a clear picture about how much a professional can expect after finishing this module, Indeed.com has mentioned an average amount which $103,000 p.a. Anyone who wants tograb some extra bucks, should excel in HANA database, SAP BW HANA, SAP HANA cloud, SAP HANA Studio.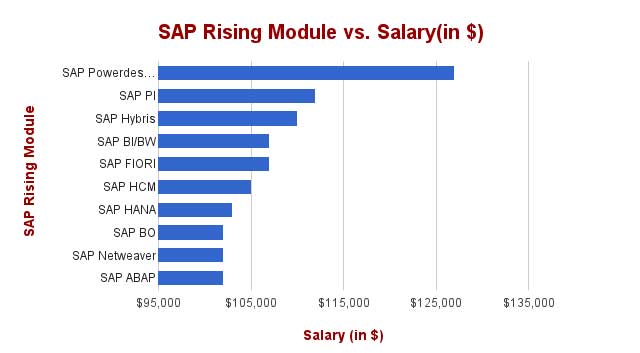 SAP BI/BW
Quite unlike SAP HANA, SAP Business Intelligence and Business Warehouse helps in handling the administrative part of the database. Those who pursue this module can expect a remuneration of $107,000 p.a. In order to master SAP BI/BW, one must be excellent in SAP BI 7.0 and SAP BI BO.
SAP PI or SAP NetWeaver Process Integration
The good news for SAP PI aspirants is that all large organization is going to hire them at a much higher levelof remuneration. A certified SAP PI professionalscan expectas much as $112,000 p.a. as remuneration. Mastering SAP PI need in-depth understanding of NetweaverPI, SAP PI 7.1, SAP PI 7.3, SAP XI.
SAP Hybris is acomplete cutting-edgee-commerce solution package. With the exponential growth in the e-commrce space, the industry demand for certified professionals hasgone up openinghuge opportunities for SAP Hybris certified professionals who can earn $110,000 p.a. on an average. The skill sets needed for this module are Hybris ecommerce, Hybris marketing, Hybris software, SAP and Hybris. Need more information?
This module enables certified professionals to develop UX interface for desktop, tablets and mobiles. Anyone who completes this module is hired at $107,000 p.a. according to the survey by Indded.com. For those who want to excel in this module, should master Fiori apps, Fiori Launchpad, SAP Fiori apps, SAPFiori Launchpad, SAP UI5.
This module helps in planning change and intransformation management. A certfified professional can earn the maximum amount of remuneration here which isas much as $127,000 p.a.However, a certified professional in this module should also excel in SAPSybase Powerdesigner.
Like SAP HANA, certified professionals of this module can earn $102,000 p.a. on average according to the survey conducted by Indeed.com. One must be excellent in SAP Netweaver7.0 , SAP Netweaver 7.3. For more information, follow SAP NetWeaver Course, Fees, Career & Certification.
Besides these seven modules, there are three modules which are predicted to bein-demand. And the three modules are SAP ABAP which helps certified professionals earn up to $102,000 a year and SAP HCM where the standard pay package goes up to $105,000.
The Bottom Line-
If you are aspiring to grow in the SAP industry, choosing any of these 10 rising modules will help you find a dream job which will eventually make your career a success. Going by the survey on Indeed.com, SAP industry is ever-evolving and in order to stay in sync with the rising trends, one must pay heed to these findings.
Related: Top 10 IT Skills with Rising Salaries for Year 2017