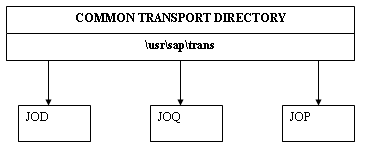 Note: usrsaptrans can be on JOD, JOQ, JOP or on separate disk.
Transport Groups with individual transport directories.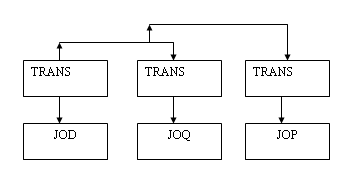 Security
On JOD >
Perform SICK
SE06 > Standard Installation - Perform Post Installation
DICO
STMS
From Menu Overview > Systems
Extras > Delete TMS configuration or execute DICO
1. Login to DC (Domain Controller) Development System/ 000 client with user like DDIC
2. Execute STMS > Will prompt to create a transport Domain.
Domain name will be Domain<SID>
Save the Domain.
3. Login to Quality system
Execute STMS >
As DC is already created from the above step. We need to include systems in the DC.
Select Icon > Other Configuration [][]


Include System in Domain Pops up
DC Host/ Target Host : JOMLERTDEV
DC Sys No/ System No: 00
SAVE
Upon saving the request from quality system is sent to DC to include in the domain.
4. Similarly perform the to include production into DC
5. Login to the DC


6. From DC
From Menu Overview > Systems
JOD
JOQ
JOP
Select the system JOP from SAP System Menu > Click on approve.
Select the system JOQ and click on Approve from Menu SAP System > Approve
Transport Group
If each system has their own transport group i.e. they maintain transport groups themselves i.e. 3 - Transport directories are configured.
Double Click on the system JOD from Communication Tab
From Transport Group Tab change mode
Provide Name : Group_JOD
Perform the same for JOQ.
SAVE.
7. Defining the Landscape
From the DC/ 000/ DDIC > Goto STMS
Click on the icon transport routes
Click on change
Menu - Configuration
> Standard configuration > Three systems in group.
> Continue > SAVE
Three system configuration - Say YES
Note: In principle there will be only one client in the production system.
JOQ --- 2 Clients [Test, Training] - UNIT TEST
JOP ---- 1 Client
JOD---- 2 Clients [DEV and Customizing, UNIT Testing]