The stock market is looking very unpredictable nowadays thanks to the fluctuating global economy, even good brands such as SAP are also not doing too good overall. SAP SE ADS is a well-known NYQ public traded firm and has a market cap of 90.33B. On an average the daily volume recorded in last three months is fairing at 1158960.
Initially the stock for SAP (Systems, Applications, Products in Data Processing) touched an amount of 77.42 and even fell down to 74.93 but eventually the stock price of SAP settled at 78.23 during the last trading session. There were quite a few analysis done and what was revealed was that technically the average moving 50 day period for the stock was at 78.54 and the thing that not looked too great was that the stock current market price was almost -4.00% away from it. It has been observed that the share price is said to be trading +1.95% off 200-day on an average. The 52-week high was 81.21 and the current price of stock is -7.15% away from the initial figure, while the 52-week low has been recorded at 62.57 .21 and is and +20.51% away from 52-week low figure.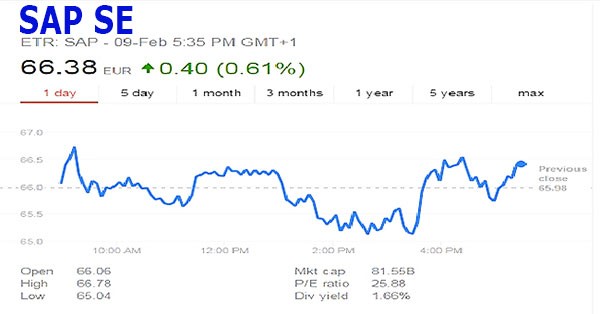 Quite a few companies have been carrying out extensive research and have observed that the stock is coming up gradually as per the market projections and future earnings estimates. If these numbers are to be believed, then the price target for the stock in coming one year has been set at 86.91. In the last fiscal the company's average EPS was chronicled as 2.80. the company may even post earnings of 0.92 per share as per the First Call, in the next quarter. As per the market consensus forecast for SAP, the company's annual EPS is standing at 4.06 and for the next fiscal year EPS has been projected at 4.41.
In the present year the P/E ratio for SAP is sitting at 18.57 while for next fiscal is estimated at 17.10. SAP's price-to-earnings ratio, which is a way of measuring the valuation of a firm by drawing a comparison of its latest stock price, with its per-share earnings, has been seen at 26.55. Also known as the P/E ratio, this recommends the projections of returns while investing in a particular stock. In case the company has a higher P/E ratio, this signifies that it offers higher earnings growth prospects as compared to firms in the same industry, with a lower P/E ratio.
While the P/E ratio does not look too good as far as the future is concerned but as the market is quite unstable these days these figures may change as per the market trends.