After upgrade to Lumira Server for BI Platform version 1.29, in the BI Mobile app, you are unable to see or use any Lumira documents from the BI Platform.
We have created a category for mobile documents called "Mobile" in the Central Management Console (CMC), and added Lumira documents to this category, but they are not showing up in the BI Mobile app. Other reports (e.g. WEBI and Crystal) work fine in the app. We have upgraded your BI Mobile app (on iOS) to version 6.3.x.
Solution:
Since BI Mobile support is a new feature in LS4BIP 1.29, if you upgraded from a previous version, by default the new feature is NOT installed. Therefore, you need to run an additional LS4BIP Modify Install and select the Mobile Web Application option. This modify install will add the Lumira Mobile BI components to the web application "MobileBIService" in tomcat/webapps folder.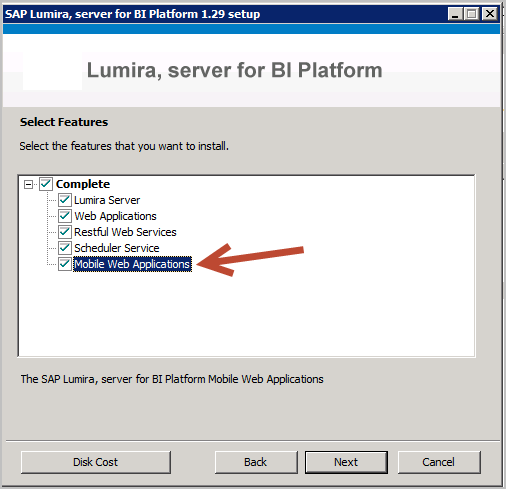 If you are using a clustered enviornment where the web-tier server is on another host, you would need to run the LS4BIP 1.29 modify install on the web-tier host only.
In Windows Control Panel, all the previous version of LS4BIP are listed. If you highligh 1.29, only "Uninstall" option is available. To do the modify install, simply highlight the base version of LS4BIP, and you will have "Uninstall/Change" option available.