A user does not have access to the "Personalization" feature in the Workcenter to set this up and how can we enable Direct Links to Expert Mode in the Work Center for the user?
Please performe the steps as following:
First Go to transaction: SE16 ---> Enter Table Name: DSWPUSERPREFS --> Hit Enter.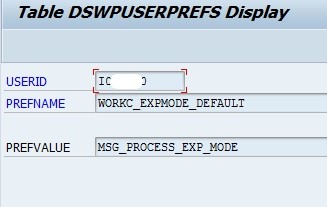 Then Enter USERID: (For example, you want to set this up for user: test_user) and click Execute button.
Now Click on "Create" button on top and enter: USERID: , PREFNAME: WORKC_EXPMODE_DEFAULT, PREFVALUE: MSG_PROCESS_EXP_MODE.
Lastly click the Save button.
When the user clicks on a link in a list of messages, the system will directly start CRMD_ORDER in the SAP GUI instead of the Web Dynpro message processing user interface (UI).
Please note: The following only applies to "old" message types based on transaction type SLFN. "New" incidents ( For Example, SMIN) will always be opened in the CRM UI.