Definition or Meaning -What is SAP BPM (Business Process Management)?
Full form or SAP BPC stands for (Business Process Management). The process of interacting with customers on a daily basis and providing all types of data requires productive management techniques on behalf of an enterprise and the applications implemented by the same. SAP involves a number of operations that can be effectively performed at any single point of time. SAP BPM provides scalable and result-oriented automation tools that help in mapping out everyday business operations and reducing the costs of simple/ complicated workflow processes/operations alike.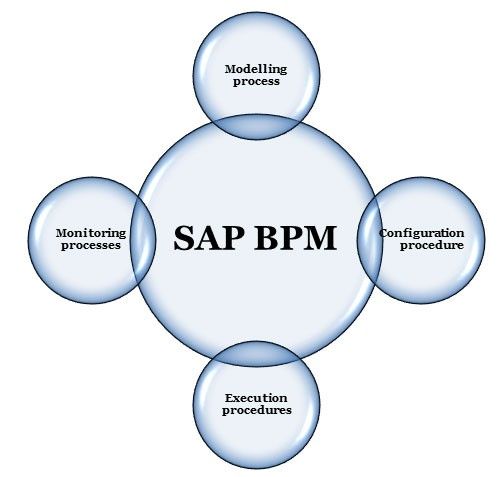 The implementation of these enterprise solutions becomes very cost effective with the help of SAP Business Process Management tools and lead to major reductions in the costs of process development and their implementation combined. SAP BPM allows business processes to implement, manage and integrate solutions in an effective manner.
Along with providing an easy interface for multiple users at any single point of time, these integration solutions allow users to embed new business rules that ensure complete business compliance. With these tools in place, organizations can look forward to better organized business applications, with a sensible logic built behind the same. SAP BPM manages business processes at three levels, namely enterprise level, process level and technical level.
The Business Process Management module linked with SAP Net Weaver aims at imparting adequate knowledge of business rules management and business process management tools. One must be proficient enough to produce business processes in the SAP Net Weaver environment.
The topics covered by SAP BPM in these training sessions are given below:
Architecture and components of the sub-modules that create the foundation for SAP BPM.
Various modeling processes of business operations like Business Process Modeling Notation (BPMN), description of business processes, and context rules.
A number of user interface technologies such as Adobe forms, Visual Composer and Web Dynpro are integrated to form a single process.
Integration of business rules manager and composer to a single process.
Service consumption and composition tools are integrated with the customized logic of business into a single process.
API of task and process management.
The run-time of processes and configuration of various activities, such as the initiation of the processes, service enablement, and so forth, are important parts of this course.
SAP BPM (Business Process Management) gives an accurate estimation of the areas of the business that can be improved and implemented in the best possible way. Because of this, consultants in this field offer smart BPM solutions that are availed by business owners during the implementation of their operations with clients. From design to optimization of business processes, this SAP module forms a full process lifecycle for any organization.
The SAP Technology Certified Associate applies the basic fundamental knowledge of candidates in context to business process application and their interfaces. The certification proves that the candidate is well equipped with knowledge in the above mentioned specifications and can implement them in real life too, along with troubleshooting problems in specified areas. The exam for this certification is of 60 minutes, with 40 questions in total. The exam is delivered in English Language only. This certification paves the path for a lucrative career in this field.
The candidate aspiring for the certification of SAP BPM must be a graduate from a recognized University or Board. He or she must have a sound knowledge in the SAP Net Weaver package and possess basic understanding of the working of SAP. For the professional level certification, one has to work as a consultant in the same field for few years (under the guidance of senior manager), prior to getting qualified for the professional degree.