Definition or Meaning - What is SAP TAO?
Full form or SAP TAO stands for (Test Acceleration and Optimization), SAP has introduced Test Acceleration and Optimization for all its customers in association with Focus frame which was later acquired by Hexaware. True to its name the module provides aid in accelerating the speed by which automated test cases are created for SAP solutions for end to end scenarios. This acceleration is accomplished by virtue of automating the creation of test components for only a few specific transactions related to SAP.
Later on these test components are uploaded automatically by the HP application on SAP Quality Center. First only the draft scenarios are created which are meant for single transactions, and then these are put together in a scenario test case. The SAP TAO also assist with the maintenance of components and test cases by merging them into SAP Solution Manager's Business Process Change Analyzer.
SAP TAO works hand in hand with Quick Test Professional (QTP) and Quality Centre (QC), in which QTP works as the execution engine and all the test scenarios are created and driven from QC through the different business components. SAP TAO also helps in streamlining the maintenance and creation of ERP business processing testing.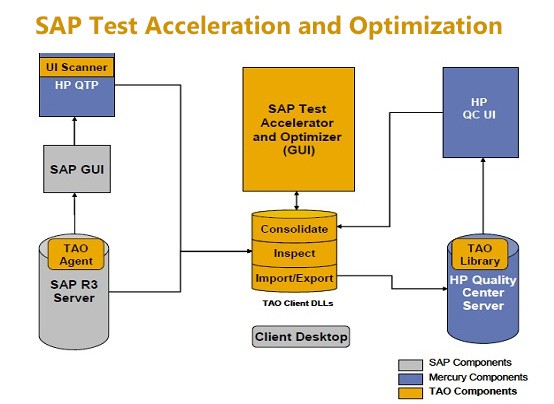 Although SAP TAO supports quite a few technologies, the main ones are the User interfaces which are listed below:
CRM Web UI
SAP GUI
Web GUI (on SAP ABAP servers) and Web Dynpro ABAP.
Java Web Dynpro, SAP Portal, and Web (which is available on SAP Java systems or third-party servers)
Tools assimilated with SAP Test Acceleration and Optimization:
SAP Solution Manager Adapter: this tool assists in transferring the requirement to HP Quality Centre and then transferring the HPQC result back to the Solution Manager.
HP Quick Test Professional (QTP): this tool comes in handy for performing execution of the test scripts.
HP Quality Centre: Application Life Cycle Management or also known as ALM is a test management tool primarily used for manual and automation testing. The Business Process Testing module of HPDQC is used for consolidating the components created from SAP Test Acceleration and Optimization.
Object Spy is also a tool which helps in the retrieval of the information identifying the UI elements.
Read Next: