Home »
EP (Enterprise Portal)
SAP EP (Enterprise Portal)
Definition or Meaning - What is SAP EP?
Full form or SAP EP stands for (Enterprise Portal), provides more than mere integration of data from various sources. It enables interaction and collaboration between various applications. In the similar manner, various types of applications can be integrated into the portal and provide for easy communication and exchange of information. The components of the SAP (EP) make the data understandable to all the applications and make it available in the necessary format for use in different industry verticals.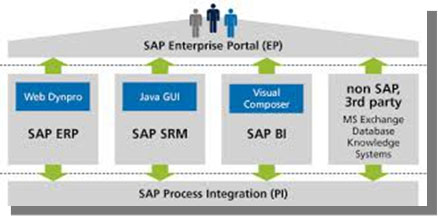 Business benefits of SAP Enterprise portal
Adoption: This is one of the new tools for taking new and improved decisions, and better management functions.
Accuracy: SAP EP tools provide consistent and accurate data across all systems.
Efficiency and effectiveness: This module acts as a single source of information for integrated data.
Access: Information can be accessed through diverse SAP portals by using the techniques offered by SAP EP, irrespective of time and place.
The module reduces the cost of system development and system support as well.
It serves as a platform for the next generation, CRM (Customer Relationship Management), SEM and BI, acts as an intuitive tool, and provides personalized experiences.
Read Next:
Get solutions from our experts!
All the site contents are Copyright © www.stechies.com and the content authors. All rights reserved. All product names are trademarks of their respective companies. The site www.stechies.com is in no way affiliated with SAP AG. Every effort is made to ensure the content integrity. Information used on this site is at your own risk. The content on this site may not be reproduced or redistributed without the express written permission of www.stechies.com or the content authors.