Definition or Meaning- What is SAP CRM (Customer Relationship Management)?
Full form or SAP CRM stands for (Customer Relationship Management), SAP CRM a reliable and customized ERP tool built for integrating the processes of organizing, automating and synchronizing customer relationships encompasses numerous activities. From sales and marketing to customer services, technical support, customer care, measurement of customer relationship and building up of effective CRM strategies and more; this popular module of SAP takes care of it all.
With the sales, marketing and customer service teams fast becoming a front line for customers, organizations are searching for end-to-end solutions in regards to deeper customer insights, personalized engagements and the necessary steps for standing in front of their competition. They are looking for smarter ways for retaining and earning the loyalty of their satisfied customers. Dedicated to the cause of facilitating an organizations interaction with it clients, SAP CRM allows these companies to equip their teams with SAP cloud solutions and empowers them to win more business.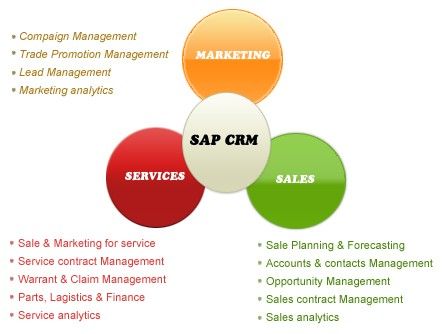 SAP CRM offers numerous advantages like a reduction in overall costs, increased profitability figures, quick action-ready care services and better customer insights. Highly accurate and capable of increasing competitive agility with flair; this SAP module streamlines all customer-centric operations, increases marketing capabilities, integrates sales, retains customers, personalize customer interactions with the company and generates higher revenue by bringing in new clients.
In a nutshell, SAP CRM is an effective tool in the hands of clients wishing to customize customer processes and creates the grounds for quick and effective resolutions of any complaints/ issues that may come their way.
Scope and Opportunity of a Career in SAP CRM
As this course is advanced in nature, it requires prior knowledge of certain basic SAP modules, ERP systems and SAP navigation. Team members and those belonging to the sales and marketing team are the right candidates for this program. Basic knowledge about SAP and SAP SD modules is not mandatory but does go a long way in enhancing the value of this course. Promising to widen the scope of career options for those possessing a PGDM, MBA or B.Com degree; SAP CRM complements their knowledge of SAP ERP and navigation tools.
Though the contents are easy to follow, it is advisable for candidates to come armed with a degree from any recognized university (e.g. BA, B.Com, MBA, BE and M.Tech) and have a SAP SD module certification or basic SAP certification to increase their job prospects in the field.
SAP CRM contact channels include web channel (e-commerce); field applications (for instance, mobile sales) and channel and contact center management. It provides valuable web and mobile interfaces for helping business representatives offer real time knowledge to all customers. Coupled with data sources such as BI, ERP and SCM systems, it succeeds in providing unified views to clients and their customers alike. Certification in SAP's CRM solutions helps in taking quick decisions, reducing costs and providing organization with the long-term competitive edge.
Become a Certified SAP CRM Consultant
SAP CRM certification paves the path for more challenging and lucrative jobs in the field of sales, marketing, analysis, customer care, technical support, opportunity management and so forth. Having gained proficiency and hands on experience in this module, eligible candidates can start looking for the job profiles of SAP CRM consultants, functional consultants and technical consultants as well. These job profiles are obviously based on client strategies and the skills and experience possessed by the candidates.
The educational qualifications that make the going easier for SAP CRM professionals and increases the profitability of their career graphs is an M. Tech degree preceded by an MBA/ PGDM and/ or B.Tech or BE degree.
Expected Salary
With an average salary of about 6.22 lacs and reputed companies like IBM India paying pay cheques as high as 7.65 lacs to SAP CRM consultants, a career in this SAP module is surely worth the deal.
While a SAO CRM functional consultant receives an average salary in the range of 5.98 lacs p.a. in smaller organizations, bigwigs like Accenture Services Pvt. Ltd. and Wipro InfoTech Ltd. are paying up to 8.05 lacs p.a. and 4.17 lacs p.a. respectively.
On the other hand, the average salary of a SAP CRM technical consultant is in the vein of 6.04 lacs p.a. with IBM India Pvt. Ltd. attracting professionals with an attractive pay packet of 7.38 lacs p.a.
In short, the average salaries of SAP CRM professionals in the country stands to the tune of 7.08 lacs p.a., and the growth rate is dependent on the experience and skills of individual candidates. The most watched and top paying Indian companies for SAP CRM professionals are ONGC with a package of 33 lacs; Siemens Ltd with 14. 66 lacs; and HCL CDC with a salary structure of 10 lacs annually.
So, are you ready to join the SAP CRM bandwagon and carve a successful future for yourself? Sign up today.
Read Next:
SAP CRM ERP Tool Certification Cost and Course Duration in India