Full form or SAP CRM stands for (Customer Relationship Management).
Modern businesses heavily rely on their customers. Customers are their most valuable assets and one of their revenue sources. Thus, customer relationship management has become a very crucial business strategy. CRM involves all the steps through which a company handles its customer interactions. This covers all sales, customer service, e-commerce, and marketing activities.
So, companies use CRM software for automating their CRM activities. This software lets them handle sales leads, develop personalized customer experiences, retain customers, and analyze user data. SAP CRM is one of the best CRM software solutions available in the market.
What is SAP CRM?
SAP CRM is customer relation solution offered by SAP for companies to handle all customer-related activities. It is a part of the SAP ERP (Enterprise Resource Planning) package. This software can be integrated with other SAP and non-SAP systems to handle customer management issues. SAP CRM helps companies to define their customer management strategies and execute them successfully.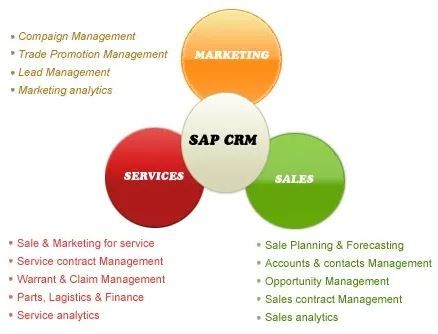 SAP CRM is a flexible and simple software solution for organizations. Furthermore, enables customers to connect with the companies better. With an enhanced connection with customers, companies can now cater to their needs efficiently.
With the sales, marketing and customer service teams fast becoming a front line for customers, organizations are searching for end-to-end solutions in regards to deeper customer insights, personalized engagements and the necessary steps for standing in front of their competition. They are looking for smarter ways of retaining and earning the loyalty of their satisfied customers. Dedicated to the cause of facilitating an organizations interaction with its clients, SAP CRM allows these companies to equip their teams with SAP cloud solutions and empowers them to win more business.
SAP CRM consists of the following sub-modules for Customer Relationship Management −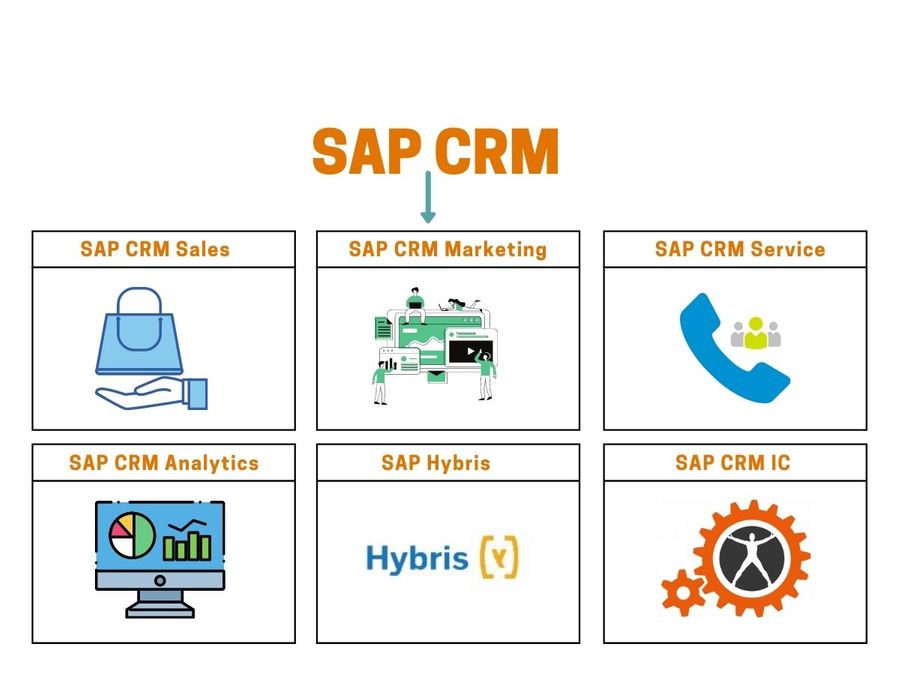 SAP CRM Sales
SAM CRM Marketing
SAP CRM Service
SAP CRM Analytics
SAP Hybris
SAP CRM Interaction Center IC
Why Choose SAP CRM?
For establishing better relationships with customers and attracting more customers
Analyzing customers, business partners, and vendors from their related data to make major business decisions
Advanced data automation and security
Enhances sales with end-to-end case management
Customize products as per organizational needs
Features of SAP CRM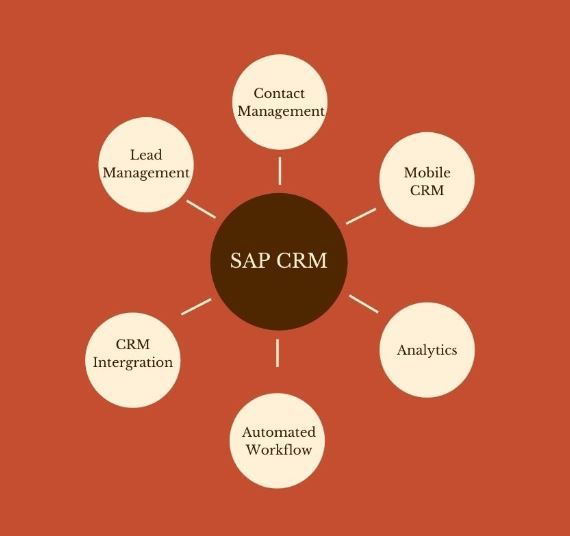 SAP CRM lets you secure all your customer details in one place. Details such as contact numbers, names, and social media account information are stored in a central database. This data can be accessed by all employees.
This solution lets you identify, track, manage, and store leads properly. This allows effective conversion of leads into potential buyers. Moreover, pipeline management, lead generation, and related can be integrated easily.
You can integrate all sources of data with your CRM. This includes emails, calendars, accounting software, customer surveys, documents, and e-signatures. This helps in handling customer tasks in one place.
SAP CRM is powered by AI and Machine Learning to automate daily tasks such as entering customer data. It offers chatbots for interacting with users on social media and messaging applications.
SAP CRM has an interactive dashboard and advanced data visualization features. This helps companies to uncover insights about customers and sales. Predict what works for your customers, what doesn't, and develop strategies based on the information.
Handle all your customer interactions in one platform. This includes emails, social media posts & comments, telephonic conversations, and chats. All this offers a comprehensive view of the customers, which in turn, assists in creating personalized experiences and products. You can also provide a complete cross-channel experience to your users.
SAP CRM is available to you from anywhere and on any device. Additionally, you get data privacy, streamlined security and it helps in GDPR compliance requirements.
Goals of SAP CRM
Achieve maximum customer satisfaction by meeting their requirements
Enhancing customer service and provide high-quality products
Identifying new customers and strengthen relationships with existing customers
Sell products and services effectively and increase brand awareness
Streamlining business processes and strategies
Monetizing customer interactions
SAP CRM Versions
SAP CRM has released the following versions –
SAP CRM 7.0 released in 2009
SAP CRM 6.0 released in 2007
SAP CRM 5.0 released in 2006
Functionalities of SAP CRM
The most important functionalities of SAP CRM are –
SAP CRM offers excellent features for handling the marketing strategies of a business. It can assist in planning the marketing strategy, campaigns, executing these strategies, and analyzing the marketing tactics. It also supports marketing analytics, customer segmentation, lead management, and e-marketing.
SAP CRM is designed for handling and implementing the entire sales process. This includes telesales, e-sales, enterprise sales, and field sales. The software ensures that these sales processes are executed efficiently. It also helps to automate the sales force of your company that influences customer acquisition.
The territory and account management features allow you to optimize sales strategies. The seamless order to cash processes enables any organization to handle user requirements effectively.
SAP CRM's customer support and service functionalities are better than any average CRM software. All the steps starting from processing the service order, attending customer inquiry, and final billing of service is done through the CRM.
You can also create quotations and service orders, which can be assigned to service executives.
SAP CRM offers many channels for optimizing your customer interactions. It lets employees handle back-office tasks easily. Moreover, there are applications for field representatives that they can access from any device. There is an interaction center for customer care employees for handling customer calls and emails.
Furthermore, there is a Partner Channel Management interface that lets companies collaborate with their stakeholders effectively. Sellers, manufacturers, dealers, and agents are connected and handled via this platform.
This enables company officials to gather all information relevant to the business. Then, based on this information, reports are developed using the CRM. This helps in gaining valuable insights into business operations, campaigns, and strategies. It also enhances decision making.
Advantages of SAP CRM
SAP CRM can enhance the sales processes, reduce overall costs, and increase profits for any business. It is adept at organizing all customer-centric business operations, which in turn, helps in increasing customer loyalty.
The most important advantages of using SAP CRM are -
SAP CRM lets you segment your customers into customers and prospects. This helps in targeting them better and creating targeted products
All the customer details stored in the CRM enables you to understand them closely. It also lets you handle other contacts such as dealers, distributors, and business partners
Interactive dashboards and reporting facilities allow executives to automate their pipelines, contacts, and deals effectively
Track all prospect activities and follow them up timely
Analytics help in evaluating sales strategies and forecasting sales trends
Insights gained from sales reports help officials to understand which sales processes they must scale up. So, sales strategies can be scaled up with your business growth
Manage and automate administrative tasks efficiently with SAP CRM. This reduces the workload and increases the productivity of employees
SAP CRM increases customer satisfaction and shortens your sales cycles
SAP CRM Career Opportunities
To get a job where you can operate the SAP CRM, you need to have a basic understanding of the SAP modules and ERP systems. Having prior experience in handling ERP systems will be very helpful. Additionally, knowledge about SAP and SA SD modules will be a bonus.
So, sales and marketing executives will be a good fit for working on SAP CRM. Also, candidates having an MBA or PGDM degree will be able to put their knowledge of ERP systems into good use while learning SAP CRM. Furthermore, candidates having completed their B.E or B.Tech and knowledge of SAP SD modules will be preferred.
Employees or candidates can go for an SAP CRM certification to get a job as an SAP CRM consultant. An SAP SD module certification along with it will increase your prospects of getting a job or a promotion.
Later on, candidates can get employed as a Senior SAP CRM consultant. You can also shift to other posts such as SAP Basis administrator and Senior Technical Consultant.
Salary Prospects
A career as an SAP CRM consultant is very bright and rewarding. An entry-level SAP CRM consultant earns ₹344,119 per year. An employee having 1 to 4 years of experience in SAP CRM can earn ₹585,549 on an average. A mid-level employee having 5 to 9 years of experience can earn ₹910,376 per year. And this salary package will increase according to the experience and skill set of the candidate.
The top recruiters of SAP CRM Consultants are InfoSys Limited, Tata Consultancy Services Limited, Capgemini and IBM. TCS pays ₹1,171,331 to the employees whereas Capgemini pays around ₹496,561. IBM offers a package of 7.65 LPA on an average to the employees. SAP CRM consultants earn around ₹859K - ₹2,021K in Accenture. Atos pays an average of ₹ 5,92,442 per year to these candidates.
Conclusion
CRM software solutions such as SAP CRM are extremely important for handling customers. It is important that companies use CRMs to improve their customer experiences. After all, if a customer is not treated right, the product won't sell. As a company official or CEO, you have to make sure that your customers keep coming back to you for more. Using the SAP CRM, you can attend to every customer properly, and make sure their needs are addressed.
Along with the power of the SAP CRM and the combined efforts of all employees, any business is bound to prosper.
Important Resources for SAP CRM