SAP Event Management
Definition -What is SAP EM (Event Management)?
SAP Event Management or SAP EM, is a centralized solution that tracks, monitors and controls all kinds of business processes. It has been designed to manage events across distributed processes, applications and systems that lie within the internal and external boundaries of a company. SAP Event Management (EM) has functionalities that can monitor all the predetermined milestones and goals; trigger notifications and alerts as and when necessary; log unexpected events; and follow-up on the scheduled events and activities.
It captures all the events from the existing systems of the business, analyses the same and compares them with the preset plan and goals, and creates a workflow response as a response. It works efficiently on both SAP and non-SAP systems and comes with pre-configured interfaces to other applications. SAP EM can be integrated seamlessly with SAP NetWeaver BI and SAP Auto-Id Infrastructure, SAP Supply Chain Management servers, SAP ERP and SAP Transportation.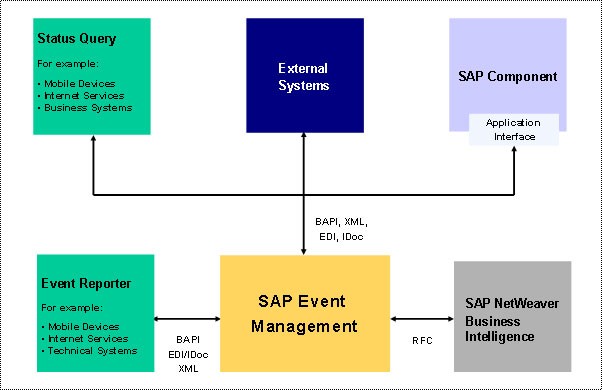 Benefits of SAP Event Management
It allows transparency in all processes, within every segment of the supply chain.
It offers highly efficient and reliable interaction with partners by providing timely information on all the events.
It immediately detects and alerts the potential risks that processes and events can face.
High customer satisfaction can be achieved by providing real-time data at all times.
Another big advantage of SAP EM is its ability to trigger event messages that can be sent via email, SMS or even fax. These messages are generated through registered and unregistered events in the timeframe and involved processes.
Read Next:
Get solutions from our experts!
All the site contents are Copyright © www.stechies.com and the content authors. All rights reserved. All product names are trademarks of their respective companies. The site www.stechies.com is in no way affiliated with SAP AG. Every effort is made to ensure the content integrity. Information used on this site is at your own risk. The content on this site may not be reproduced or redistributed without the express written permission of www.stechies.com or the content authors.