Definition or Meaning - What is SAP SCM?
Full form or SAP SCM stands for (Supply Chain Management), an important part of the group of SAP customized solutions, boasts of the distinction of being one of the most impact full SCM software applications in the market. It is specifically designed to maintain organization relationships with customers and suppliers; streamline the processes of planning, distribution, inventory and transportation; and effectively control and manage the entire supply chain to address customer expectations and perform to the optimum levels.
SAP SCM plays an important role in enabling an organization coordinate its entire supply chain process in accordance to the dynamism in the environment - thus helping customers, suppliers, manufactures, retailers, business partners and other global connections to stay connected and generate result-oriented solutions.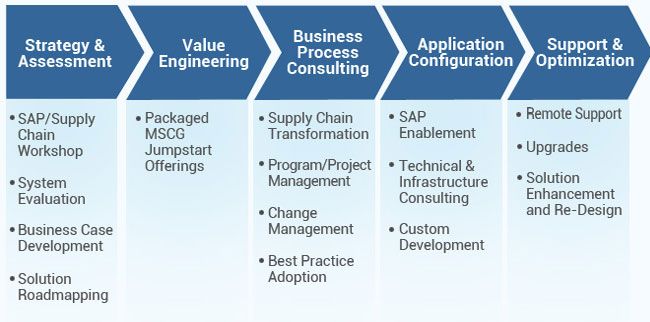 The components of SAP SCM are:
SC Collaboration - helps in making collaborative forecasts and agreements.
SC Planning - generates tactical and operational plans on the basis of current, relevant data.
SC coordination - coordinates through the exchange of data and information between departments.
SC Execution - ensures that well conceived plans are executed to cater to customer orders in the best possible manner.
SAP SCM primary applications are segregated as:
General areas of SAP
SAP Extended Warehouse
SAP Transportation Management
Advanced Planning and Optimization
Supply chain management
SAP supply network collaboration
Forecasting and Replenishment
Across the world, organizations are facing enormous pressures for reducing costs while improving customer services and increasing innovation as well as responsiveness. SAP SCM enables the planning, collaboration, execution and coordination of the supply network, and empowers them to adopt smarter supply chain processes and deal with their ever-changing competitive environment.
The benefits of integrating this module include:
Smarter planning and execution of SAP supply chain solutions for meeting customer demands.
Effective streamlining of internal departments with their external partners, total control of Business Processes and smoother operations for more efficient and profitable running or organizations.
Competent forecasting and handling of sudden changes in demand and supply.
Provision of vital business information to all key stakeholders located across the network.
Improved collaboration and better management of multiple lines of business.
Real - time decision making for early execution across the supply chain.
Central management and optimization of Inventory, order fulfillment and shipping.
Proper handling of supply chain disruptions and maintenance of the supply chain's integrity and so forth.
Read Next:
SAP SCM (Supply Chain Management) Certification Fee and Course Duration in India
SAP SCM (Supply Chain Management) Module Scope and Career Opportunity