Definition or Meaning - What is SAP FSCM?
Full form or SAP FSCM stands for (Financial Supply Chain Management), Every company strives to have a smooth flow and high profits at the end of each phase of production and product delivery. SAP FSCM has a set of tools which enables you to bring about improvements in the metrics of product flows and maximizes profits by minimizing expenses. It is similar to the traditional SAP Supply Chain Management (SCM) system, with the inclusion of financial aspects that are further expanded in this module.
This system recognizes all those aspects that greatly impact the financial feasibility of organizational processes, such as working capital, pricing, inventory and the payment terms. SAP FSCM (Financial Supply Chain Management) also analyzes diverse kinds of data so that necessary steps can be taken to maximize financial outputs, with the utilization of minimum inputs. It also considers the financial requirements of all employees and the different departments of an organization.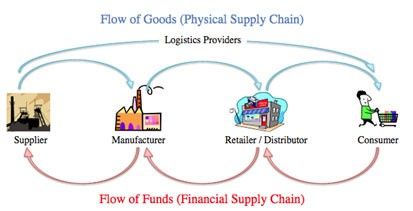 The Modules of the SAP FSCM can be further categorized into:
Cash and Liquidity Management: This module helps an organization manage its liquidity and currency risks in the most efficient manner. All the redundant data is eliminated by this system that also helps in increasing the efficiency of planning processes. The overall goals and targets of a company are monitored accurately by the SAP Financial Supply Chain Management (FSCM). With it in place, you can also get an insight into global cash flows and the risks involved with the same.
Collections Management: With this module, you can manage receivables efficiently. It also enables you to process the increasing receivable balance in a short period of time. It can be divided into four phases that include - selection of customers, prioritization of customers, and processing of receivables. With SAP Credit management system for faster processing, it is possible to improve the cash flow of ac company, increase its efficiency levels through automation, reduce the Days Sales Outstanding (DSO), and implement the proper integration of this module.
Credit Management: This module enables companies to significantly reduce their balance of arrears like DSO. It also manages all payables/ liabilities and prevents you from making a payment that has already been made in the past. Providing reliable access to all credit information of a company, this platform offers automated real-time decisions to all departments; so as to get quick results.
Electronic Bills and Payment: The billings and payment procedures in an organization have to be managed effectively; and one method of achieving this is by resorting to electronic means. This includes digitally signed electronic invoices, data conversion services, archiving services and similar protocols. With the help of correct SAP FSCM modules, the hassles of maintaining bills in hard copies, signing each and every one of them, and storing them safely, is completely eliminated.
Treasury and Risk Management: As the name suggests, this module is all about managing your transactions and the risks involved in the same. With it in place, all financial processes can be automated and streamlined throughout the enterprise. Additionally, it measures interest rate exposures, controls credit, and offers the right ways of settling risks. Through its flexible reporting tools for the evaluation of different financial transactions, you can have all the important information at your fingertips.
What Next:
With a well - conceived SAP Financial Supply Chain Management system, the acts of monitoring and managing the finances involved with the different processes of an organization can be done with ease.
So, get ready to embrace stress-free, accurate and reliable financial processes.