Definition - What is SAP FS-CD(Collections and Disbursements) ?
In the insurance sector, SAP has made its presence felt in quite a large way. All the processes that are present in this sector, such as policies, claims as well as calculations, are now being dealt by SAP. Earlier, these systems had no way of communicating directly with those who were availing them; but things have changed with the integration of important SAP modules like FS-CD. What SAP FS-CD (which Collection and Disbursement) does is that it communicates with the users availing these services and provides an invoice regarding these systems.
Purpose of SAP FS-CD
The basic purpose of Collections and Disbursements for the insurance industry is that it acts as a sub-ledger for the main calculating systems, so that the main ledger is not over burdened with extra responsibilities and data is sent into it through different interfaces. It also allows one to map invoicing by using brokers and other coinsurance business and performs all tasks on a cross-LoB basis, which includes open item accounting, payment processing, incoming payment processing, correspondence as well as dunning. This provides all sorts of functions that are required for sub ledger accounting in the insurance sector.
The functions and workings of the SAP FS-CD are all part of the Business Function Set provided by SAP. As you already know, SAP FS-CD is a settling system and it must be provided with the data required by the administrative systems. The administrative systems include Commission Management, Claims Management, Reinsurance Management and Policy Management. This effectively means that every system that is somewhat involved with the entire process of calculation of claims, as well as settlements, must provide the information in this sub-ledger for better performance.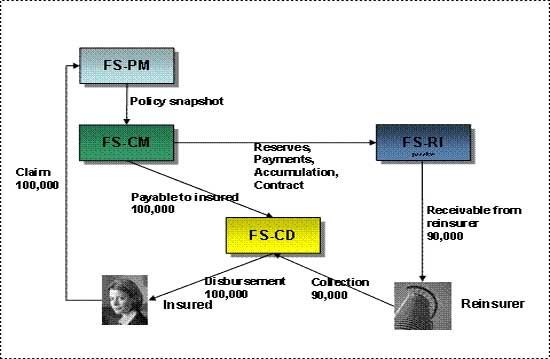 Read Next: