What is SAP Meaning?
SAP by definition is an ERP (Enterprise Resource Planning) Software.
SAP full form or stands for Systems Applications and Products in Data Processing (English) and in German SAP abbreviation is Systeme, Andwendungen, Produkte in der Datenverarbeitung (German).
SAP the company was founded in Germany in 1972 by five ex-IBM engineers Wellenreuther, Hopp, Hector, Plattner and Tschira.
Initial Release was called R/2 on a Mainframe.
SAP Later released R/3 as Client Server Software, the R in R/3 stands for Real time.
New Dimension Products based on Netweaver.
SAP Latest release is SAP HANA.
SAP system is an INTEGRATED business software to process all functionalities of an organisation in order to obtain a UNIFIED solution. The SAP R/3 enterprise application suite for open client/server systems has established a new standard for providing business information management solutions. The original SAP idea was to provide customers with the ability to interact with a common corporate database for a comprehensive range of applications. Gradually, the applications have been assembled and today many corporations, including IBM and Microsoft, are using SAP products to run their own businesses. SAP product are considered excellent but not perfect. The main problems with SAP software product is that it can never be perfect.
Who uses SAP ERP Software?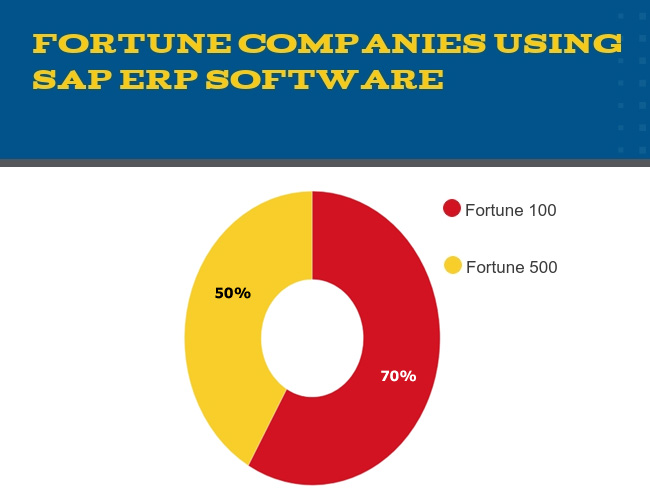 For small and medium enterprises SAP has released ByDesign & BusinessOne.
Some interesting facts about SAP:
SAP ERP Software is known as the fourth largest company in the world.
SAP R/3 is a well-known business software which aims at integrating all the various areas of business.
The software aims at providing end to end business solutions related to finance, distribution and logistics, etc..
SAP applications, built around their latest R/3 (The "R" was for "Realtime data processing") system, provide the capability to manage financial, asset, and cost accounting, production operations and materials, personnel, plants, and archived documents. The R/3 system runs on a number of platforms including Windows 2000 and uses the client/server model. The latest version of R/3 includes a comprehensive Internet-enabled package.
SAP is a table drive customization software. It allows businesses to make rapid changes in their business requirements with a common set of programs. User-exits are provided for business to add in additional source code. Tools such as screen variants are provided to let you set fields attributes whether to hide, display and make them mandatory fields.
In order to minimized your upgrading costs, the standard programs and tables should not be changed as far as possible. The main purpose of using a standard business application software like SAP is to reduced the amount of time and money spend on developing and testing all the programs. Therefore, most companies will try to utilized the available tools provided by SAP.

SAP use ABAP (Advanced Business Application Programming) which can be classified as 4th Generation Programming Language. SAP ABAP is a high level programming language created by the German software company SAP. Its syntax is somewhat similar to COBOL. It has many of the features of other modern programming languages such as the familiar C, Visual Basic, and Power Builder. Your programs name conventions begin with a letter yxxx or zxxx.
History of SAP:
The company was originally set up in the by engineers who worked with IBM in the year 1972.
Versions of SAP:
Although there are various versions of SAP, lets us quickly glance at them:
SAP R/1: This was the 1st version and was launched in 1972. The alphabet R stands for real-time data processing. This is a one-tier architecture.
SAP R/2: this was the second version introduced in 1979. Known more to be a database and dialogue based oriented business solution.
The SAP R/3 was specifically designed keeping in mind the open client/server systems which has laid down new standards which cater to the requirement of providing solution related to business information management.
SAP ERP Central Component (ECC) 6.0
SAP HANA: It is the advanced ERP Solution from SAP, and can be installed cloud or on premises.
Related: SAP Versions Release and History of Evolution
Advantages of SAP Technology:
There is no duplicate data in SAP Technology.
Business processes are standardized.
Planning, scheduling, management and tracking have become an easier task by using SAP Software.
Enables integration along with Ecommerce.
Cost effective in terms of reducing administrative charges.
Flexible reporting, monitoring projects have been automated.
Consistency across the whole division.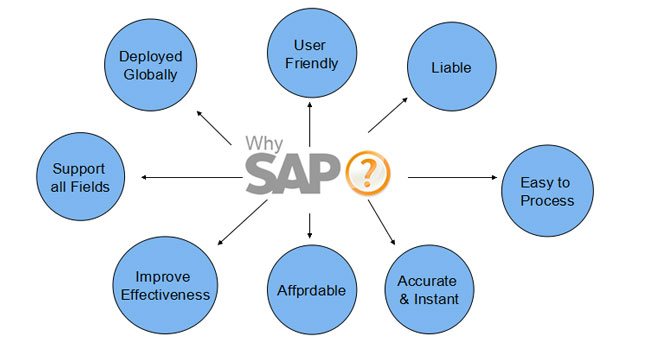 Why is SAP R/3 more successful?
The information is secure.
SAP R/3 works in multi-currency.
Best business practices are followed
It is accepted across all enterprises.
Real time processing is much more efficient and effective especially during server/client application.
The application is multi lingual in nature.
Architecture of SAP R/3.
There are three layers of the SAP R/3 Architecture.
Presentation in which the user works with the Graphical user interface via the application layer.
Application layer allows the user to interact between the presentation and database layer.
Database layer which is known as the central database meant for storing all data of the ERP SAP Systems.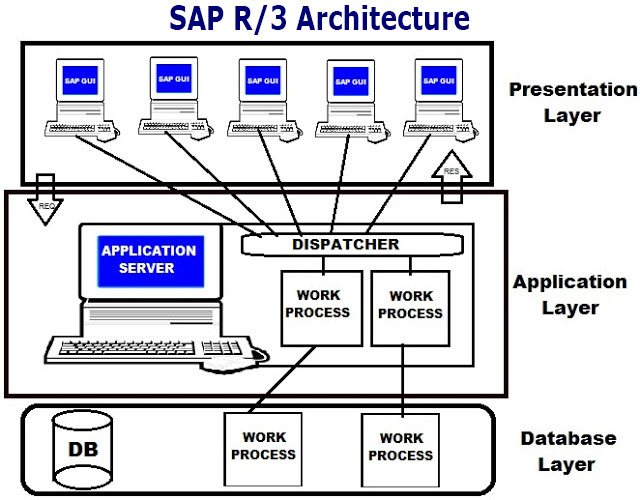 The various phases of SAP Software Implementation project:
Phase 1- Project preparation
Phase 2- Business blueprint
Phase 3- Realization
Phase 4- Final preparation
Phase 5- Go Live and support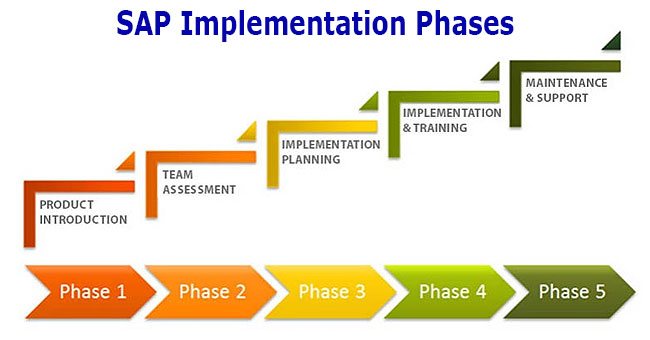 SAP Business Suites:
SAP offers various applications with SAP ERP for meeting the requirements of the customers. The important ones have been listed below:
SAP SCM (Supply Chain Management)
SAP CRM (Customer Relationship Management)
SAP PLM (Product Life Cycle Management)
SAP SRM (Supplier Relationship Management)
SAP APO (Advanced Planning and Optimization)
SAP SEM (Strategic Enterprise Management Software)
SAP BI (Business Intelligence)
SAP Functional modules, some of them are as follows:
SAP PP (Production Planning)
SAP FICO (Financial Accounting and Controlling)
SAP MM (Material Management)
SAP SD (Sales and Distribution)
SAP HR (Human Resources)
SAP QM (Quality Management)
SAP WM (Warehouse Management)
SAP LIS (Logistics Information System)
SAP PS (Project Systems)
SAP EHS (Environment Health and Safety)
SAP PLM (Product Life Cycle Management)
SAP Technical modules some of them are as follows:
SAP Netweaver
SAP BASIS
SAP BW (Business Warehousing)
SAP XI (Exchange Infrastructure)
SAP ABAP (Advanced Business Applications Programming)
SAP Industry Solutions Modules
SAP IS-AFS: Apparel & Footwear
SAP IS-Oil: Oil & Gas
SAP IS-Util: Utilities
SAP IS-Retail: Retail
SAP IS-Auto: Automotive
SAP Media: Media