SAP GRC Security Sample Resume 3.10 years experience
| | | |
| --- | --- | --- |
| Name | : | (Male) having 3.10 Years of Exp (Delhi) 17 Jun 2016 9:21 am |
| Function Area | : | GRC Security , |
| Key skills | : | SAP Security, GRC Consultant |
Personal Details

Mobile No
:

1111111111

Phone No
:

1111111111

Preffered Job Location
:
Ahmedabad,
Nationality
:

India

Download Resume
:

Click Here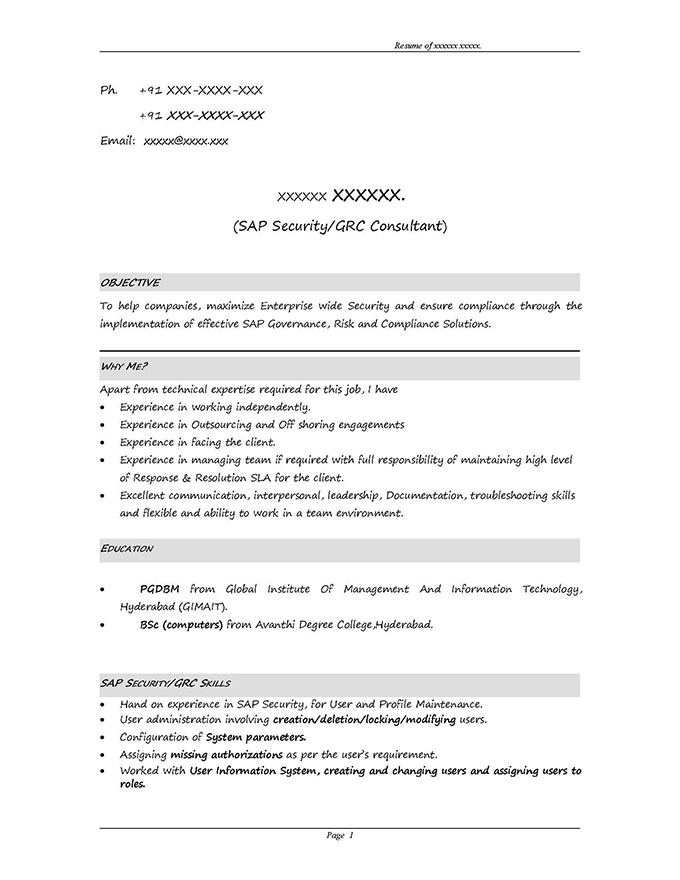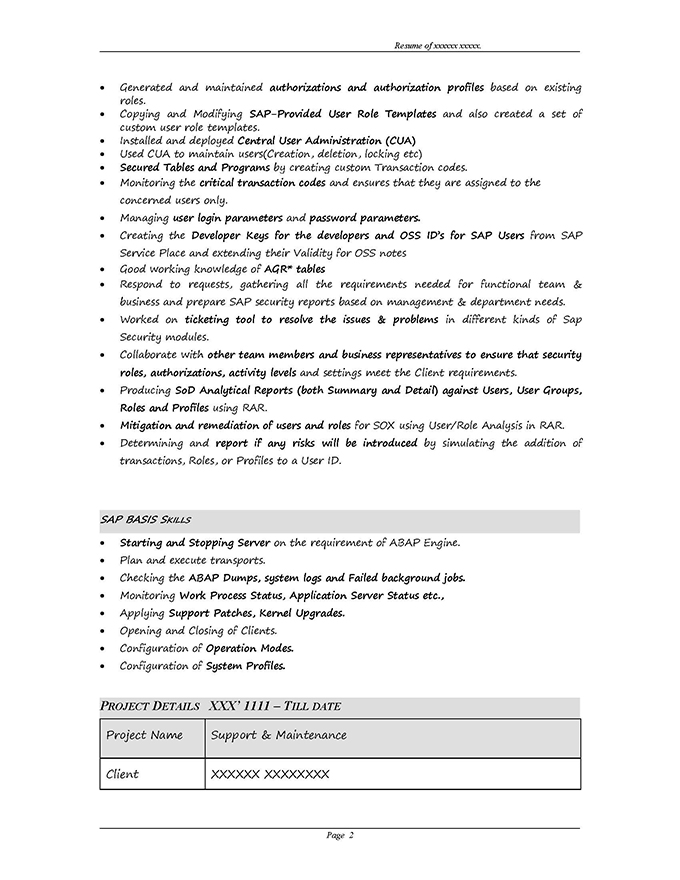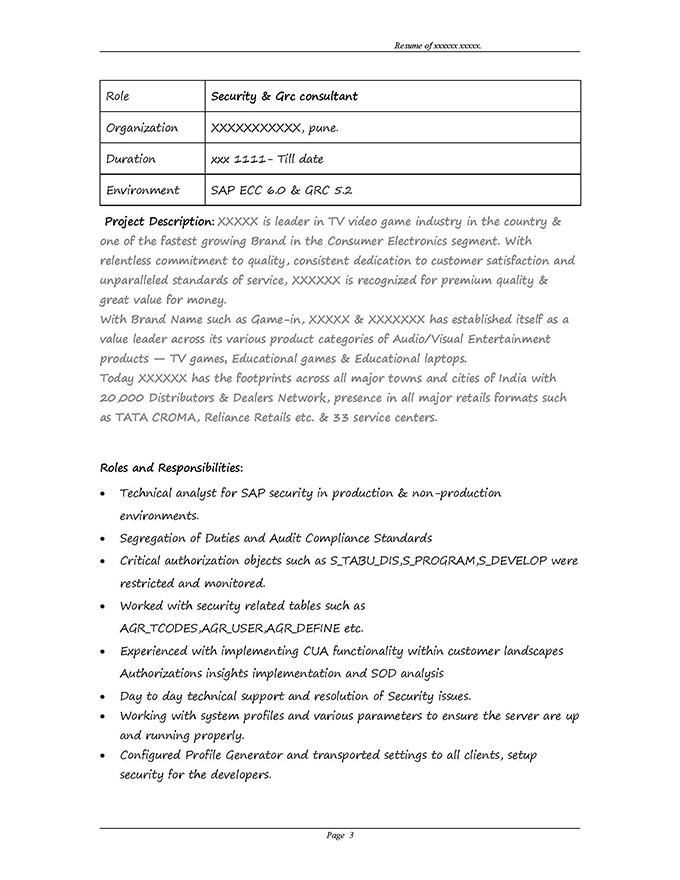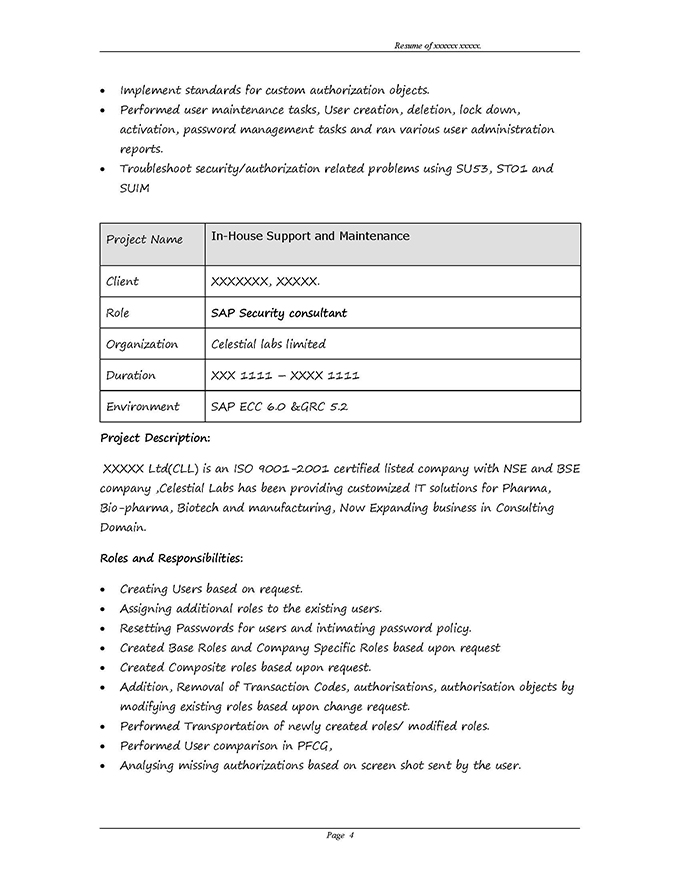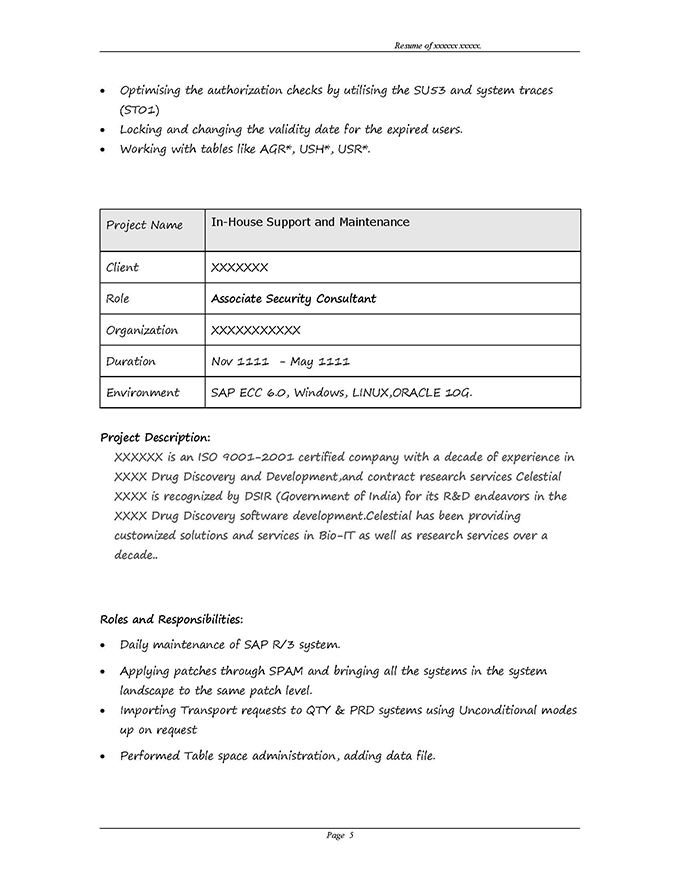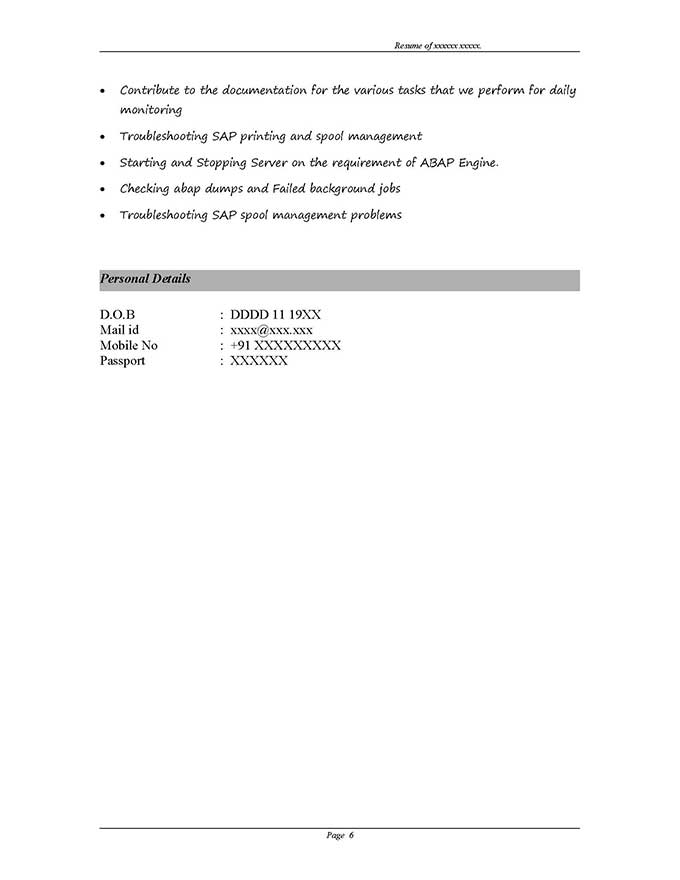 Dear recruiter

your need for a top-performing IT professional is an excellent match to my 3+ years of experience as successful SAP Security Administrator. My background in implementing and supporting SAP environment will allow me to make numerous contributions to your company's success.

I have a proven experience supporting SAP environment based on Windows operating system and Oracle database. As a SAP Security Administrator I am responsible to implementing and giving support for SAP and the operative system and so forth. Also I participated on an implementation project SAP ERP ECC 6.0. I am currently working for. For example: Oracle 10g, Windows 2003 Server. I am interested in making similar contributions to benefit your client or your corporation.

The accompanying resume provides an overview of my skills and accomplishments. I am very interested in learning more about the job opportunity. But as you will see in my enclosed resume, I am working in Square solvents, Pune. At this point in my career, I am searching for a position that would be a perfect fit, so I am open to relocating for the right opportunity. I welcome the opportunity to speak with you soon about this position. If my experience and skills are good for you, please feel free to contact me.

Thank you for your time and consideration. I look forward for an answer from you.
Apart from technical expertise required for this job, I have
Experience in working independently.
Experience in Outsourcing and Off shoring engagements
Experience in facing the client.
Experience in managing team if required with full responsibility of maintaining high level of Response & Resolution SLA for the client.
Excellent communication, interpersonal, leadership, Documentation, troubleshooting skills and flexible and ability to work in a team environment.
SAP Security/GRC Skills
Hand on experience in SAP Security, for User and Profile Maintenance.
User administration involving creation/deletion/locking/modifying users.
Configuration of System parameters.
Assigning missing authorizations as per the user's requirement.
Worked with User Information System, creating and changing users and assigning users to roles.
Generated and maintained authorizations and authorization profiles based on existing roles.
Copying and Modifying SAP-Provided User Role Templates and also created a set of custom user role templates.
Installed and deployed Central User Administration (CUA)
Used CUA to maintain users(Creation, deletion, locking etc)
Secured Tables and Programs by creating custom Transaction codes.
Monitoring the critical transaction codes and ensures that they are assigned to the concerned users only.
Managing user login parameters and password parameters.
Creating the Developer Keys for the developers and OSS ID's for SAP Users from SAP Service Place and extending their Validity for OSS notes
Good working knowledge of AGR* tables
Respond to requests, gathering all the requirements needed for functional team & business and prepare SAP security reports based on management & department needs.
Worked on ticketing tool to resolve the issues & problems in different kinds of Sap Security modules.
Collaborate with other team members and business representatives to ensure that security roles, authorizations, activity levels and settings meet the Client requirements.
Producing SoD Analytical Reports (both Summary and Detail) against Users, User Groups, Roles and Profiles using RAR.
Mitigation and remediation of users and roles for SOX using User/Role Analysis in RAR.
Determining and report if any risks will be introduced by simulating the addition of transactions, Roles, or Profiles to a User ID.
AP BASIS Skills
Starting and Stopping Server on the requirement of ABAP Engine.
Plan and execute transports.
Checking the ABAP Dumps, system logs and Failed background jobs
Monitoring Work Process Status, Application Server Status etc.,
Applying Support Patches, Kernel Upgrades.
Opening and Closing of Clients.
Configuration of Operation Modes.
Configuration of System Profiles.
Roles and Responsibilities:
Technical analyst for SAP security in production & non-production environments.
Segregation of Duties and Audit Compliance Standards
Critical authorization objects such as S_TABU_DIS,S_PROGRAM,S_DEVELOP were restricted and monitored.
Worked with security related tables such as AGR_TCODES,AGR_USER,AGR_DEFINE etc.
Experienced with implementing CUA functionality within customer landscapes Authorizations insights implementation and SOD analysis
Day to day technical support and resolution of Security issues.
Working with system profiles and various parameters to ensure the server are up and running properly.
Configured Profile Generator and transported settings to all clients, setup security for the developers.
Implement standards for custom authorization objects.
Performed user maintenance tasks, User creation, deletion, lock down, activation, password management tasks and ran various user administration reports.
Troubleshoot security/authorization related problems using SU53, ST01 and SUIM