Home »
GRC (Governance Risk Compliance)
SAP GRC (Governance Risk Compliance)
Definition or Meaning- What is SAP GRC?
Full form or SAP GRC stands for (Governance Risk Compliance), Every company needs to manage its governance requirements and has to comply with certain regulations. It is important to manage these risks in order to prevent organizational processes from collapsing. Though there were different ways of approaching these areas in the past, the SAP GRC software has made the act much easier, reliable and faster in contemporary times.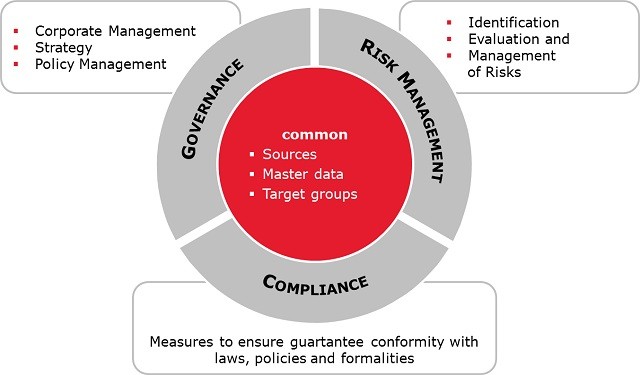 This software helps an organization have systematic and organized methods for managing its GRC (Governance, Risk and Compliance) related strategies.
The GRC software from SAP allows a company to integrate IT operations that are subject to various regulations, and manage them efficiently. The risk and compliance activities related to these operations can be integrated in different stages such as strategy, planning and execution. It also helps in embedding financial and operational controls in a well-organized manner in the existing business processes and automates all the GRC programs, such as managing risks and compliance reporting.
The implementation of SAP GRC software is not restricted to just the IT department but can be included for business, compliance, auditing and security as well. This software combines all the applications that are needed to manage the core functions of GRC into one integrated package. This makes it possible for administrators to use just a single framework for monitoring and regulating the procedures. In addition, the necessity of having separate storage areas is eliminated. The complexity of governance processes is greatly reduced and multiple installations help in reducing allied costs along with other risk factors. As GRC ensures that all risks and opportunities are well-balanced, the system leads to an enhancement in the overall performance - and in many more ways than one.
After the implementation of this software, the dashboard and various analytical tools allow administrators to identify the company areas that are exposed to risk, provide audit information, and keep a check on the progress of organizational processes and goals. The task of measuring required details also becomes simple as the elements of risk management and data retention are converted into measurable metrics. Likewise, governance is considered as an objectively measurable commodity.
How can GRC (Governance, Risk and Compliance) Help?
Under mentioned are important tasks that can be accomplished through GRC:
Reductions in the cost of risk, compliance and numerous audit programs.
Workflow, surveys and assessments that are a part of different processes can be automated. This automation simplifies various stages of work in an organization.
Multiple compliance programs can be tested and their results are always reliable. The controls required for the same can be shared easily within the concerned team.
Regulatory and corporate policies can be easily embedded into the global trade processes.
All the opportunities and risks within the financial, operational and the legal departments can be identified and balanced, as and when required.
Read Next: