Definition - What is SAP BODS (Business Objects Data Services)?
SAP Business Objects Data Services, used for pulling data from warehouses and transforming them into meaningful data for business enterprise with the help of different data objects, was previously known as "Acta works" It integrates the required data with the server and also acts as a designer for furthering the cause of organizations investing heavily in different SAP modules. This system is built for providing timely information on hot issues, new documentations, and provision of future-oriented events for both users and the administration.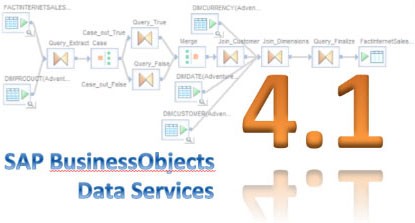 The data services catered by the different sub-modules of SAP Business Objects (BO) include data integration, data quality, data profiling, text data processing and other techniques that ensure the delivery of trusted and secured data to further users after going through the desired processes of integration. This SAP module also performs other additional functions of defining inline complex transformations and building customized functions in the software.
SAP Business Objects Data Services (BODS) Courses
The courses involved with BODS are highly composite in nature and deal with a wide range of topics that are available as classroom courses only. They basically define the data services of the business objects and explain how the whole process goes on.
Some of the many contents covered by these courses include:
Description of data services of business objects in SAP.
Detection of data recovery and process chains.
Development of batch jobs and scheduling of tasks.
Avoiding of deadlock condition in the scheduling of tasks and SAP Troubleshooting the same.
Ways of using variables, functions and other scripts.
Transformation of data from one legacy to another with high security.
Error handling of processes.
Detection of the modifications in the process and updating of the overall SAP system.
Implementation of the data integration transfer platform.
Scope and Opportunity of a Career in SAP BODS Course
Candidates aspiring for the role of a SAP BODS consultant have to first clear the required SAP examinations. People with skilled knowledge in database handling and business enterprise solutions can have a great career in this subject. These software tools, based on different programming languages and tools such as Java, .Net, and so forth enhance the business and database knowledge of professionals, but then, they demand for some programming knowledge of the software.
Become a Certified SAP BODS Consultant
One can become a consultant in the respective field by going through the SAP Certified Application Associate program (Data Integration with SAP Data Services 4.x) which is globally recognised for furthering one's knowledge in the field of Data Objects. It certifies candidates in the relevant fields of designing, extraction and transformation of data by using ETL tools with allied SAP Data Services. The duration of this examination, which comprises of multiple choice questions, is of 180 minutes.
Basic Qualifications Required for the Course
Candidates aspiring for the SAP BODS course must be a degree holder from any recognised University or Government approved Board. He or she must possess the basic knowledge of ETL tools and their functions. In addition, data warehousing concepts are a must for all candidates. SQL programming knowledge is also a must for the customization of databases. For preparing candidates, the better way, online classrooms, virtual classes and even traditional classes are being set up all across the country.