Definition or Meaning- What is SAP BO?
Full form or SAP BO stands for (Business Objects). SAP BO is an interface that uses business tools related to front end applications to customize, view and sort business objects in the most compatible form. It provides a secure way of accessing the business intelligence on any device and is typically a reliable tool that analyzes the key metrics of business objects and related data trends. It is possible to share SAP Business Objects (BO) seamlessly and instantly with other devices, and this attribute is being leveraged by SAP consultants and managers globally.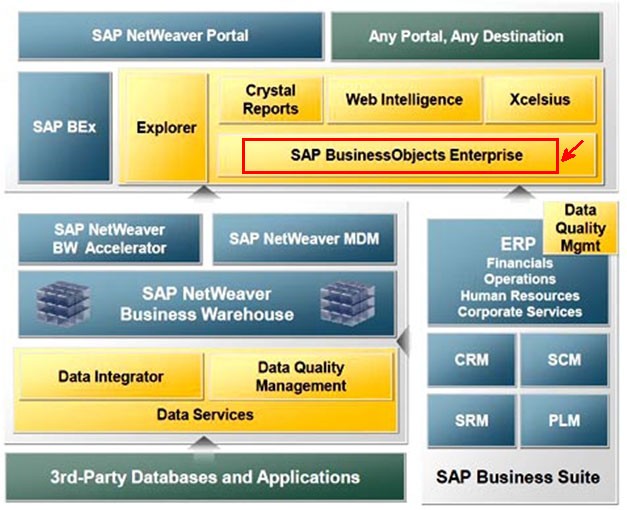 In other words, SAP BO can be effectively incorporated with a corporate environment and allows specified users to access, customize, analyze and share data between themselves.
Scope and Opportunity of a Career in SAP BO
In the highly competitive SAP sector, more companies are now adapting result-oriented solid solutions for the expression of various business needs - especially with regards to the front end of an enterprise. A certification in any of the SAP BO courses mentioned above helps professionals utilize their skills in a better way.
Become a Certified SAP BO Consultant
SAP BO experts, with certifications showcasing their apt knowledge in the field of Business Objects are much in demand. The Application Associate level examines certain basic and fundamental formulas of SAP BO and covers all the functions, architecture and configuration in this field. Basically, it promotes the technical skills SAP professionals in every facet of BO and accelerates their professional development. The exam lasts for 180 minutes and contains 60 questions in total. The paper comes in two languages only, English and Japanese.
Basic Qualifications for the SAP BO Course
The candidates aspiring for the above mentioned courses in SAP Business Objects must possess adequate knowledge about the use of business objects and have prior knowledge in allied fields and some other SAP applications.
All the best.
Read Next