Definition or Meaning - What is SAP APO (Advanced Planner and Optimizer)?
Full form or SAP APO stands for (Advanced Planner and Optimizer), an innovatively designed and smartly packaged planning and optimization tool, is a fast becoming an indispensible component of supply chain processes.
The 8 application levels of APO are:
Network design
Demand planning
Supply network planning
Detailed scheduling and production planning
Global availability,
Vehicle scheduling and transportation planning and
Supply chain management
This popular SAP application is packed with diverse in-built features and functionalities. It taps into real-time updates from retailers and others in the supply chain and offers accurate information in regards to customer demands. These updates generate "demand triggers" that address the productions cycles and delivery schedules to perfection; thus forecasting the right product quantity that an organization would need to cater to future customer demands.
SAP APO is integrated with SAP SCM and has helped companies customize the tasks of supply chain management to a large extent.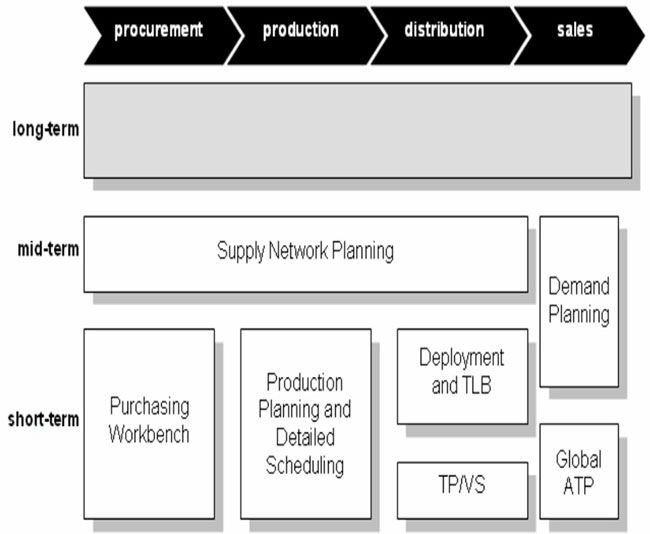 Functionalities of APO
APO offers:
End-to-end business processes and planning of inventory.
Collaborations with customers and suppliers through Supply Network Collaboration (SNC) or Inventory Collation Hub (ICH).
Spare parts management with SCM 5.0 and other associated applications.
Tight integration to execution (OLTP) systems like ERP with standard interfaces known as Core Interface Function.
Scope and Opportunity of a Career in SAP APO
Boasting of a heavy market demand, SAP APO certification paves the way for plenty of opportunities and higher paying jobs. Chennai, Kolkata and Noida are some of the hotspots for SAP APO jobs. They include the positions of senior consultants, chief managers, associate managers as well as entry level consultants.
Out of 10000 software professionals in India, 8 have an expertise in SAP APO. The demand for this subject is increasing on a daily basis and freshers are getting their due share of attention in this field. Bristlecone, Infosys, Mind tree and IBM are some of the companies looking for freshers as well as professionals in SAP APO.
An average package of 5.38 lac p.a awaits newcomers in this industry. Here, the top paying companies are IBM, ITC info and Accenture. Experienced personnel having 7+ years of experience can expect salaries in the range of 11.6 to 38 lac p.a.; along with an average rate of 13 percent of employee bonus after an additional year of experience
Become a Certified APO Consultant
Specifically built for project leaders, project members and analysts working with supply chain processes and demand planning applications, APO courses help in improving the skills of schedule planning, demand planning, pricing, supply network management and so forth.
To pursue a course in APO, an individual must possess:
A university degree in one of the specialized fields: MSc, MCA, BE, Bsc, ME, MBA, etc.
Sound knowledge pertaining to business processes, logistics and supply chain management.
An awareness of SDAP and ERP tools.
Basic knowledge of information technology and basic computer terminology.
Good communication and time management skills.
APO applications sit at the heart of SCM and are readily integrated with Enterprise Resource Planning (ERP) and SAP R/3 systems. Join up and take your career to newer levels of success –today!
SAP APO certification opens gateway of opportunities towards high paid jobs. In India the places that offer good salaries are Calcutta, Chennai and Noida. The job profiles are of SAP APO consultant, senior consultant, Associate manager and chief manager.
8 out of 10,000 professionals in India have expertization in SAP APO. The demand is increasing and thus freshers are also getting huge attention in this field. The companies that look for freshers are Infosys, Mind tree, Bristlecone and IBM. The average package a fresher gets is about 5.38 l p.a
The top paying companies are IBM, Accenture, and ITC infotech. Experienced personnel with about 7+ years of experience can fetch salaries from the range of 11.6 to 38 lac p.a. the companies pay an average rate of 13% of bonuses to its employees after the additional year of experience.
Read Next:
SAP APO (Advanced Planner and Optimizer) Certification Cost and Course Duration in India