Definition -What is SAP Business Suite?
The SAP Business Suite enables enterprises to execute and optimize various IT and business strategies. It facilitates organizations to run end-to-end processes across all segments of the business and performs industry-specific processes (along with modular solutions) that are designed to work on various platforms, including SAP and non-SAP software. It leverages the best practices of industries based on countless customer feedbacks and delivers experiences which match the distinctive needs of diverse organizational roles. It is user friendly and adopts the latest cloud and other technologies to provide exceptional performance.
Overall, the SAP Business Suite aids businesses in improving organizational processes, reduces company costs, increases flexibility/operational efficiency, and converts business opportunities into sales.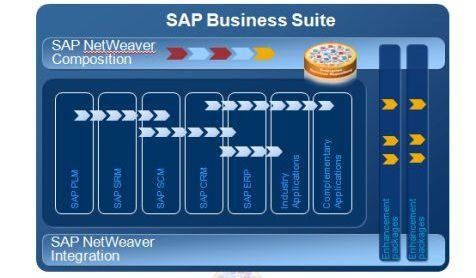 Aspiring candidates can opt for the following list of courses to enhance their knowledge of SAP Business Suite:
SAP Customer Relationship Management (CRM): This helps in focusing on customers, the most valuable asset for any company. SAP CRM offers integrated solutions that translate into increased sales, reduced company costs and enhanced decision making abilities. It helps in designing targeted campaigns that generate successful leads; thus attracting prospects, converting potential clients and retaining customers.
SAP Enterprise Resource Planning (ERP): This segment of the course helps in understanding the ways of utilizing the varied resources of an ERP solution in the fields of marketing, production, inventory management, human resources, accounting, finance, product design and development. It collects and combines data from various departments and enables managers to make crucial decisions based on available real-time data. This module helps in integrating various departments of an organization in a seamless manner to produce efficient results.
SAP Product Lifecycle Management (PLM): This module provides integrated solutions for managing product life cycles. It provides all the information related to product design, engineering, innovation, quality and maintenance management and offers valuable insights to enable better decision making processes. This SAP module controls operations in line with defined timelines, manages resources and brings about reductions in costs. SAP PLM provides an open-technology framework which delivers up-to-date data as required by enterprise processes for demand planning, manufacturing, purchasing, and sales.
SAP Supply Chain Management (SCM): This course helps in effective planning, coordination and execution of workflow, resources and logistics across a supply chain. This sub-module empowers businesses to adapt supply chains to the dynamic and constantly changing environment that they find themselves in.
SAP Supplier Relationship Management (SRM): This program enables businesses to evaluate and engage with suppliers in an efficient manner. With SAP SRM in place, managers can automate and simplify numerous processes pertaining to the procurement and delivery of goods and services. SAP SRM helps in lowering costs, increases profits and streamlines processes.
As businesses are fast adopting latest practices for greater differentiation and integration of business processes for more efficiency, being certified in SAP Business Suite would give a definite boost to one's career. One of the most lucrative opportunities lies in being a SAP Business Suite Consultant. Applying the knowledge imparted through the course opens numerous avenues--in industries across multiple laterals.
Becoming a certified SAP Business Suite Consultant would present you with opportunities to implement strategic planning as well as change management and support various SAP applications.
Aspiring candidates interested in pursuing the above mentioned courses should possess basic knowledge of creating SAP HANA models using HANA Studio. Additionally, knowledge of various SAP applications and SAP clients such as Crystal Reports and Analysis Office is a must. An overall project experience of 12 months would be ideal.